Good afternoon. Eric and I felt it was a good idea to post an update today on the growing potential that a hard freeze will impact Houston later this upcoming week. Since yesterday, there have been a handful of changes. I will admit that the behavior of yesterday's front (somewhat stronger and faster than expected) factored into some of this thinking. Sometimes we refer to this as "recency bias," but truthfully, sometimes the atmosphere can offer up some hints to help us as forecasters.
Bottom line: Temperatures are going to absolutely plummet Thursday afternoon, likely from the 60s or 70s into the 30s over the course of about 4 to 6 hours. We will drop below freezing Thursday afternoon or evening and may not get back up above freezing until Saturday. Overnight lows Thursday night into Friday will likely drop into the teens or low-20s for the city of Houston and most surrounding areas away from the immediate coast. In addition, potent northerly winds will create dangerous wind chill values in the single digits from Thursday evening through Friday morning. We do not expect any snow or ice at this time, a key difference from February 2021, in addition to the intensity and duration of cold.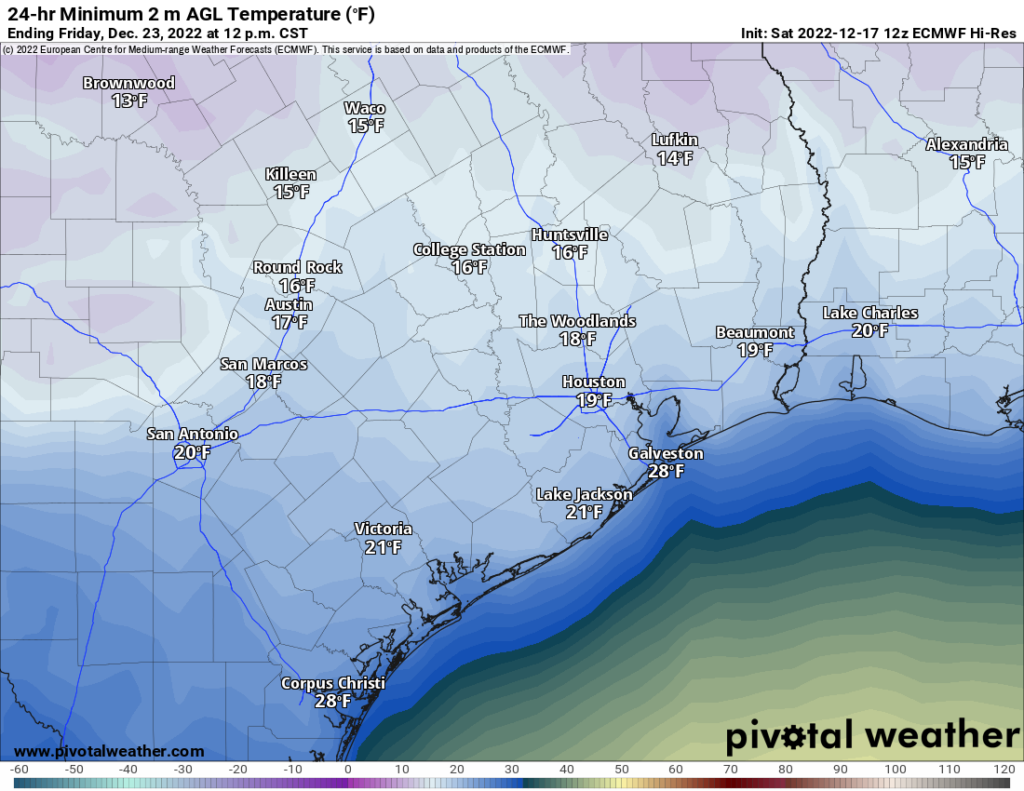 Preparedness
A few thoughts on preparedness for this event. The duration of this cold, the lack of snow and ice, and the intensity of the cold statewide will still lag February 2021, so at this point, we'll take ERCOT at their word that grid conditions should be manageable. Still, having a winter preparedness kit at the ready is never a bad idea.
This will be a painful freeze for plants, especially given the wind that will accompany the cold. Make every effort to ensure that any tropical plants are protected and as secure as possible, as the wind will be enough to dismantle any weak, unsecured covering.
If you have one, make sure your irrigation system is protected, drained, and turned off.
If you are leaving town late this week, it would be a good idea to consider turning off the main water supply to your home before you go out of an abundance of caution.
Any winterization you can do this weekend or before you leave town is good and will help. If we end up 5 degrees warmer than forecast, great. Please don't forget pets, livestock, and any folks you know that are extra vulnerable to cold.
Again, this is different than February 2021's event and should not be quite as bad, but it will be able to cause problems of its own.
Sunday through Wednesday
The forecast is mostly unchanged from yesterday. We expect widespread rain Monday and lingering showers into Tuesday morning. Wednesday should be fine.
Thursday and Friday
The exact timing of the cold front is impossible to pin down right now. Most models point to late afternoon, and given the potential "stronger, faster" behavior of the front, I would lean toward late morning or midday in Houston proper, sooner north and west, later south and east. While we cannot say exactly what the temperature drop will be behind the front, it easily looks to be 30 to 40 degrees colder over a very short period of time. If you are working Thursday, be prepared for a completely different kind of weather when you leave work than when you go to work.
The good news is that this looks like a dry front, so we do not expect rain, snow, or ice. That helps differentiate this a lot from February 2021, when it was impossible to even travel due to ice and snow.
The bad news is that this will be accompanied by wind gusts of 20 to 30 mph or even stronger. That, plus the combination of plunging temperatures will make Thursday night and Friday morning dangerously cold outdoors. Look for lows in the upper teens to low-20s. We could nudge things up or down from here as we get new data in the coming days.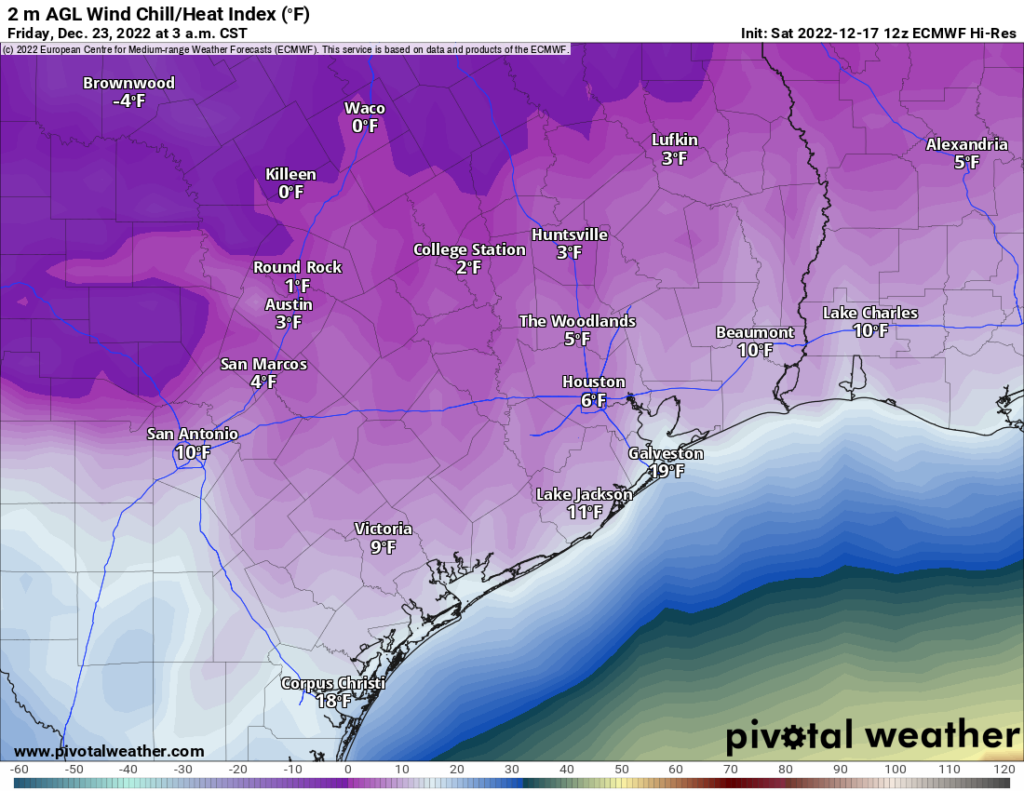 The good news is that Friday should be sunny. The bad news is that we may be lucky to reach 32 degrees. The sun will surely help matters on Friday, but it will be deceptive and remain very, very cold and breezy through the day. Another night in the 20s seems likely Friday night into Saturday morning. Some models do show high clouds streaming through, which could help keep temps up a bit for night two of the freeze, but it's too soon to bank on that.
Next weekend
After another cold morning Saturday, we should expect to rise above freezing Saturday afternoon (currently thinking about 35-40 degrees). Lows in the 20s will again be possible Saturday night, though not as cold as Thursday and Friday nights. Sunday should see highs back in the 40s.
It's too soon to completely rule out the possibility of a system Sunday or Monday that could bring some wintry precipitation to the area, but I will be honest and tell you that our already low odds have dropped since yesterday and Thursday. Alas, despite the cold, as of now we think travel across Texas will be fine through the holiday weekend. We will share more about weather across Texas for the holiday weekend as we get closer. Eric will have the latest on our forecast tomorrow.