The forecast is now pretty well locked in for this week: We'll see wet conditions today, followed by three cloudy and not too cold, not too hot days. Then on Thursday, likely during the afternoon or evening hours, temperatures are going to plunge as a very sharp front whips into the area and causes temperatures to plummet. Precautions for a hard freeze, including protecting exposed pipes, plants, pets, and people should be taken ahead of time.
Monday
A coastal low pressure system is helping to drive rain showers across the metro area this morning, and these will continue on and off throughout the day. These should be more nuisance showers than anything, as accumulations are likely to be fairly low, less than 1 inch for most areas. Otherwise, expect highs in the low 50s with mostly cloudy skies and breezy conditions out of the east at 15 to 20 mph. Rains should mostly end by sunset as the system moves off to the east. Lows tonight will drop into the mid-40s.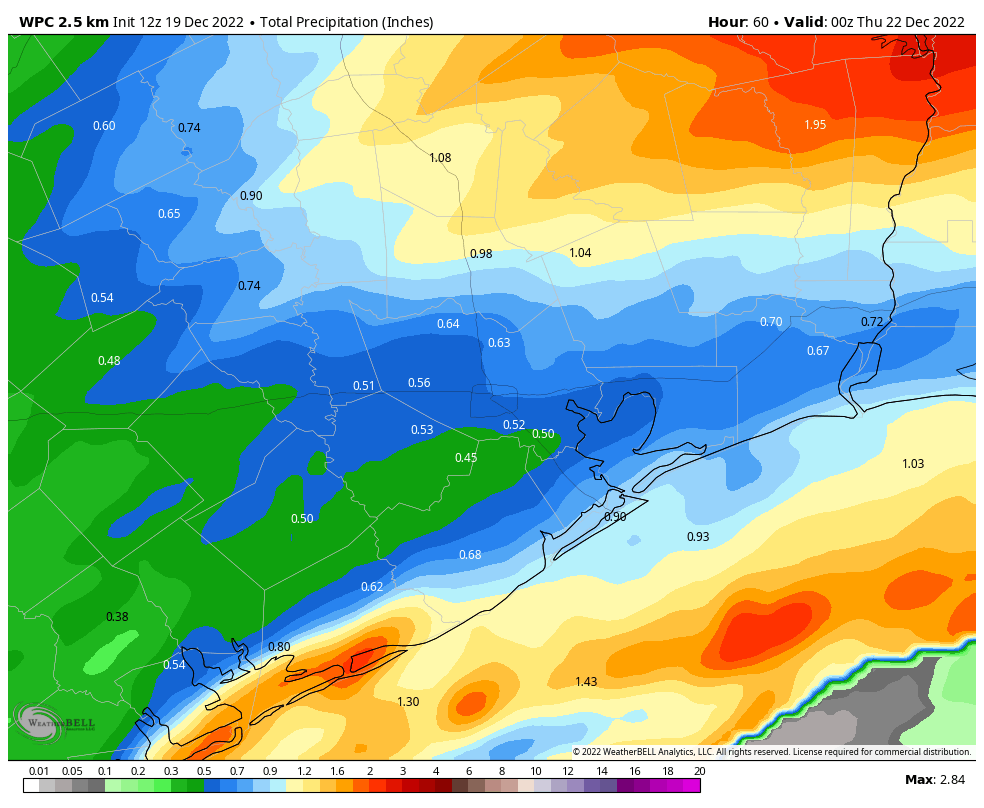 Tuesday
This will be a mostly cloudy day. We will start off with a very slight chance of light rain and fog, but most people should stay dry. Otherwise, expect a high in the mid-50s, with chilly northerly winds gusting up to 20 mph out of the north. Lows Tuesday night will drop into the mid-40s.
Wednesday
Another cloudy and chilly day, with highs in the mid-50s.
Thursday
Skies should start to clear out some, and for areas closer the coast where there is sunshine, we could see high temperatures jump up into the 60s, or possibly even 70 degrees. But this will be a mirage, as a strong front will be dropping down toward Houston with very strong winds, and extremely dry and cold air. This front looks set to reach the metro area some time during the afternoon or early evening hours, after which time temperatures will drop 30 to 40 degrees within a few hours.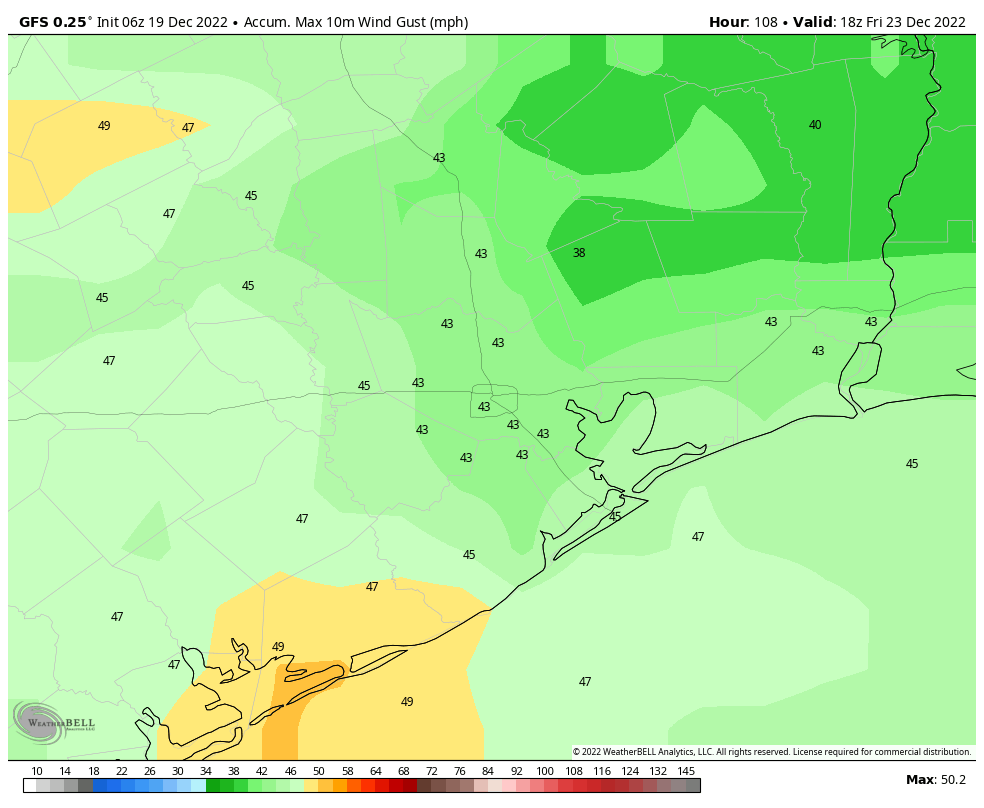 By around sunset, or shortly afterward, I expect much of Houston to be in the 20s, with wind chills making it feel much colder. (Winds will be gusting up to 40 mph, likely). Bottom line: you will not want to be outside on Thursday night. Lows for actual temperatures by Friday morning will likely drop into the upper teens for much of Houston. The very dry air should preclude the possibility of precipitation, which is a good thing as it should keep our area roadways dry during the hard freeze.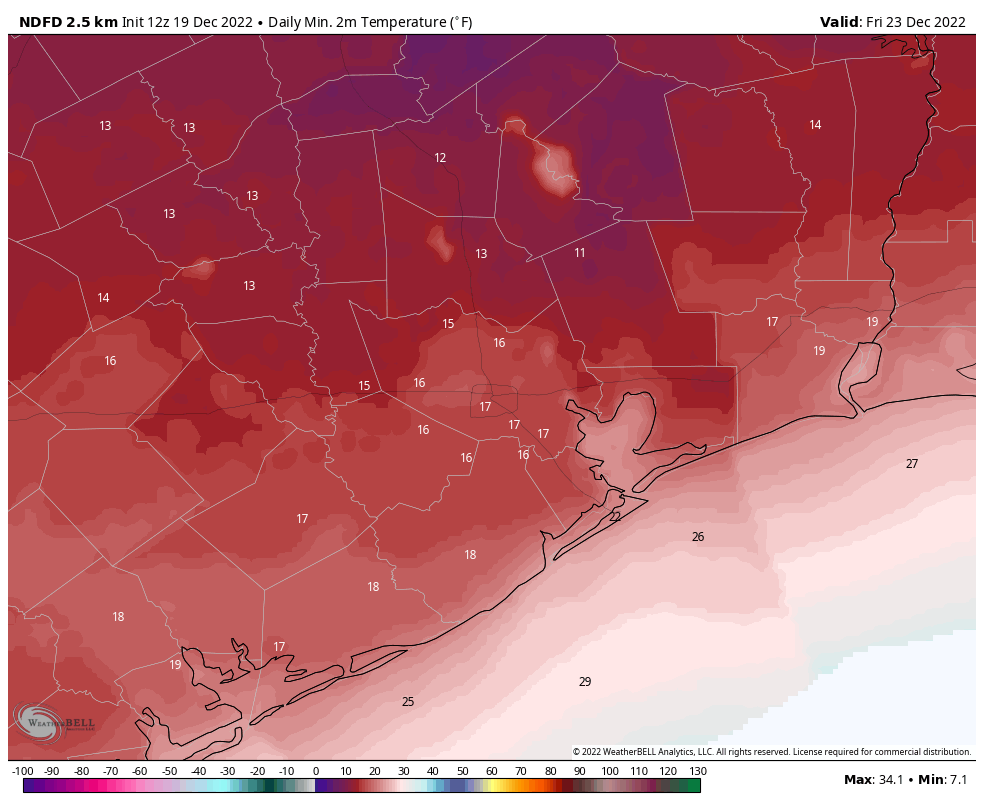 Friday
Although skies will be sunny on Friday, temperatures should remain in the mid- to upper 20s for much of Houston, with the coast possibly seeing a brief blip above freezing. Another hard freeze is likely on Friday night, with lows dropping into the low 20s for the Houston metro area. Area roadways, and those across much of the state, should be dry for Friday and much of the holiday weekend, easing travel concerns.
Saturday
We should see more sunshine on Saturday, and this should help drive area temperatures into the upper 30s to 40 degrees. However, lows on Saturday night still could drop into the mid-20s with the Arctic air mass hanging around.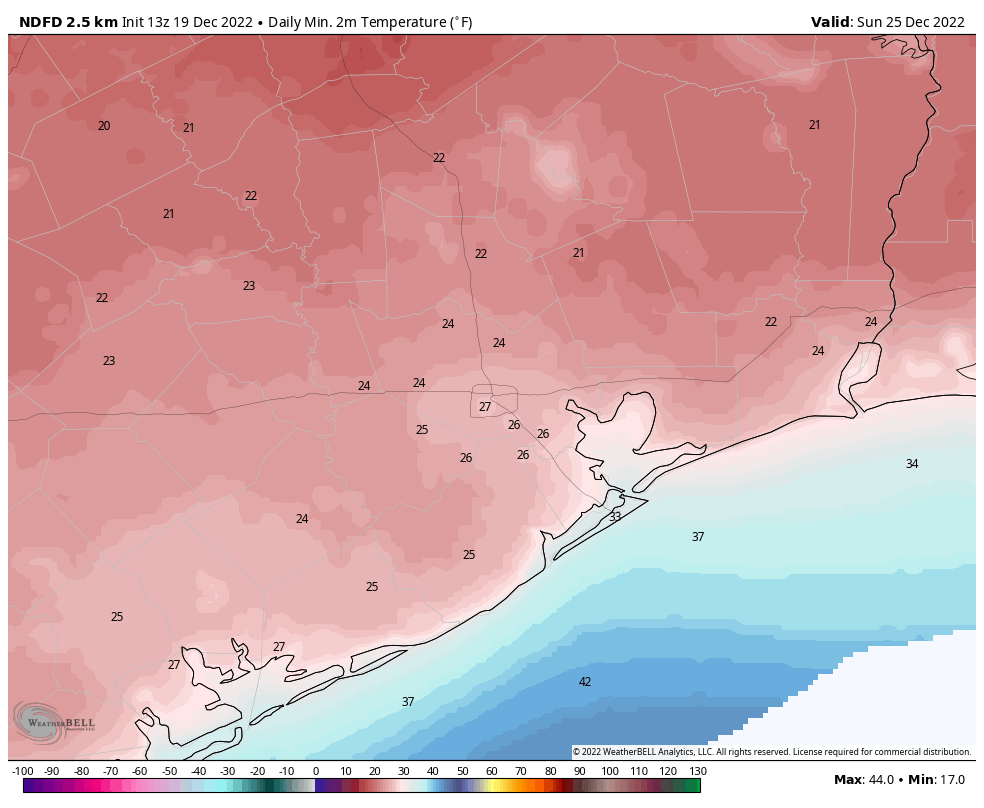 Christmas Day
After a cold start, highs on Christmas Day should warm into the mid-40s with partly to mostly sunny skies. A light freeze is possible on Sunday night.
Next week
After the hard freeze, next week looks much warmer, with highs rebounding into the 60s during the early part of the week, and back into the 70s toward the end of the week. After today, rain chances look fairly low for awhile.
A message from our partner, Reliant
We're glad to be a longtime supporter of Space City Weather and its mission to keep us informed about
seasonal weather – without the hype. With colder weather coming just in time for the holidays, Reliant
wants to share a few easy ways to prepare for dropping temperatures, so you can stay in control of your
electricity usage while staying warm.
With some simple preparation and by following these tips, you can keep your heating system from
working harder than it needs to and avoid unexpected winter electricity bills.
• Check your thermostat. If you have an electric heater, keeping your thermostat around 68
degrees can help you save energy. For every degree above 68, you can typically expect a 3-5%
increase in heating costs.
• Weatherstrip exterior doors and windows. With minimal effort and cost, you can seal out the
cold and save up to 10 percent on total energy costs.
• Let the sun in. If the sun is shining, open blinds and shades during the day and remove any solar
screens to naturally warm your home. Close them at night to help block out the chill.
• Close heat escape routes. Keep the chimney damper closed when not in use and be mindful of
how often you're opening entry doors and using bathroom or utility room ventilation fans, as
heat can escape through these outlets.
• Get a programmable thermostat, like the Google Nest. This can help you save up to 12 percent on
heating costs without lifting a finger.
• Get an annual heater tune-up. Make sure your air filters and furnace or heat pump are clean
and in good working order so that your system can run as efficiently as it should.
• Protect your pipes. Shut off exterior faucets, drain water from outdoor pipes and insulate them
if a hard freeze is expected (28 degrees or lower for an extended period of time) to prevent
them from bursting.
For more ways to get your home and vehicle ready for the cold and additional tips to lower your winter
electricity bill, download the Reliant Winter Prep checklist and visit Reliant.com/WinterTips. As always,
we're available 24/7 via phone at 1-866-222-7100 and online chat to support customers. Happy
holidays!