Good morning. We are now a little more than two days out from an Arctic blast that will bring the Houston region its coldest weather since a deep freeze in February 2021. If you'll recall, that freeze prompted widespread power outages across the metro area as power plants were taken offline due to improper winterization. For a lot of people, this was miserable. For a more than a few people, it was deadly.
This loss of power magnified a cold weather event that was already tremendously destructive to pipes and plants. State officials say they have addressed these winterization concerns at power plants, and lacking sufficient expertise we are taking them at their word. What we can say is that the magnitude of this Arctic air likely to be similar to February 2021, although not quite as deep or prolonged. It will provide a meaningful test of whether the state's electric grid has, in fact, been hardened. We also do not anticipate in any snow, sleet, or freezing rain to complicate travels on area roadways.
The image below compares the hour-by-hour temperatures observed during the February 2021 freeze (blue line) with the current forecast for temperatures (white line) at Bush Intercontinental Airport from the National Weather Service.
Tuesday
There has not been much change to our overall thinking when it comes to the forecast. We will see mostly cloudy skies today, with highs in the mid-50s and modest northerly winds. Low temperatures on Tuesday night will drop into the mid-40s.
Wednesday
Conditions will be a lot like Tuesday, with similar highs. The only meaningful change is that winds will shift to come from the southeast by Wednesday night, with lows dropping into the upper 40s.
Thursday
The first half of Thursday will see a decent warmup, as the onshore flow starts to bring a southerly flow. Areas south of Interstate 10 may even briefly reach 70 degrees before the front barrels through during the afternoon and early evening hours. While we can't rule out a few light showers, we don't expect any impactful precipitation. We're still looking at sharp temperature drops in the immediate aftermath of the front's passage, and gusty winds to 35 or 40 mph. Conditions overnight into Friday morning will be extremely unpleasant.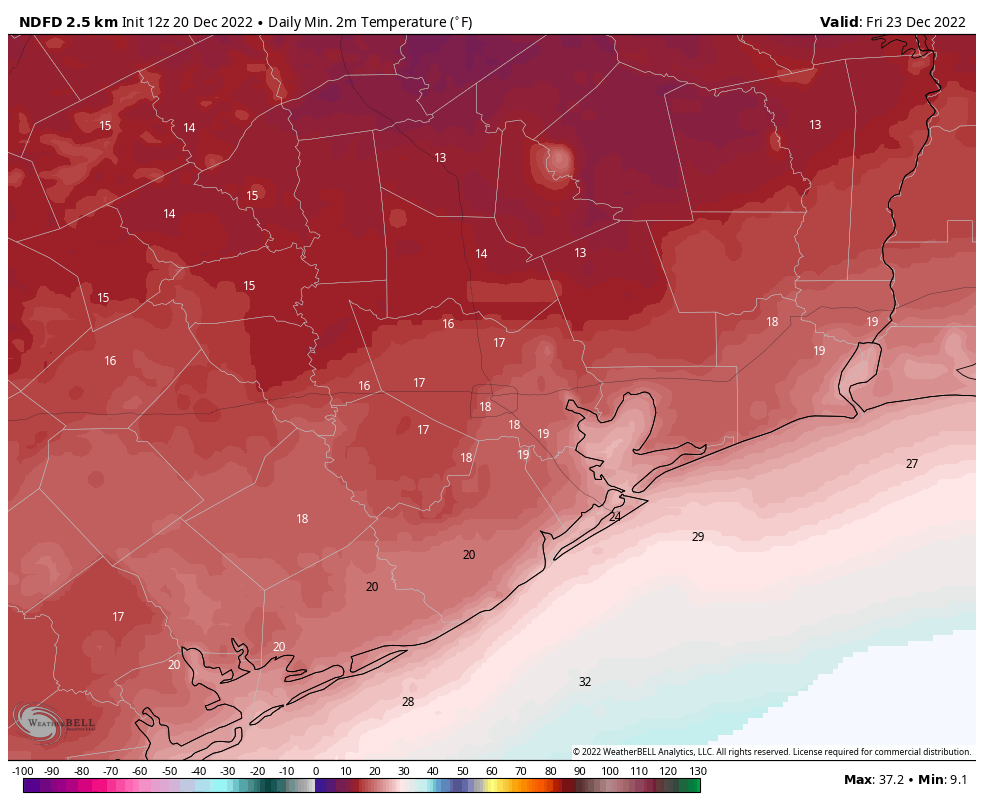 Friday
Low temperatures will bottom out on Friday morning. How cold? There's still some wiggle room on the details, but lows will likely reach 15 to 20 degrees inland of Interstate 10, with slightly warmer conditions in the metro area of 17 to 22 degrees, and lows in the low- to mid-20s closer to the coast. Although skies will be mostly sunny on Friday, highs will only warm to near freezing briefly, with blustery winds throughout the day. Overnight lows should be 2 to 5 degrees warmer on Friday night.
Saturday
Highs will climb to around 40 degrees on Christmas Eve, with mostly sunny skies. Travel for the holidays should be fine, with dry roadways. Lows on Saturday night will probably still drop into the mid-20s in Houston, with even colder conditions further inland.
Christmas Day
Look for mostly sunny skies, with highs in the low 40s on Christmas Day. Lows may drop to freezing, or just above, in Houston that night.
Next week
Expect a steady warming trend next week, with temperatures in the low 70s by Wednesday. After that? The crystal ball for New Years celebrations remains a bit hazy. Rain chances do appear low until late next week, at the earliest.