Good afternoon, everyone. We are now only about four days from the start of a massive chill down that will plunge the Houston area into a deep freeze. The forecast has not changed substantially since Matt's update on Saturday, but we wanted to provide you with the latest thinking we have on timing and intensity. The bottom line is that we all need to be prepared for a hard freeze, and this includes taking the following precautions:
Pipes and plumbing: Exposed pipes and plumbing needs to be winterized to prevent damage. Sprinkler systems should be shut off and drained. If you will be leaving Houston for the holidays, you should consider turning off the main water supply in case the pipes in your home burst.
Outdoor vegetation and plants: It will be difficult to fully protect tropical plants due to the deep nature of this freeze, but providing some cover may prevent them from being killed. Plants in pots should be brought into the home or garages.
Pets and livestock: Because the temperatures will be so low, and for many areas will remain below freezing for longer than a full day, animals should be brought into warmer spaces or they may be killed by the cold.
We know that readers have a lot of questions about the ability of ERCOT to keep power supplied to the state given the hard freeze coming into much of Texas. This is beyond the scope of our ability to forecast, but state officials have expressed confidence in the grid, and we do not expect statewide temperatures to be nearly as cold as experienced during the Valentines Day freeze of 2021. So things will probably be OK. But we can offer no guarantees.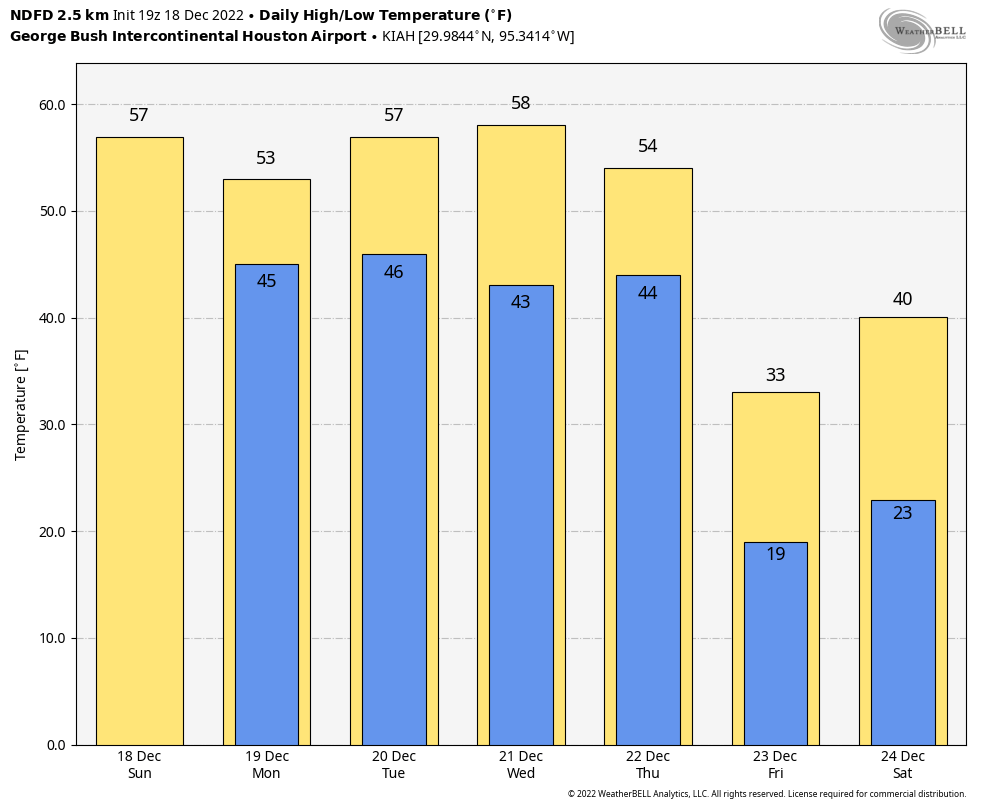 Monday, Tuesday, and Wednesday
We will continue to see high temperatures in the 50s this week, with nighttime lows generally in the 40s. The big story for the start of the week is widespread rain showers on Monday, which will probably bring 0.5 to 1.5 inches of rain to much of the area. It looks like these will be primarily daytime showers, with chances ending around sunset or shortly thereafter as the disturbance pushes off to the east. After Monday, we can expect mostly cloudy skies to prevail until Thursday.
Thursday
On Seinfeld, Frank Costanza created the "holiday" of Festivus to be celebrated on December 23. Among the holiday's activities was an "airing of grievances." Well, on Thursday we're going to get an airing of frigidness. Daytime highs may get into the 60s or possibly even 70 degrees near the coast on Thursday ahead of the front, which will sweep through the region rapidly from northwest to southeast. In terms of timing, I think late-afternoon is most likely for the front's passage, but some wiggle room remains.
After the front's passage temperatures will drop into the 30s quickly, with very strong northerly winds, perhaps gusting up to 35 or even 40 mph. While precipitation is probably not a concern, these winds will very quickly sap any heat if you are out of doors. Conditions overnight on Thursday are just going to be nasty outside. Temperatures will bottom out on Friday morning across the region. I think it is possible that even areas south of Interstate 10 briefly drop into the teens.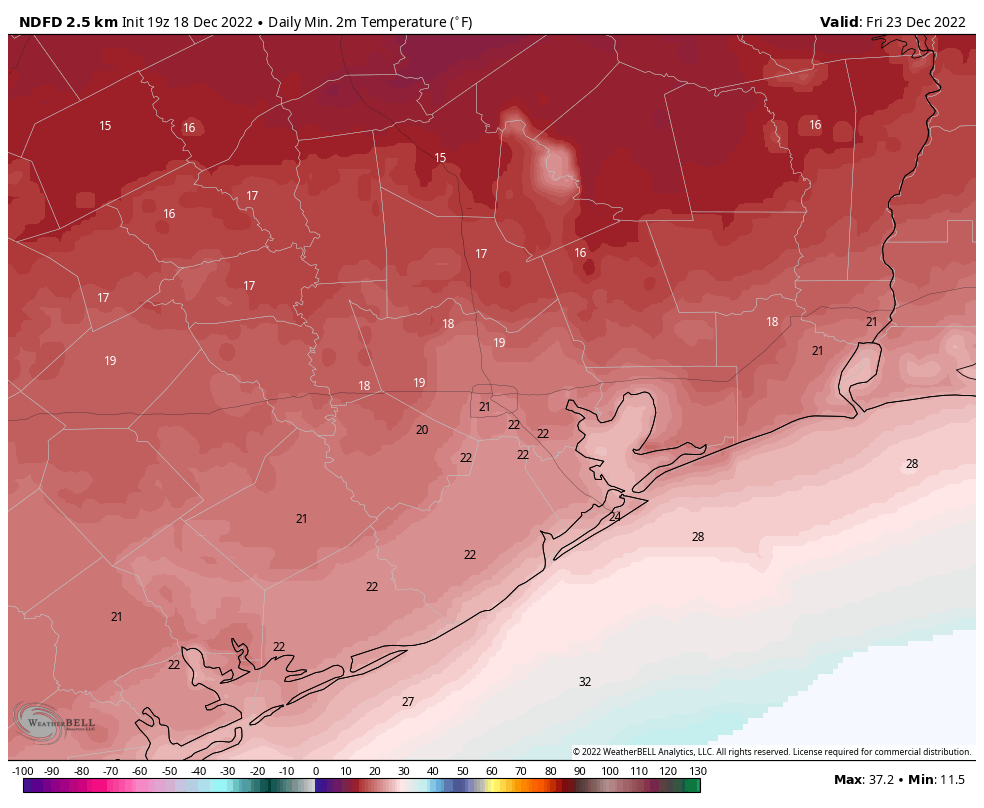 Friday
This will be a very cold day. It is possible that some areas reasonably close to the coast will briefly climb above freezing, but much of the metro area is going to remain in the upper 20s to 30 degrees despite sunny skies. Lows on Friday night will still be very, very cold, but should be 3 to 5 degrees above those on Thursday night.
Saturday
Christmas Eve will start out freezing, but with at least partly sunny skies daytime temperatures should reach the mid- to upper-30s for all but far inland areas. We can't entirely rule out some light precipitation, but right now this period looks dry. This should make holiday travel across the region, and much the state, easier.
Christmas Day and beyond
After yet another freeze, Christmas Day should see highs in the 40s. It will be almost balmy!
Right now most of next week should bring a warming trend, with highs eventually climbing close to 70 degrees by Wednesday or so.