Good morning. Much of the area picked up 0.5 to 1 inch of rain overnight, and we'll see continued light rain for most of the rest of the day—certainly nothing to worry about in terms of flooding. We'll see sunny skies by midweek, with generally mild temperatures. The weekend looks pleasant, likely with partly sunny skies and high temperatures in the 70s.
Additionally, we're in the midst of our annual fundraiser, during which you can buy merchandise or donate to Space City Weather to support the work we do. Please visit our pop-up store here to help keep the site running.
Monday
Additional rainfall accumulations today will be on the order of 0.5 to 1 inch for most locations, with the greater totals likely nearer the coast, and lesser totals for inland areas. It will also be a bit breezy as this coastal low pressure system passes nearby, with gusts perhaps reaching 25 or 30 mph at times from the northeast. These winds will peak during the afternoon hours. High temperatures today will likely hang around 60 degrees. We'll only drop off a few degrees tonight, and we're likely to see additional, on-and-off, light rain showers.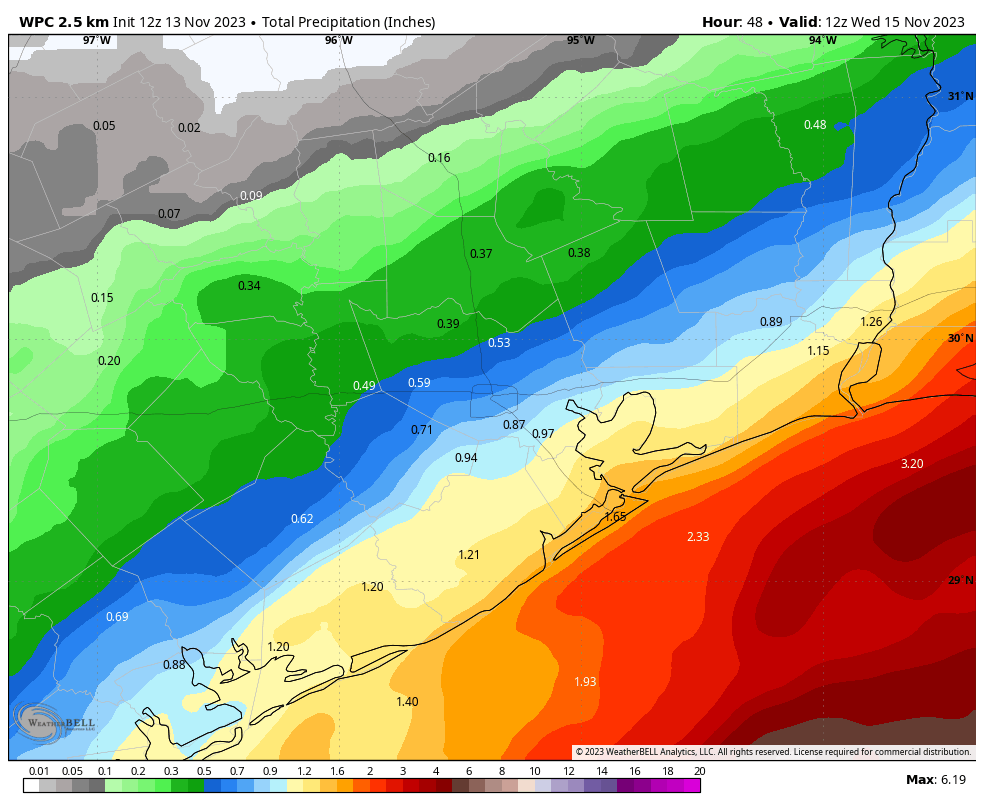 Tuesday
As the low pressure system moves off to the east, we'll see a bit of a transition day. Some light showers may linger near the coast, but we'll also see more, drier air moving in from the north. As a result, skies will be mostly cloudy, with highs in the mid-60s. Northerly winds will blow at about 10 mph, but may gust at times to 20 mph. Temperatures will drop into the 50s on Tuesday night.
Wednesday, Thursday, and Friday
Have you missed the sunshine? It will return by the middle of the week, with partly sunny skies for the rest of the work week. We'll be on a gradual warming trend, with highs of around 70 degrees on Wednesday, reaching the mid-70s by Friday. Similarly, lows on Wednesday morning in the mid-50s will climb to around 60 degrees by Friday night.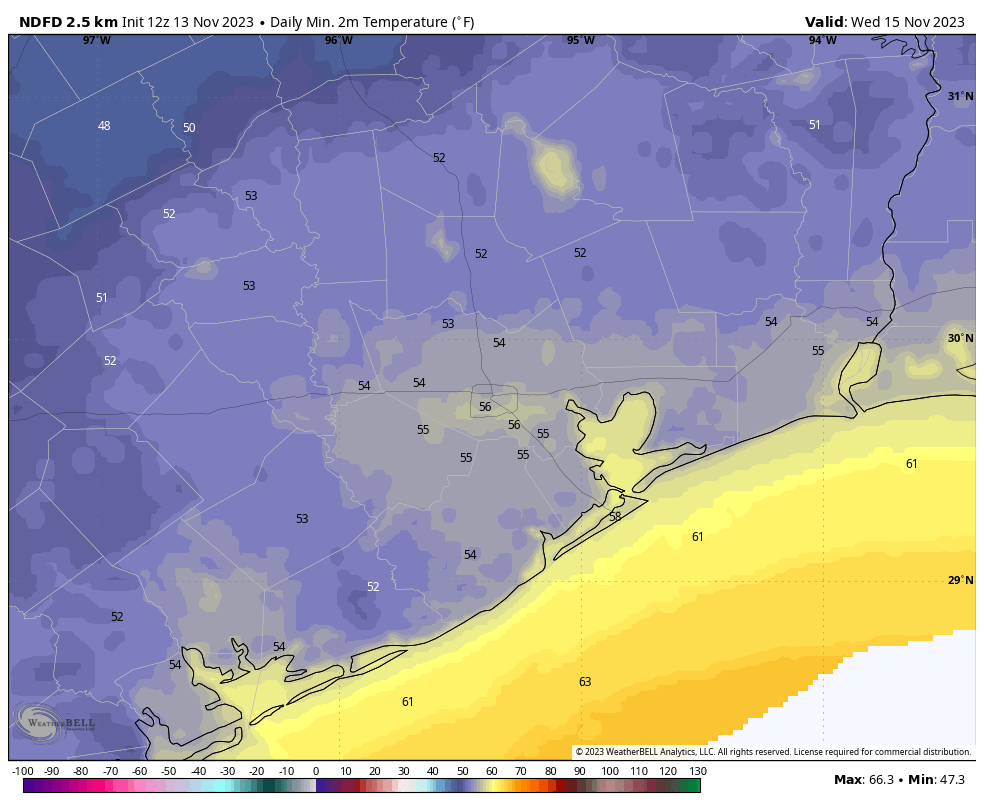 Saturday and Sunday
The weekend should bring continued, mild conditions. We probably will see more partly sunny skies, with high temperatures in the mid-70s. Lows will be around 60 degrees. Saturday looks nigh on perfect for outdoor activities. There is a slight chance of some showers later on Sunday, as a disturbance passes nearby, but for now I'd bet on the majority of the Houston metro area staying dry.
Next week, and an early peek at Thanksgiving
At some point early next week, most likely on Monday or early Tuesday, the region's next front will push into the area. Some showers may accompany this front, but that is not entirely clear. This front is likely to usher a significantly drier air mass into the Houston region. But how much colder will it be? We can't be sure. So Tuesday and Wednesday of next week should be a bit cooler, perhaps with highs in the 60s.
And what of Thanksgiving? Unfortunately there is a very broad spread in the model outlook at this point, with a high temperature forecast anywhere from the mid-50s to about 80 degrees. At this point I don't really feel like guessing because the forecast could go many different ways. Will we get a reinforcing cool front in the middle of next week? Will the onshore flow return, instead, opening up the possibility of showers by Thanksgiving? As soon as there is any clarity, I'll let you know.