After a summer-like pattern took hold of our region for nearly all of the Month of May, change came early on Sunday morning with the arrival of a front and a good soaking. To give you an idea of how abnormal our weather was in May, consider this statistic from the National Weather Service about Galveston's heat. Sunday's low temperature in Galveston was 72 degrees, by far the lowest of the month. Before Sunday, the monthly average low was 78.6 degrees, which smashed the previous highest average for the May 1 to 21 period. Previously, 2003 had the warmest average low temperature, 75.4 degrees during the first three weeks of May. Galveston's weather records date to 1875, so that's nearly 150 years of data. This type of warmer weather is consistent with what we would expect to see due to climate change.
Fortunately, the rest of the month should be much more temperate.
Monday
In the wake of Sunday's front, temperatures today should generally reach the upper 80s beneath mostly sunny skies this afternoon. Rain chances are less than 10 percent, and winds will be moderate, out of the north at 5 to 10 mph. Lows tonight will drop into the low-70s for most locations. In other words, conditions will be pretty darn nice for late May.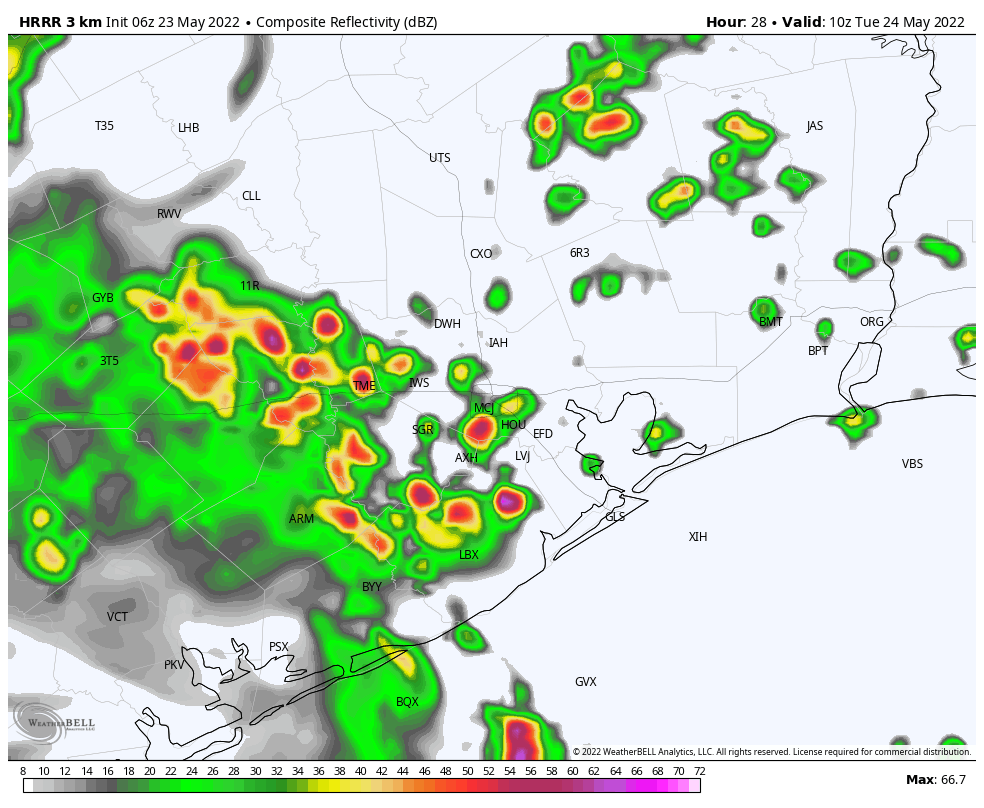 Tuesday
There is the potential for heavy rain on Tuesday as an upper-level system moves through, but I'm not certain all of the ingredients are going to come together. We'll be watching for a line of storms to develop in central Texas late on Monday night, and then move through our area from southwest to northeast. The timing is a bit uncertain, so these storms could reach us by around sunrise or a bit later. If the storms come later, they probably will be stronger, as they would benefit from daytime heating. Otherwise, skies should be mostly cloudy on Tuesday, with highs in the mid-80s. Rain chances will drop off during the evening and overnight hours.
Wednesday
Yet another "cold" front is on track to push through the region on Wednesday. In terms of timing, we're probably looking at a passage during the afternoon hours through Houston, and again there will be the potential for some heavy rainfall as this system moves through, this time from north to south. Some of these storms could be severe, so most of the Houston area faces a "slight" chance of severe weather, according to NOAA.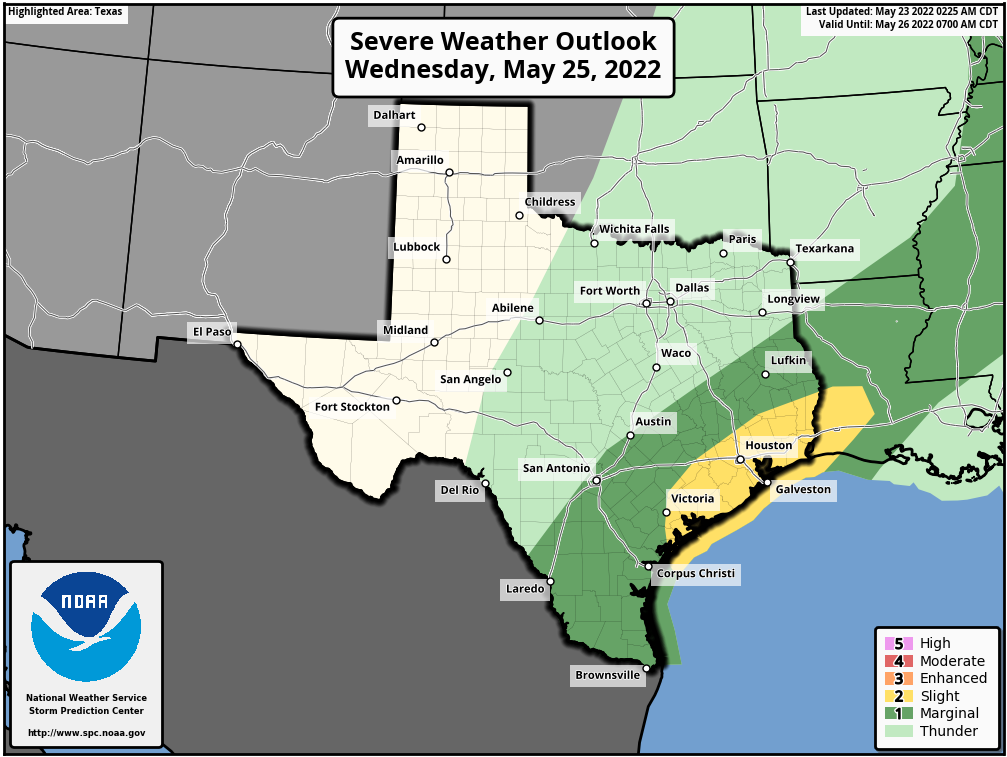 Total rainfall amounts through Wednesday should vary widely, with accumulations generally of 1 to 3 inches, with the potential for higher localized amounts. Honest-to-goodness drier air should work its way in behind the front, ending showers and thunderstorms by Wednesday evening. Daytime highs should be in the 80s, with lows dropping into the 60s overnight.
Thursday and Friday
These should be splendid, late-spring days with highs in the mid- to upper-80s, sunny skies, and slightly drier air. Lows on Thursday night should drop into the mid-60s for much of the region, while Friday evening will be a touch warmer. My pick of the week will be Thursday evening, when I expect very pleasant conditions out of doors. Enjoy this spring fling!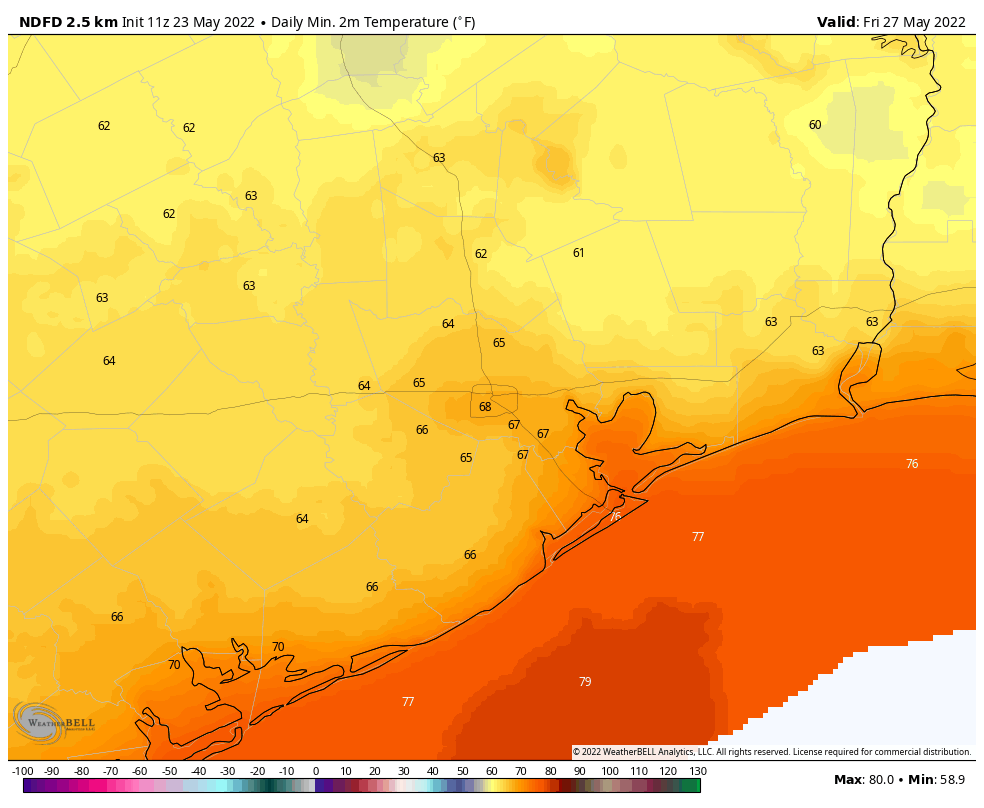 Memorial Day Weekend
The holiday weekend will see warmer weather with mostly sunny skies. Highs through Monday should be around 90 degrees, or in the low 90s at the warmest. Dewpoints will be rising, but not to oppressive levels. Rain chances look to be near zero until Tuesday or Wednesday of next week.