Good morning. The main event for our near-term weather is the arrival of a cold front late tonight that will bring a line of storms through our area early Wednesday, likely reaching the metro area shortly before sunrise. This front will usher in some briefly drier air, with Thursday looking especially spring-like with morning lows possibly in the low 60s. Memorial Day weekend looks warm and sunny.
Tuesday
Yesterday I talked about the potential for an upper-level system to bring some showers and thunderstorms into the metro area on Tuesday morning, but noted that all of the ingredients might not come together for the showers to hit Houston. Well, they haven't, and the bulk of the rain will remain offshore today. Accordingly rain chances are only about 50 percent today, and any scattered showers that move through should do so fairly quickly from southwest to northeast. Otherwise, expect mostly cloudy skies today with highs in the mid-80s. Winds may gust as high as 20 mph out of the south.
Tuesday night and Wednesday
I'm more confident in the arrival of a cold front tonight, likely reaching the College Station and Conroe areas around midnight, pushing into central Houston around 2 to 4 am CT, and off the coast by sunrise. A line of storms will accompany the front, bringing thunderstorms, straight-line winds, hail, and even the potential for a tornado or two.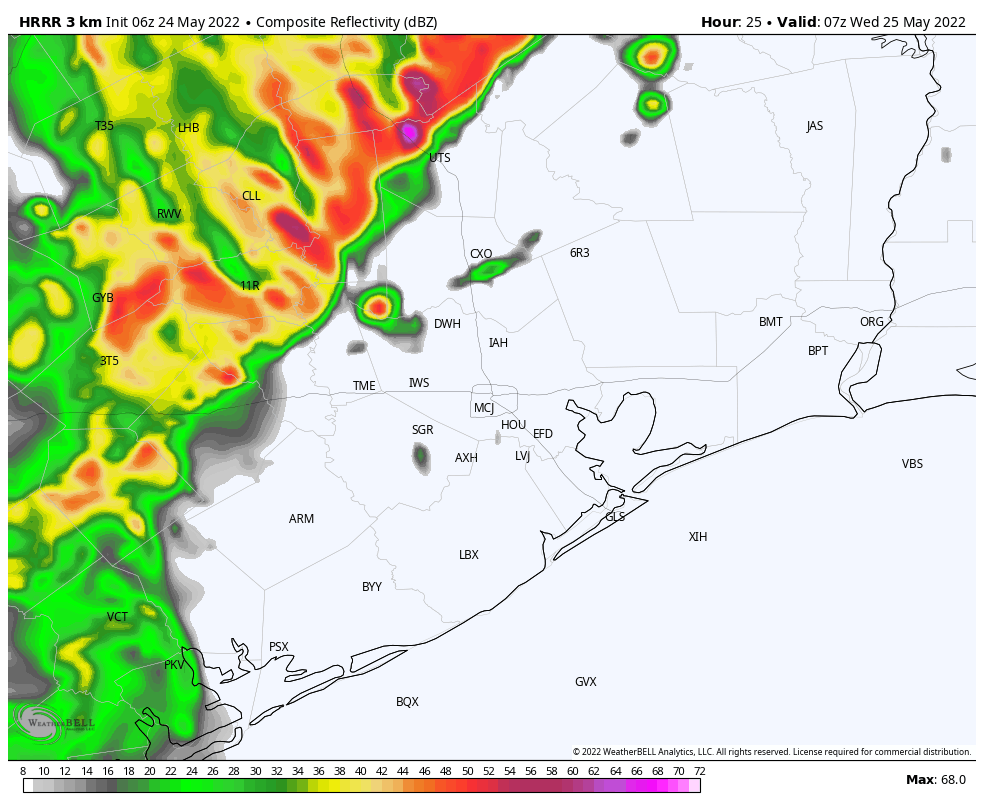 I expect that some of these thunderstorms will bring heavy rainfall, and overall accumulations will probably range from 1 to 3 inches for most of the metro region, with higher isolated totals. While the bulk of the rainfall should have passed by around sunrise on Wednesday, some light to moderate showers may linger into the late morning hours. High temperatures on Wednesday should top out in the upper 70s as skies probably won't start to clear until Wednesday evening.
Thursday
This is going to be a pretty amazing spring-like day in Houston, especially for late May. Lows will start out at 60 to 65 degrees, and despite sunny skies we're going to see temperatures likely top out in the mid-80s. With dewpoints in the low 60s, the air will also feel reasonably dry. The evening should be pretty great as well, with some drier air holding on and temperatures dropping. Lows on Thursday night should eventually fall into the mid-60s.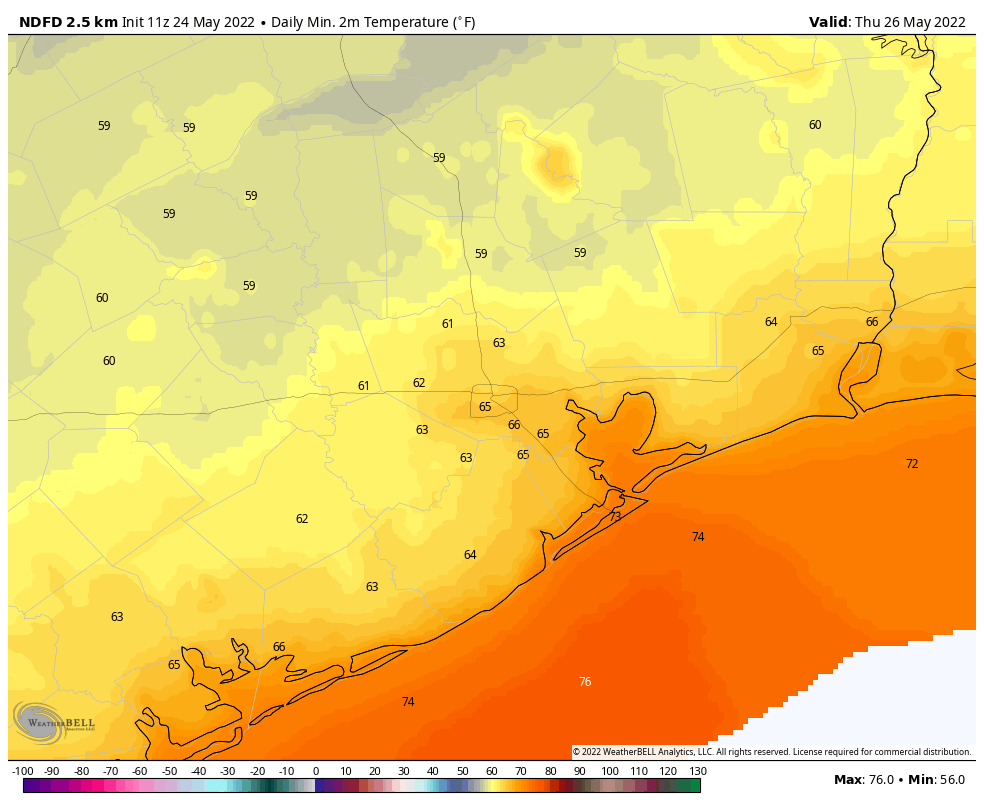 Friday
This will be a transition day back to more summer-like weather, but there still should be a smidge of drier air, with highs in the upper 80s, sunny skies, and overnight lows dropping to around 70 degrees.
Memorial Day Weekend
The forecast over the weekend will bring three days of sunny skies, highs around 90 degrees, and lows in the 70s. It will be plenty humid outside, but not boiling hot as this holiday weekend can sometimes be. Conditions should be perfect for outdoor activities, although please be sure and protect yourself during prolonged exposure to the sun.
Next week we'll be monitoring the potential for a tropical disturbance to form in the Bay of Campeche, in the far southern Gulf of Mexico. This may eventually bring some moderate rainfall our way next week, but right now it's not something to be concerned about at all.