Hi all. Just a short weekend update to note the potential for some reasonably strong thunderstorms late tonight as a cold front pushes into the region. Today will be hot and mostly sunny, with highs in the low- to mid-90s. Winds will be gusty out of the south, so it will be pretty much business as usual in terms of our recent weather. But conditions will begin to change tonight with a significant pattern change.
Saturday night
It looks like a (probably broken) line of storms will reach College Station around midnight, and then trudge down toward the coast by around sunrise. Probably the major threat is briefly strong straight-line winds, with the secondary potential for small hail. In terms of rainfall, accumulations will probably vary from a sprinkling to 1 inch or more of rain, with greater accumulations likely along and north of Interstate 10.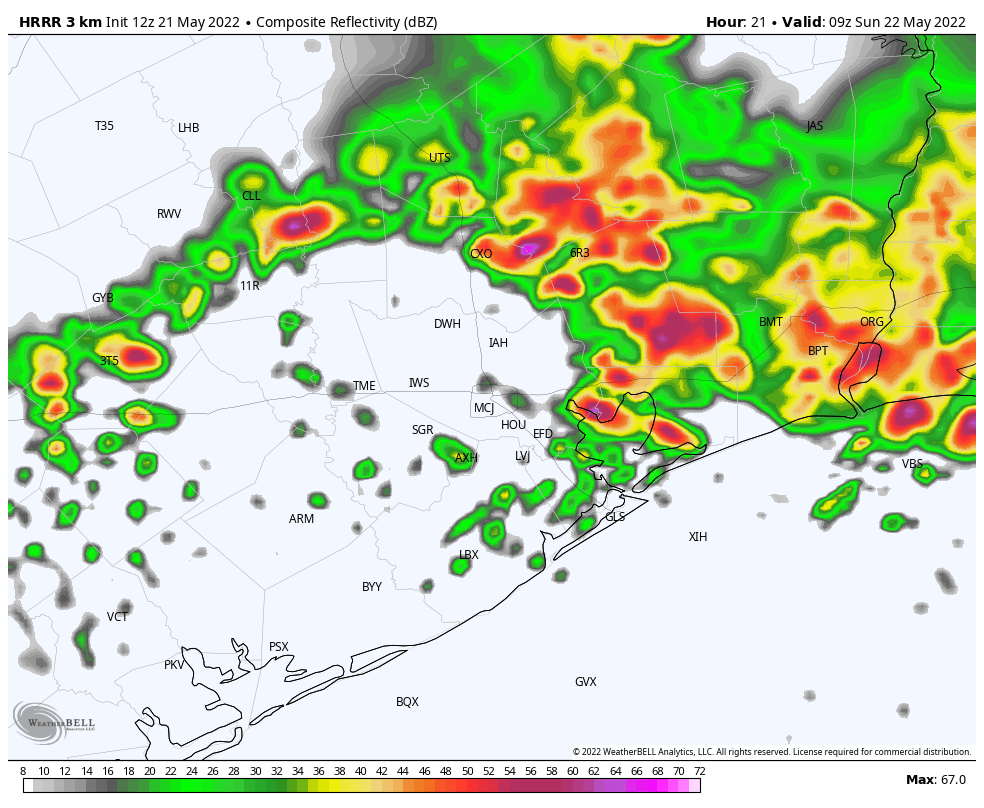 Sunday
There may be a lull in shower activity on Sunday morning before the potential for some on-and-off showers returns on Sunday afternoon. Highs should reach the mid- to upper-80s. Rain chances will fall back Sunday night.
Next week
A healthy chance of rain returns Monday night and then may stay with us through Wednesday night as a series of disturbances moves through, culminating in a slightly stronger cold front on Wednesday night or some time Thursday. Rain accumulations for most should be 2 to 4 inches for now through next Thursday, which is welcome. And if we end up with a night or two in the 60s late next week, that will just be a huge bonus.
We'll have a full post up Monday morning, as usual.