Over the next week or so, southeast Texas is going to be visited or perhaps taunted by several cold fronts. We still have questions regarding the exact timing of most of them, but we can continue to point to some windows of when they're most likely. Our first one arrives later today. Let's break it down.
Today
Our first cold front is still off to the north, steadily heading this way. That won't arrive until later, and ahead of it, look for a few showers or perhaps a thunderstorm through the day. Many places will probably stay dry, but in general, the odds of storms may increase a bit late this afternoon. More of the same temperature-wise, with 80s and fairly uncomfortable humidity.
The front should arrive in the northwest suburbs late this afternoon and in the immediate Houston area after 4-5 PM or so. Behind the front we'll see temperatures drop off 5 or 10 degrees, and you'll notice a fairly brisk breeze out of the north.
Weekend
Saturday morning will start off much cooler than we've had in recent days. Many places will start in the 50s, with 60s south and east of Houston.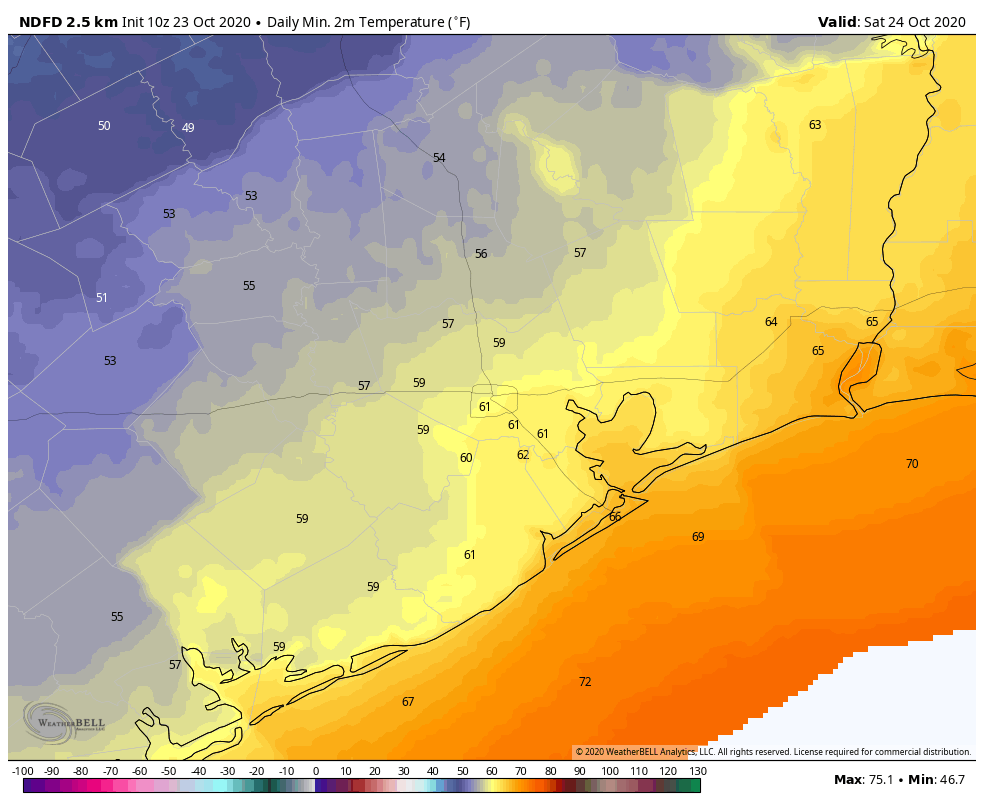 Expect a good deal of cloud cover tomorrow morning. We should see increasing sunshine in the afternoon. High temperatures will top off in the mid-70s in most places. If clouds are a bit more stubborn, we may not get out of the upper-60s, however.
Onshore flow resumes later Saturday, and the humidity will slowly inch back up into Sunday. Morning lows on Sunday will be in the 60s in most places. With a mix of clouds and sun, we'll probably make it to 80 degrees or a couple degrees warmer on Sunday afternoon. We'll mention that a passing shower cannot be entirely ruled out Sunday, though it's likely to be dry in most places.
Next week
Things turn very, very messy from a confidence in details perspective on Monday and Tuesday. Another cold front pushes into the Houston area, but it appears that this one is going to stall out right over the city, almost perfectly over US-59/I-69. This means clouds, perhaps some sun, and at least a chance of showers and storms. Temperatures later Monday and Tuesday may be rather variable across the area with the east side perhaps 10 to 15 degrees warmer than the west side of the region with high humidity south and east and lower humidity north and west. This can be seen when you look at forecast dewpoints from the European model.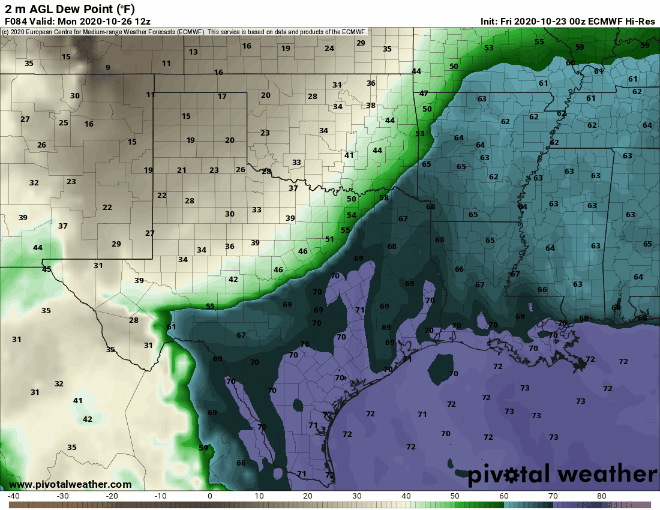 Notice how the boundary between the more humid air (in purple and dark turquoise) and less humid air (in green) basically straddles Houston for most of Tuesday before shifting back west (meaning everyone warms up a bit) on Wednesday. Basically, this is a front that taunts us mostly.
After it pushes back west on Wednesday, look for a warm day. The front should finally get a shove through the entire area by Thursday or Friday. I don't want to commit to a day just yet because modeling has handled fronts in the days 5 to 8 range quite poorly this autumn. But we still believe we'll get a clean cold front passage late next week, hopefully setting up a nice daylight saving time weekend. More on that Monday!
In case you missed it, today is our fifth anniversary at Space City Weather! It's a privilege to be part of this, and thanks to Eric for keeping me around these last five years. We have some fun things planned down the line, and as always we'll be here when you need us.