Good morning. If you missed our tropical update yesterday, check that out here, as it runs down all the items in the Atlantic basin we're watching. We'll update a couple items below based on what we see this morning.
Meanwhile, today has the potential to be a bit of a slog in spots due to rainfall. I think most areas will see at least some rainfall today, and some of it could be quite heavy, leading to pockets of street flooding. We are holding back on a flood scale upgrade to Stage 1 right now, but there will probably be a few neighborhoods that see a little water on the streets for a time today.
Today
Showers and storms are already marching inland past I-10 as of 6:45 this morning. Coverage should continue to expand northward through the day, and again, we do feel that much of the area will see at least some rainfall today. Areas south and east of downtown Houston will have the highest odds of heavier rainfall, and this would probably include the Beaumont and Port Arthur areas as well.
Look for an average of around a half-inch area wide today, with a bit less north and west and a bit more south and east. Isolated areas that see repeating rainfall could easily see 3 or 4 inches or a bit more today, again most likely south and east of Houston. Street flooding is the main concern, and while we are not issuing a Stage 1 alert, just be mindful of that potential in spots today. We will monitor the rainfall situation and update or escalate as needed today.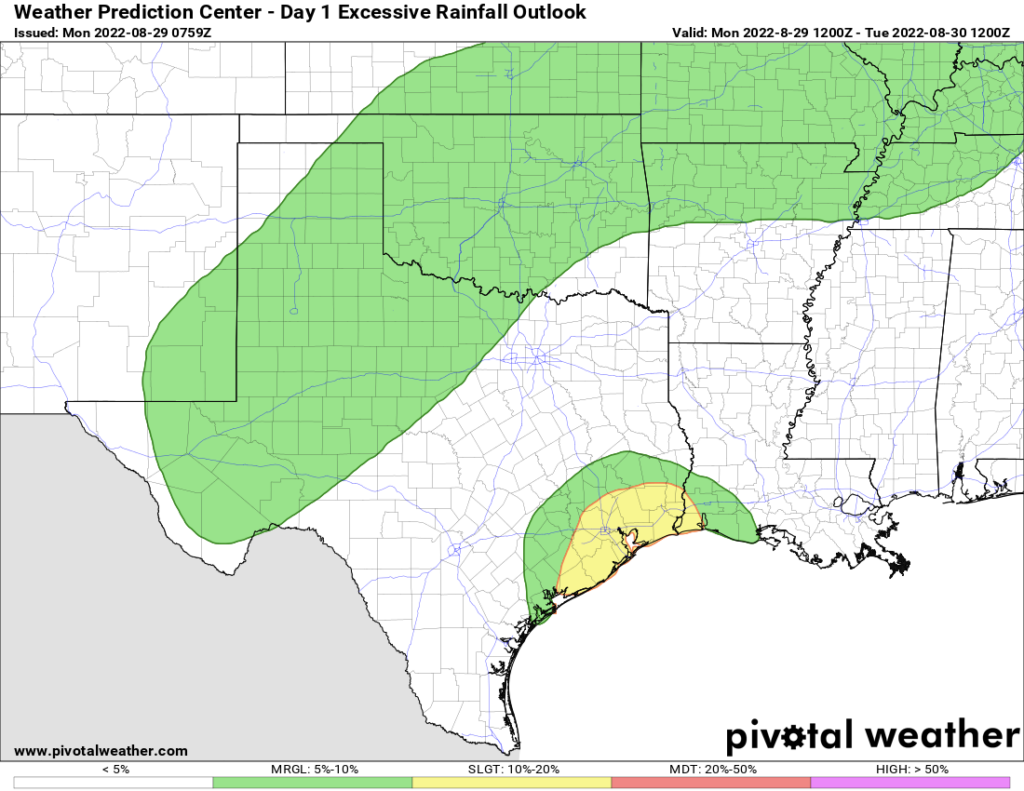 Clouds and showers will likely keep temperatures held way back today with 80s for most and some low-90s well inland and toward College Station.
Tuesday
The pattern remains quite favorable for locally heavy rainfall tomorrow too. Look for scattered to numerous showers and storms throughout the day. By their nature, not everyone will see rain again tomorrow, but those that do may see some pretty healthy rainfall. More on this Tuesday morning.
Rest of the week
Things do look to calm down a bit Wednesday through Friday, as we revert to more of a typical pattern of daily showers and storms associated with the sea breeze and daytime heating. Some of the rain will be heavy, but the most common areas to see heavier rain will be south and east of Houston. Daytime highs will be near average to perhaps a tick cooler than average, with upper-80s to near 90 degrees and lows in the 70s.
Labor Day weekend
At this point, we expect more of the same. The good news is that the models that had been aggressive in developing a tropical system near the Yucatan late this week and weekend have backed off a bit in the last 24 hours. This means there should almost certainly be no impact on Texas's Labor Day weekend outlook from that, just scattered showers and storms each day, with highs within a degree or two of 90 degrees.
Rest of the tropics
The rest of the tropics continue looking active today. There are four areas to monitor on the National Hurricane Center's five day outlook.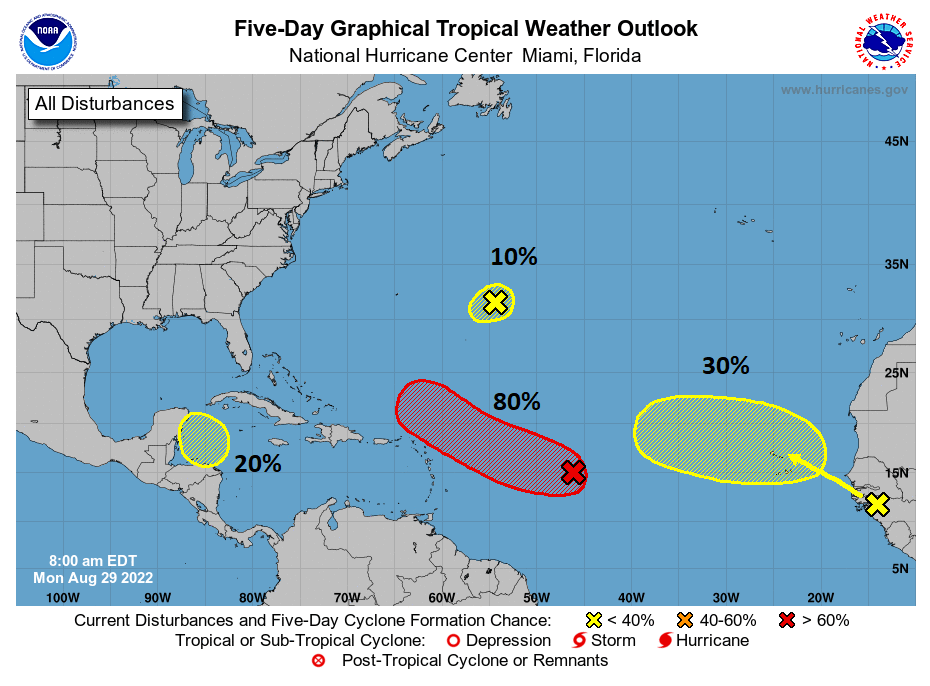 The good news for us? As noted in yesterday's tropics outlook, none of these areas is of particular concern for Texas or the Gulf Coast. We'll continue to monitor, particularly the one that may develop near the Lesser Antilles, but at this time, there is nothing in any model guidance that concerns us for the next week or more.