Good morning. It has rained nine of the last 11 days at Bush Intercontinental Airport, and 10 of the last 11 days at Houston's Hobby Airport. While some of us may be getting a little tired of rainfall, I would remind you that the alternative in late August is blazing hot sunshine and temperatures near or above 100 degrees. We saw plenty of that in June and July, when record heat scorched the region. Whatever your preference is, the rainy-gray skies-cooler temperatures pattern will prevail for some time. We're even going to get a weak front later this week to keep daytime temperatures on the lower side of things. Alas, this front will have almost no impact on nighttime temperatures or dewpoints. Hopefully, however, we will get our first real fall front within the next four weeks. Fall is not all that far away!
Tuesday
On Monday, much of the west side of the region saw significant rainfall, with two or even three inches of rain in southwest Houston and parts of Fort Bend County. After a wet few weeks our grounds are getting soggy, and less able to absorb higher rainfall amounts. The good news is that, while our region remains in a wet pattern, we're not seeing too much of a signal for slow-moving, heavy rainfall that will dump inches at a time, and lead to significant, widespread flooding. However, we will definitely have a chance for street flooding today where heavier rains set up. That appears most likely for areas west of Interstate 45 on Wednesday, where a few spots may see 1 to 3 inches of rain, with lesser amounts for most other parts of the region. Otherwise, expect highs in the upper 80s with light southerly winds.
Wednesday
The overall pattern remains the same for Wednesday, with a few areas likely to see heavier rainfall and lesser totals for much of the rest of the region. Expect partly to mostly cloudy skies with highs in the vicinity of 90 degrees.
Thursday and Friday
The aforementioned weak front approaches the northern reaches of the metro area on Thursday, and this shift should bring some slightly drier air into the atmosphere. This may knock daily rain chances back to 40 or 50 percent for the region, and I think we can expect daily high temperatures in the low 90s for the most part with partly sunny skies.
Labor Day Weekend
Unfortunately the forecast for Labor Day weekend is not super for outdoor activities. The aforementioned front will essentially stall out over Houston, and this will support rainy conditions. Rain chances each of the three days over the long weekend will probably be on the order of 60 percent, or so, with the potential for a few areas to see downpours. Skies will be partly cloudy, with highs in the upper 80s to 90 degrees. Looking ahead to next week, at this time I don't see much changing in terms of our slightly cooler days with higher rain chances. This pattern looks locked in for awhile. Summer came in with a bang, temperature-wise, and it's going out with a whimper.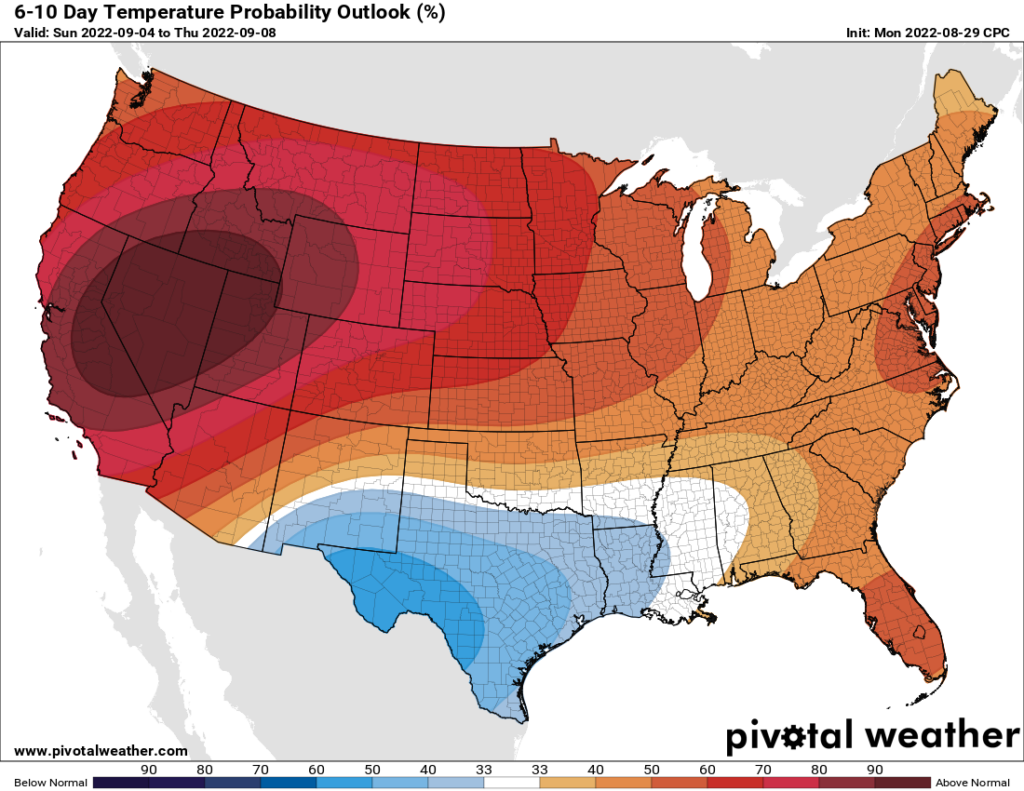 Tropics
Matt has done a fine job of summarizing the Atlantic tropics in recent days. The bottom line remains the same: While the Atlantic basin is heating up we don't see any near term threats to the Gulf of Mexico. That's a fine posture to be in as we reach the end of August.