It is another pleasant, early fall morning outside with lows generally in the low 60s. We are going to continue our recent warming trend for a couple of more days before some moderate relief arrives in the form of a weak front on Saturday. So the weekend looks pretty nice.
I'm still hopeful that we will finally start to see a bit of rainfall next week—College Station has not received measurable rainfall since September 7th, and it's been more than three weeks for most of the region. Matt will have more on this tomorrow, and the reemergence of drought conditions in the region.
Thursday
If you look on the radar this morning, you'll actually see some showers offshore in association with a low pressure system. Alas the atmosphere over land is pretty dry still, and I don't expect this precipitation to move inland. Instead, we're likely to see partly sunny skies today, with highs around 90 degrees or a touch above. Winds will be light, out of the north, at about 5 mph. Lows tonight will probably be a degree or two warmer than Wednesday night.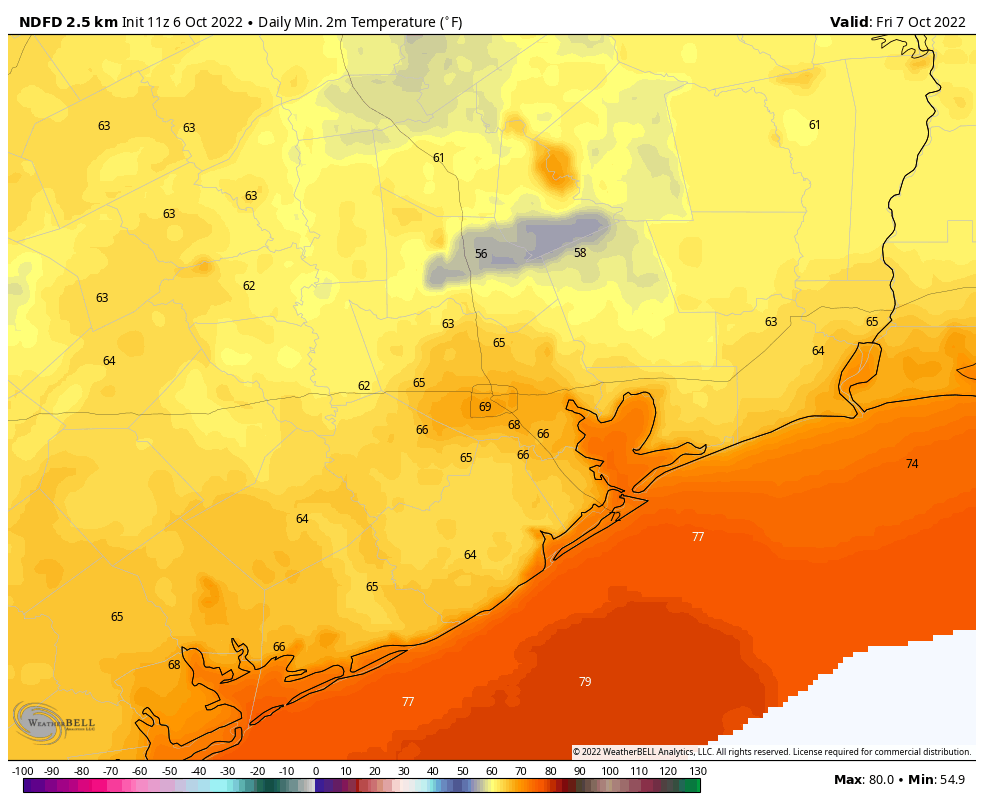 Friday
Friday will be similar to Thursday, although potentially just a bit warmer and with a few more clouds. Winds should again be light, generally out of the north. A weak front will move through late Friday and early Saturday morning, but it should hardly be noticeable as drier air will lag behind somewhat.
Saturday and Sunday
The weekend looks pretty alright in the wake of the front. You're coming to the wrong place if you want chilly autumn weather in early October, and days should be in the upper 80s, with lower humidity. If that's too hot for you, mornings and evenings should be rather pleasant, with somewhat drier air and lows in the low- to mid-60s. Skies will be mostly sunny, with rain chances near nil.
Columbus Day
If you're off from school or work on Monday, it should basically be a continuation of Sunday's weather, which is to say sunny and warm, and otherwise nice.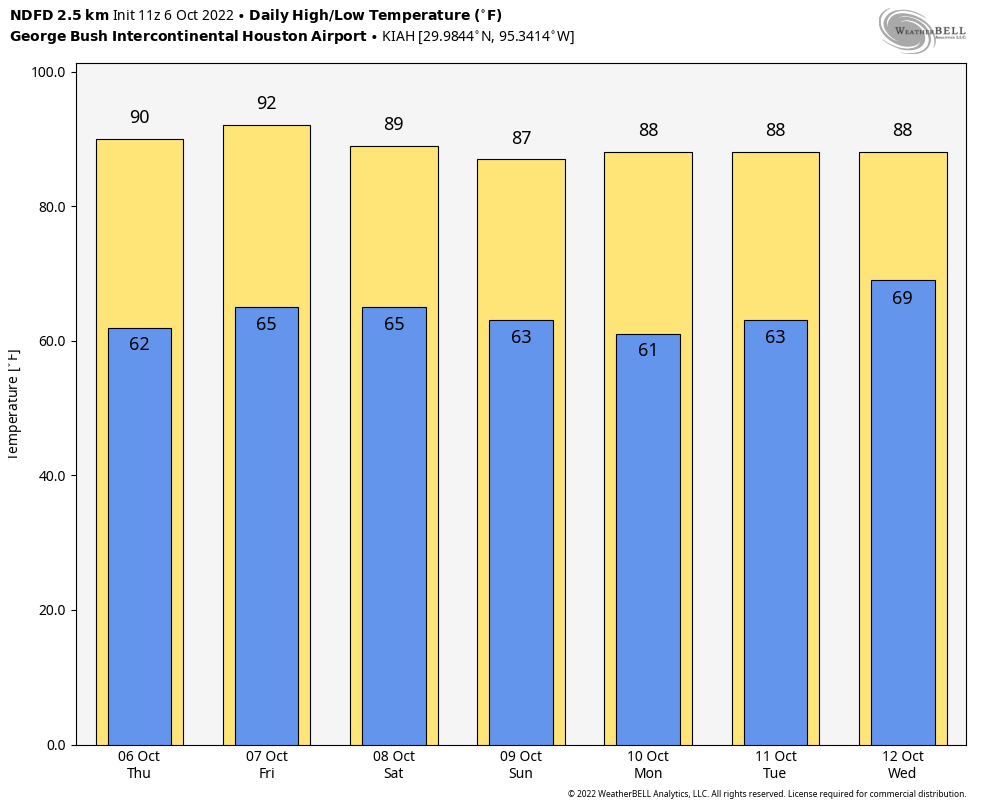 Later next week
Atmospheric moisture levels should be on the rise next week, with the potential infusion of tropical moisture, helping to finally return some decent rain chances to the region by Wednesday or Thursday. It's too early to have much confidence in totals or accumulations—but I wouldn't expect miracles. Nevertheless this is literally our first real chance for rainfall in weeks upon weeks, so it's better than nothing. And in the "more good news" department, it still looks more probable than not that a stronger front pushes into Houston later next week, possibly setting the stage for a pleasantly chilly weekend in the October 15 timeframe. We'll see.