Since September 1st, Houston has registered a mere three-quarters of an inch of rain, which is the driest start to meteorological fall (September-November) since 1953 (0.47″). More recently, 1992 only saw 1.08″ and the drought-ridden 2011 only saw 1.28″ of rain in that same time period. It's the fifth driest start to autumn on record.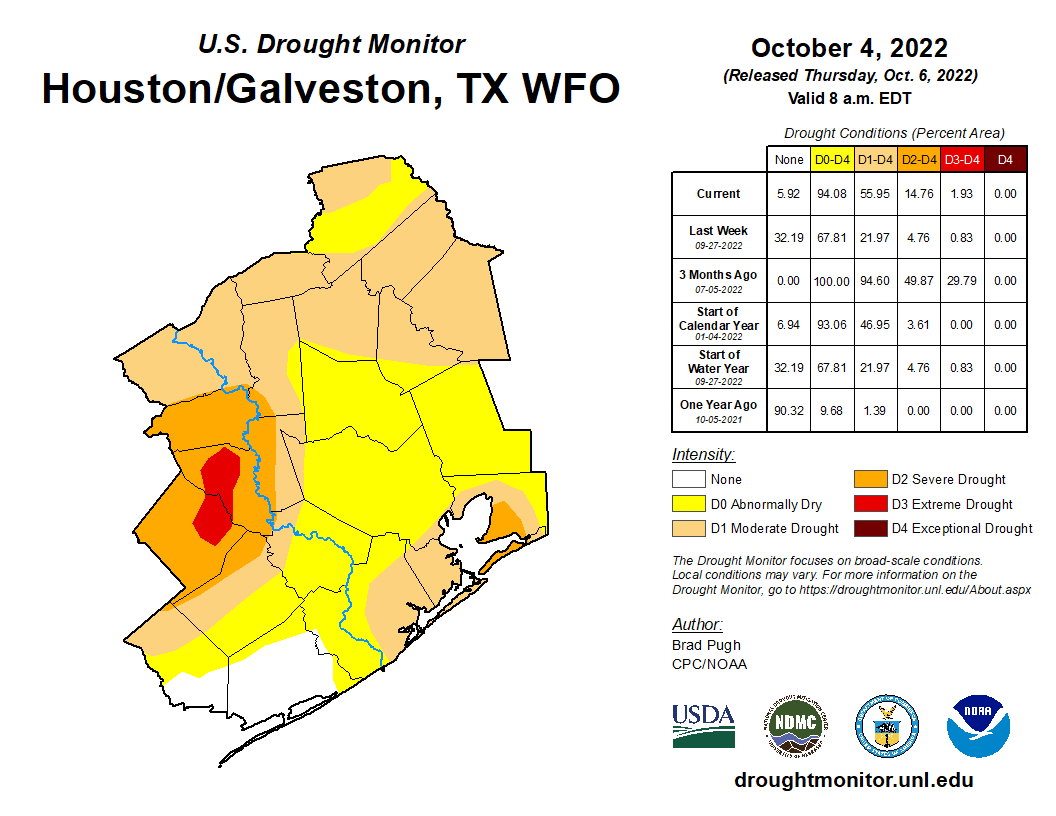 As you'd expect, with yesterday's drought monitor update, coverage of drought conditions in the Houston area increased by over 30 percent week over week. We need rain. October is normally our second wettest month of the year (trailing only July). We average over 5 inches of rain in a typical October. Hopefully we are able to cash in on some rain chances next week. Otherwise, watch for drought coverage to expand even more in the days ahead.
Today
No rain in the meantime. Houston officially hit 90 degrees on Thursday, and we'll feel a touch hotter today. Look for low 90s and a bit of humidity. Clouds will mix with some sun and haze otherwise. Pollen remains painfully high due to ragweed, and air quality will remain on the poor side in the morning via smog and in the late day via ground ozone.
Weekend
Saturday looks fairly similar to Friday in most aspects. Morning lows may be a touch warmer due to clouds. Daytime high temperatures may be a couple degrees cooler, but we'll see a good deal of sunshine emerge. Subtly, a weak front, which crosses the area later Friday, will start to usher in a reinforcing shot of dry air for the weekend days. We should notice a slightly more pleasant morning on Sunday with lower humidity during the day, despite highs in the still in the mid or upper-80s.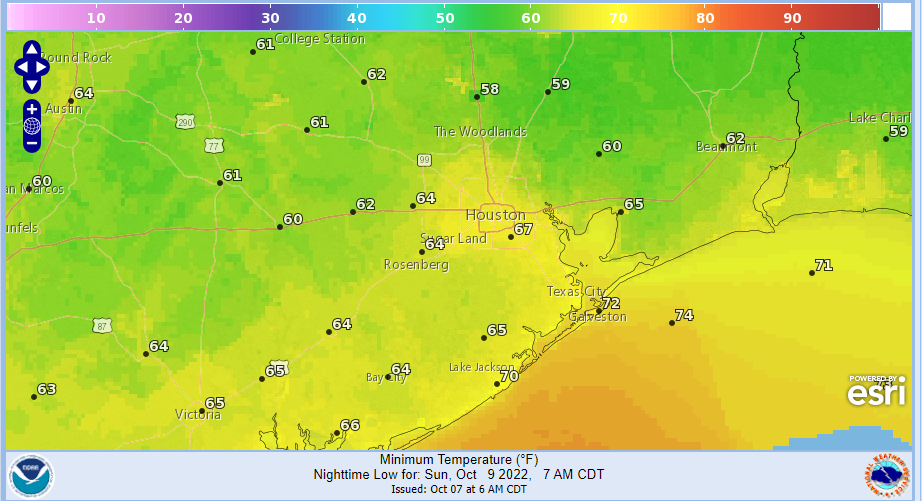 Aside from it being a bit warmer than usual, all weekend plans should be fine.
Early next week
Monday looks a lot like Sunday and Tuesday a lot like Friday. Does that make sense? Still pleasant but warm Monday and then warmer and a little more humid on Tuesday.
Mid to late next week
On Wednesday, it appears we actually get a legitimately strong surge of humidity into the area, which will make it feel more like late summer. Wednesday and Thursday seem unlikely candidates for "comfortable" weather. Look for upper-80s by day and 70s by night. Beyond that, there are questions as to the timing and strength of a cold front and how much moisture it will offer. That will determine the extent of our rain chances for next week. While I'm hopeful for some rain, this is not likely to be the drought-denter we are looking for.
Tropics
Here in Houston, we have no concerns. We have gotten some questions about the Caribbean disturbance, which is now Tropical Depression 13. The official forecast for TD 13 brings it due west across the Caribbean into Central America, specifically Nicaragua by the end of the weekend as a hurricane.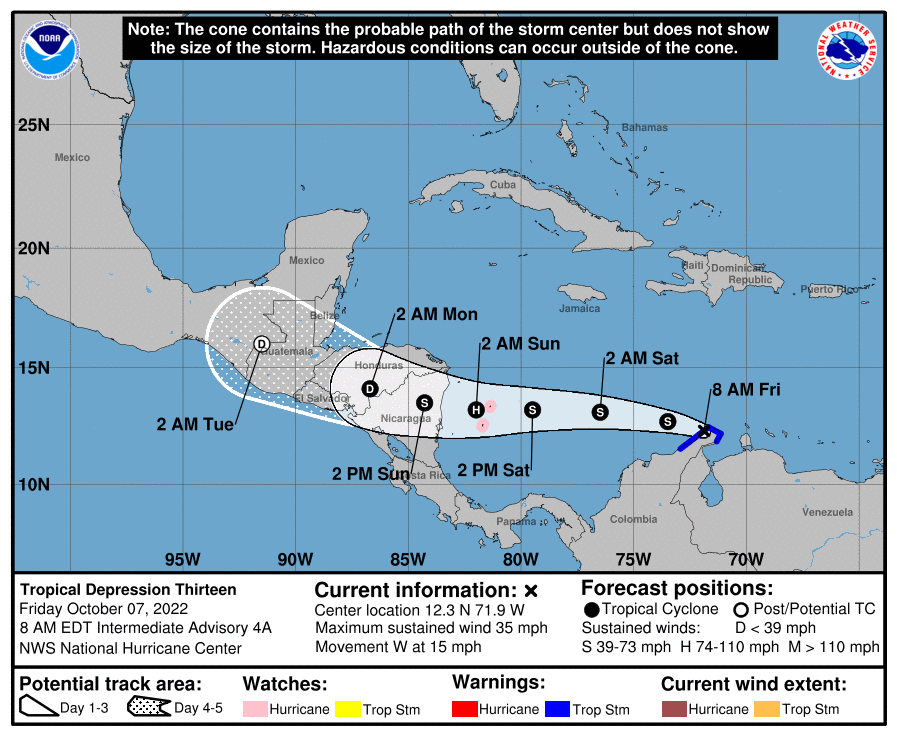 Thankfully, this is moving quickly and is abnormally far south, so hopefully that limits its intensity upside and subsequent impacts to Central America. But for those of you traveling to Cancun or Cozumel this weekend, you'll be fine. Those of you with interests in other Central American nations will want to monitor this storm's progress. The next name on the list is Julia.