August is almost invariably the worst month of the year, weather-wise, in Houston. Temperatures are either blazing hot with drought-like conditions, or we see flooding due to tropical moisture. Our air is often at its muggiest during the month. And almost always we see our most sweltering days and warmest nights of the year during the eighth month of the Julian calendar, named after the Roman emperor Augustus.
But not this year! In a rarity, both June (average temperature of 86.7 degrees) and July (88.0 degrees) topped the average temperature for August this month, 85.0 degrees. This month ranks just slightly below the "normal" August temperature as measured over the last 30 years of 85.2 degrees. The average temperature is calculated by adding the daily high, and the daily low, and dividing by two.
This August has seen cooler days than normal, due to persistent cloud cover and rain-cooled air, and nights that were slightly warmer than normal. We also received enough rain to break our emerging drought, but not enough to cause significant flooding. The bottom line is that after an exceptionally hot start to the summer of 2022, August was comparatively pleasant. And that's something I thought I would never write about the month of August, in the city of Houston.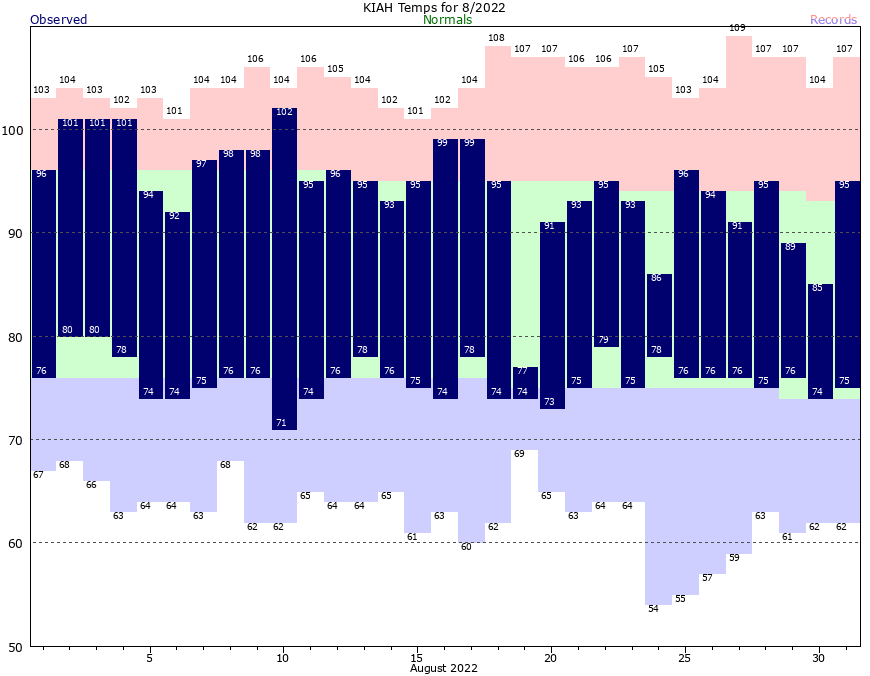 Looking ahead to September, we will see a continuation of this wetter and cooler-than-normal weather as our rather rainy pattern continues. For now we don't have concerns about widespread flooding, but as always we could see some streets fill up with water during intense downpours.
Thursday
The first day of September will bring partly sunny skies and high temperatures generally in the low 90s. Of the days during the next week, today probably has the lowest chance of rain, but I still think 40 or 50 percent of the Houston region will see showers and thunderstorms this afternoon amid daytime heating. Some of these storms could be briefly intense, with the best chances for inclement weather along and north of Interstate 10. Storms should fade as evening comes on. Winds will be light, perhaps only at 5 mph, from the east.
Friday
Friday should be similar to Thursday, albeit with a few more clouds, and rain chances of perhaps 50 to 60 percent. While we will see a weak front advancing southward toward Houston, and increasing atmospheric moisture levels, the best chances for heavy rain will not come until this weekend.
Saturday, Sunday, and Monday
Well, you can't say we didn't warn you. For awhile now, we've been suggesting that Labor Day Weekend in Houston will be soggy, and we're sticking to that story. Daily rain chances on Saturday, Sunday, and Monday will be upwards of 80 percent, with the potential for intermittent heavy rainfall as the aforementioned boundary stalls out over the region. Look for daily highs in the 80s, with nighttime temperatures in the 70s. Skies will be mostly cloudy. Overall, I think most of the area will see 2 to 4 inches of rainfall through Labor Day, but of course some isolated areas probably will see more. This should not be enough precipitation to cause significant flooding problems, but given the tropical air mass this is something we'll be monitoring for you.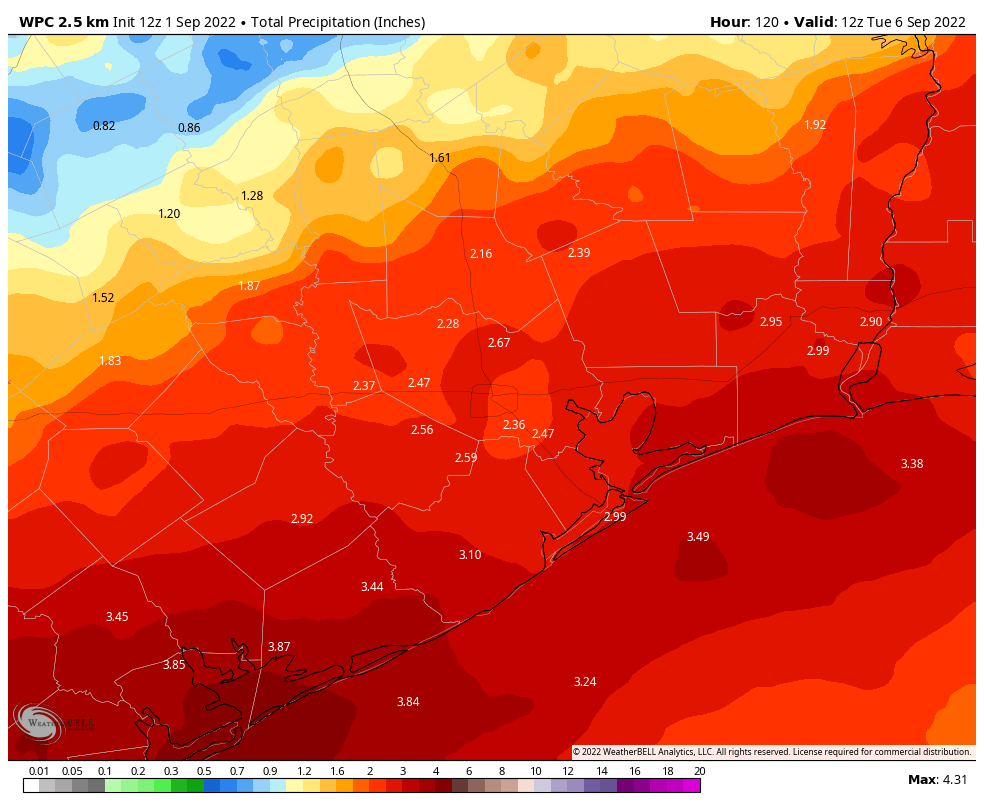 Next week and beyond
Rain chances will remain elevated for much of next week, it looks like, and this should help to keep high temperatures in the upper 80s to possibly 90 degrees. There will probably be some periods when we see sunshine later next week, but it's impossible to say when.
Now that we're in September, we can start to realistically look for fall's first cold that brings drier and cooler air into the region. There is nothing concrete in the forecast models, but there are hints at the possibility of such a front by around September 13 to 15. Right now I'd peg the chances of such a front actually making it at about 25 percent, but some hope is better than no hope I would say. Our first front typically comes during the second half of September.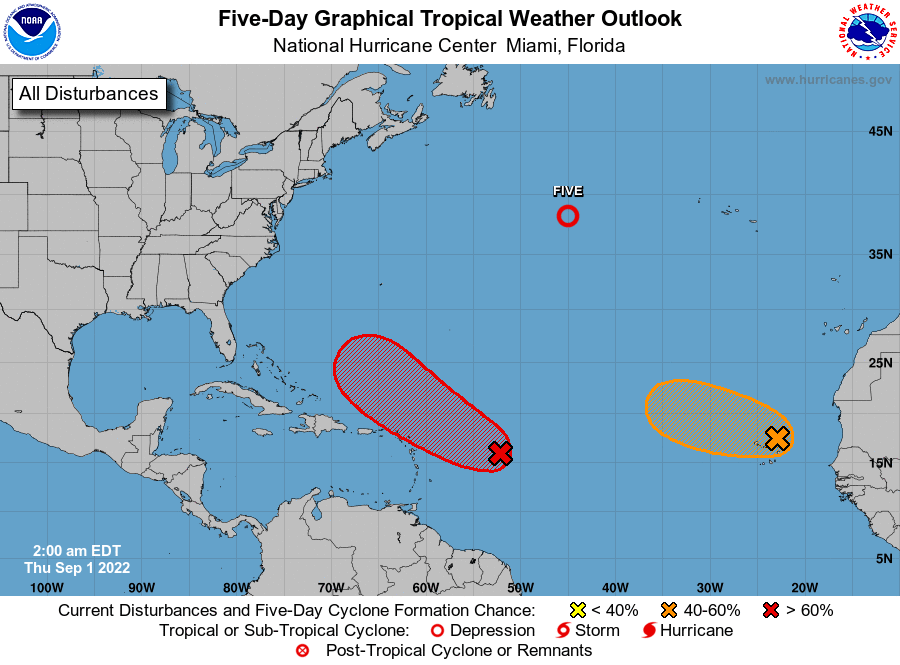 Tropics
After nearly two months of dormancy—the tropics have seen near historic levels of low activity through August this year—things are starting to pick up with a Tropical Depression in the central Atlantic Ocean and several other systems that could develop in the coming days. The very good news is that none of these systems appear likely to threaten the United States or Gulf of Mexico during the next week or 10 days, if not further. So this is a great place to be as we get very near the peak of the Atlantic hurricane season.