The outlook for heavy rainfall on Thanksgiving, overnight, and into Friday continues to worsen for the greater Houston area. As we get closer to the onset of rains on Thursday, high resolution models are indicating that the interaction of a warm front—you'll definitely notice the warmer and muggier air tomorrow morning—and a cut-off low pressure system will produce a lot of rain. To account for this, we are issuing a Stage 1 flood alert for the entire Houston metro area, which means we are likely to see some street flooding. For more information about our flood scale, see here. The alert is in effect from Thursday morning through Friday evening.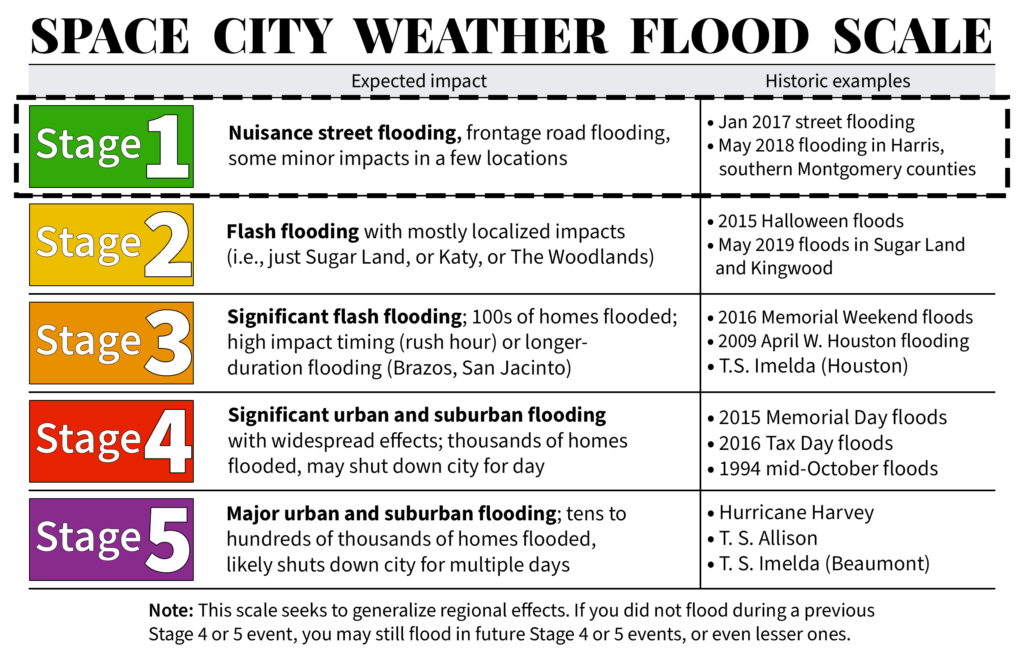 Timing
So what can you expect tomorrow? The pre-dawn hours should be fairly quiet, but by around sunrise or shortly thereafter we can probably expect storms to form to the southwest of Houston, near Matagorda Bay, and move inland toward Houston. By the mid-morning hours, I expect to see fairly widespread, heavy rainfall across much of the region, with the possible expection of areas far inland, such as Conroe or College Station. The potential for intermittent, moderate to heavy rainfall will continue throughout the afternoon and into the evening hours.
At some point on Thursday evening the atmosphere may be fairly well "wrung out," and need time to recover. So while things may quiet down during the overnight hours, we expect a recharged atmosphere to produce more widespread rainfall on Friday. I don't think these showers will be as heavy as those on Thanksgiving Day, but we'll have to see about that. Drier air should finally move into the region on Saturday morning, ending the threat of rainfall and leading to a pleasant, sunny weekend.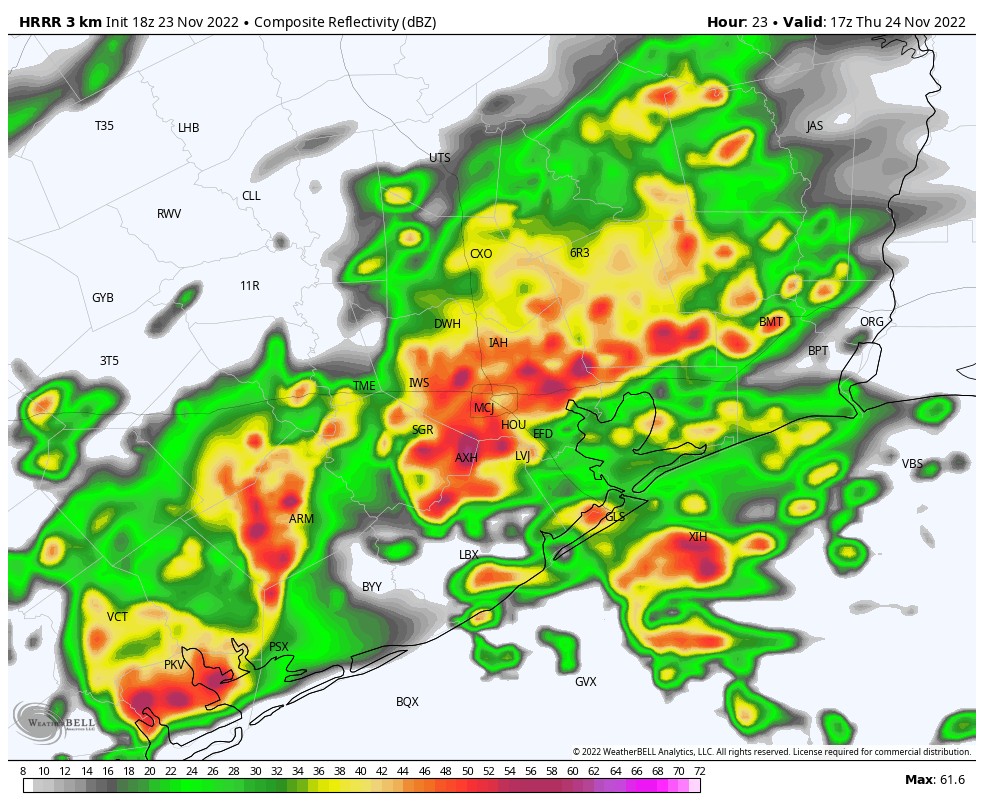 Accumulations
I don't feel particularly confident in predicting how much rain will fall, but given the overall setup and fairly moist atmosphere, I think areas south of Interstate 10 could be looking at 2 to 6 inches of rainfall over both days, with 1 to 5 inches for areas further inland. It is possible that some areas will see more. This is enough to flood some streets, at least for a short time.
I hate to say it, but this really is a fluid situation, and we can probably expect additional forecast changes. For now, we want you to be weather aware tomorrow when you're out and about celebrating the holiday. Be sure to check the radar before hitting the road, and of course do not go outside into storms where there is lightning.
We'll have our next update no later than early Thursday morning, and will provide coverage throughout the holiday as needed.
Fundraiser
We're in the final days of our 2023 fundraiser. So if you appreciate our efforts to stay on top of the weather, even when we'd rather be sleeping off our tryptophan highs, you can buy Space City Weather merchandise here, or donate by clicking "I'd like to make a donantion" only. Thank you!