All I have is anecdotal evidence, but the mosquitoes in my neighborhood have been oppressive during the last week or so. I can only remember, on rare occasions, being bothered by mosquitoes during a morning or evening walk. But in recent days they have been biting me with vigor, including through clothing, even while moving. My experience is apparently not unique. So why are the bugs so bad?
It is difficult to generalize, as there are about four dozen different species of mosquitoes that live around the Houston area. And I am no pest expert or entomologist, but the recent activity seems to have been triggered by the wet spell we experienced during the last 10 days of November, followed by spring-like warmth during the first 10 days of December. This likely signaled the mosquitoes to hatch at an accelerated rate, as if we we were seeing spring rains. Regardless, it is miserable in parts of the Houston region. Fortunately, relief is coming.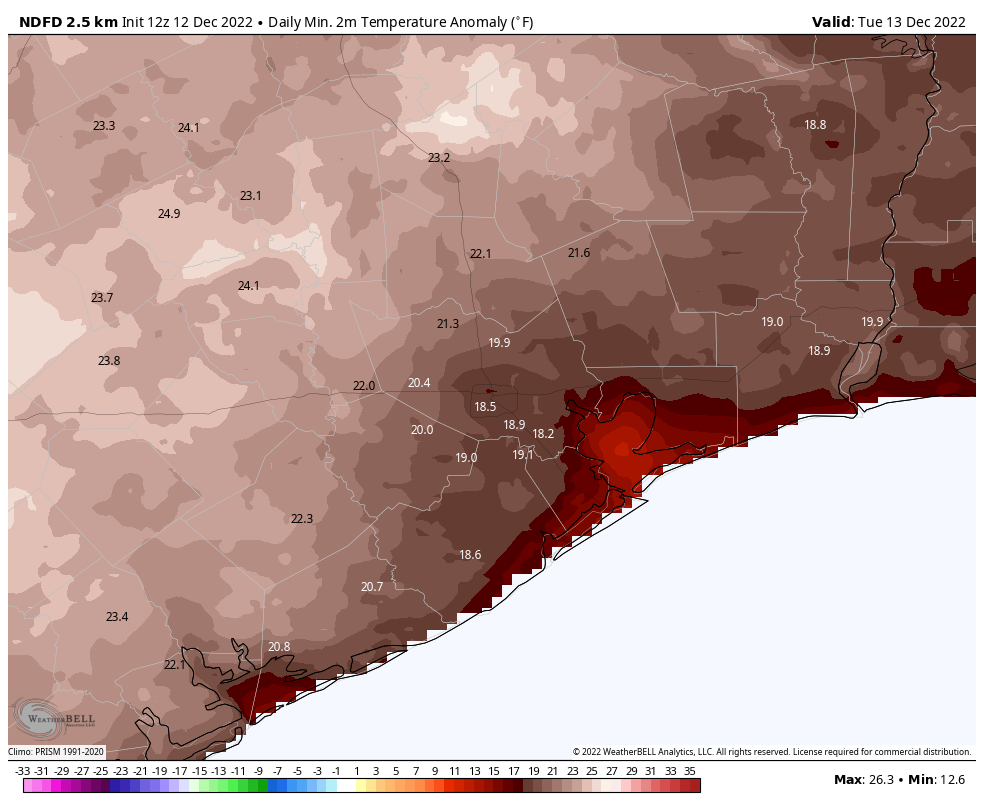 Said relief will arrive later this week with the first of several cold fronts that appear likely to plunge our region back into winter-like conditions. The first front arrives Tuesday night, to push nighttime lows into the 40s. If you think that sounds cold, then wait until the week of Christmas. There are strong hints that our first freeze is coming then, and it may be rather persistent. More on this below.
Monday
Before the cold weather arrives, however, Houston will see two more warm days. Today will be mostly cloudy, with highs likely topping out in the low- to mid-70s to go along with light southeasterly winds. As clouds continue to blanket the skies tonight, lows will only drop into the mid-60s. There will be a slight chance of rain late tonight as moisture levels increase along with the onshore flow.
Tuesday
This will probably be the last really warm day of 2022. We can probably expect high temperatures in the upper 70s to 80 degrees ahead a cold front that will move in later on. Storms will be possible on Tuesday afternoon and early evening prior to the front's passage, but the better dynamics for severe weather lie to the northeast of the metro area. Rain totals will be on the order of one-half inch in Houston, but there is the potential for higher, localized accumulations. As for timing of the front itself, along with drier air, it probably will make it into the metro area some time between sunset on Tuesday and midnight, before pushing off the coast a couple of hours later.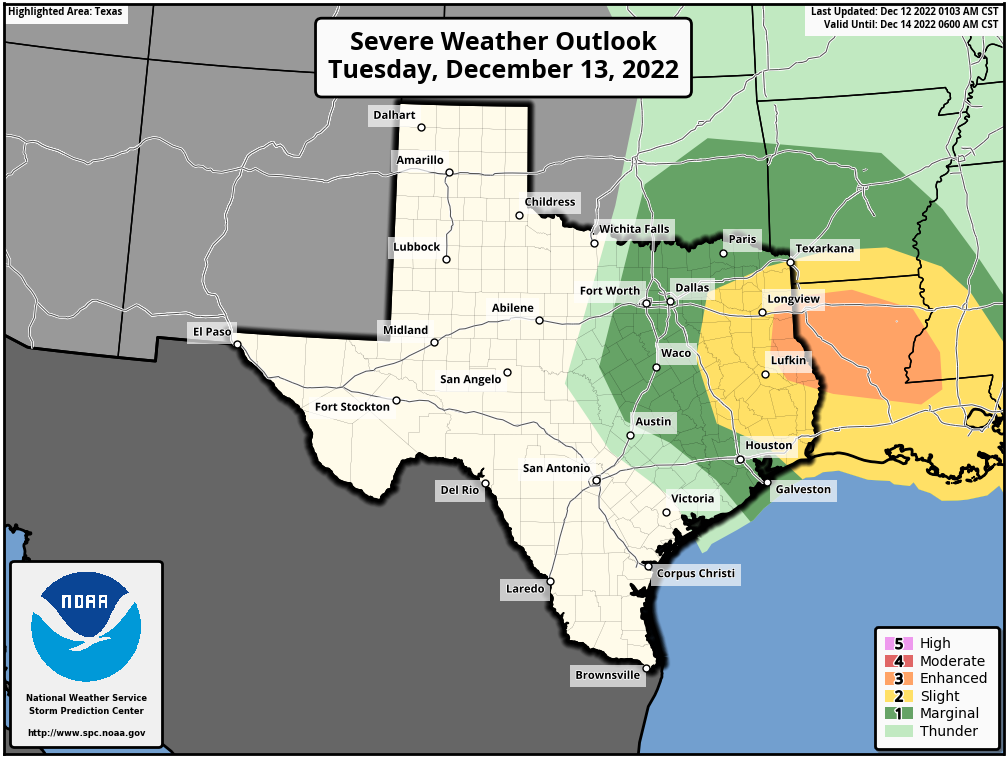 Wednesday
Skies will clear quickly after the front. Highs on Wednesday will likely top out in the low- to mid-60s, with sunshine and breezy conditions. Look for gusts out of the north at up to 25 or even 30 mph. Lows on Wednesday night should drop into the mid-40s in the city, with colder conditions for outlying areas.
Thursday and Friday
These look to be clear and cool days, with highs perhaps around 60 degrees, and lows in the low 40s. Welcome back, winter.
Saturday, Sunday, and Monday
First we're going to see an additional front move in on Friday, to bring more cold air. Then, by Saturday, the upper atmosphere may become more conducive to rising air. This should generate some cloud cover and rainfall, although I'm not overly confident in the details. For now, Saturday through Monday will likely see partly to mostly cloudy skies, with high temperatures in the 50s, and a daily chance of rain in the 30 to 50 percent range. So this period has some potential to be dreary, but again, we'll need a couple of days to fine tune the details. Overnight lows will drop to around 40 degrees.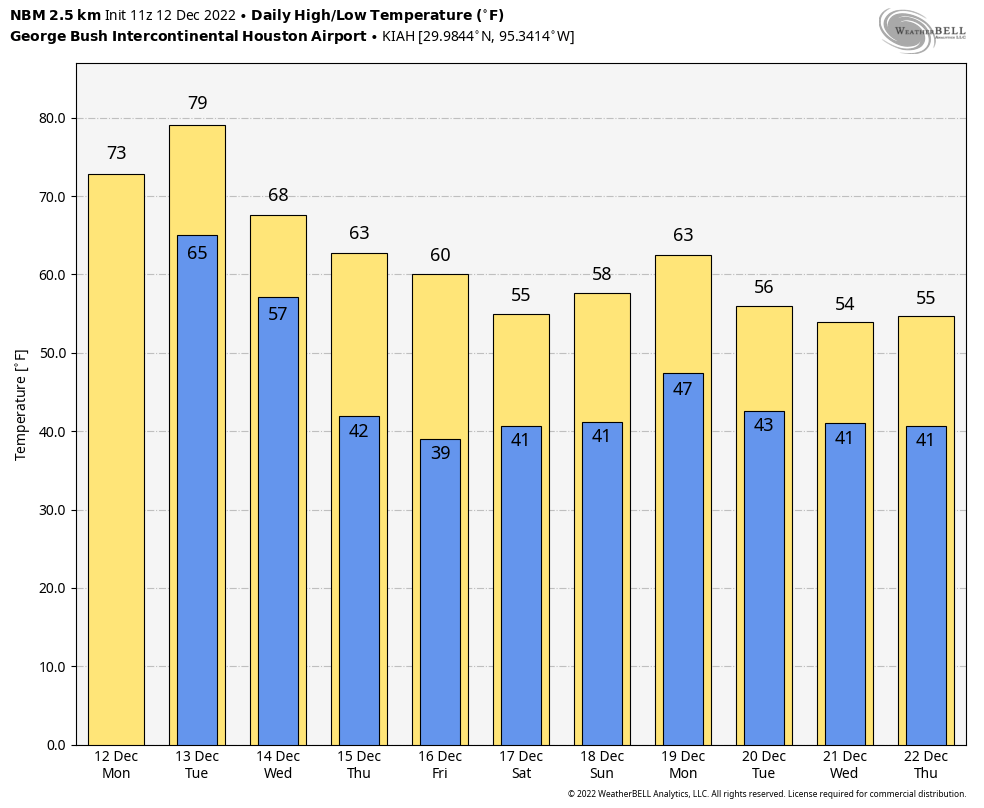 Later next week
Most of next week looks fairly chilly, with highs probably mostly in the 50s. There is a fairly strong signal in the models for an even deeper burst of colder air toward the middle or latter half of next week. This could push overnight temperatures below freezing—perhaps even into the 20s—by around December 22 or so. This really is at the edge of our reliable forecasting capability, so it remains speculative. But my sense is that the days leading up to Christmas are going to be quite cold, and possibly the holiday itself. How cold? I'd love to be able to tell you that, but I can't. However, I do think we're looking at lows probably between 25 and 40 degrees, so you can expect Jack Frost to be nipping at your nose.