The weather Houston has experienced this month is very far from normal. Through the first 13 days of the month the average temperature has been 9.7 degrees above normal. If the month ended today, this December would go down as the warmest on record. The month, of course, is not over. But that record remains well within striking distance as the rest of this week will see temperatures soaring 20 degrees warmer than is customary for December. We will see a cooldown this weekend that will last into Christmas week. But will it last into Christmas Day? That's a big question right now.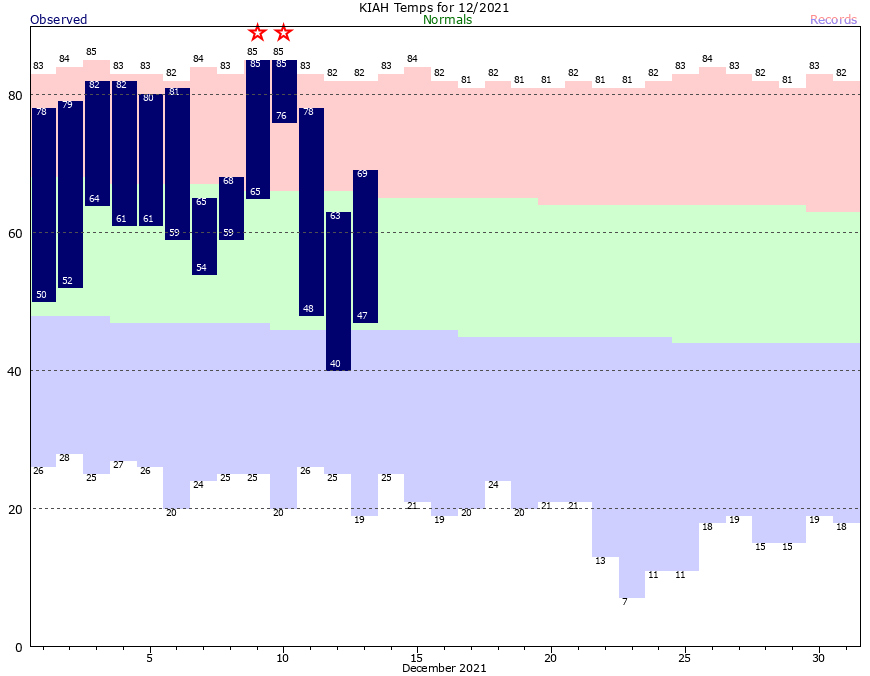 Tuesday
If you like fog and humidity and high dewpoints, have we got a December delight for you. Low temperatures this morning have only fallen to about 70 degrees, and as this warm and moist air moves over cooler waters it is creating what's known as sea fog. This fog is fairly thick in some places, but should erode later this morning. In its wake we'll see a mostly cloudy day with highs of around 80 degrees. Some rather light, scattered showers will be possible throughout the day. Your chances of seeing rain are probably about 20 percent or less, however. As for tonight, you guessed it. Warm, muggy, and more fog possible.
Wednesday and Thursday
Not much changes as we get into the middle of the week. Probably the only noticeable shift will be winds becoming a bit more pronounced out of the south, with some gusts up to 20 mph. Slight rain chances remain.
Friday
Does significant change come on Friday?
Nope.
Saturday and Sunday
However, change will arrive by the weekend as a front drops down into the region. In terms of timing, my best guess is that the front moves through between sunrise on Saturday and noon. And it's going to be a wet frontal passage. I don't think we're looking at anything extreme, but a line of showers and perhaps some thunderstorms will accompany the front. Unfortunately high pressure won't move in immediately afterward, which means we're going to see a continuation of moderate rain chances through Sunday night. Overall accumulations are probably about 1 inch of rain for most, give or take.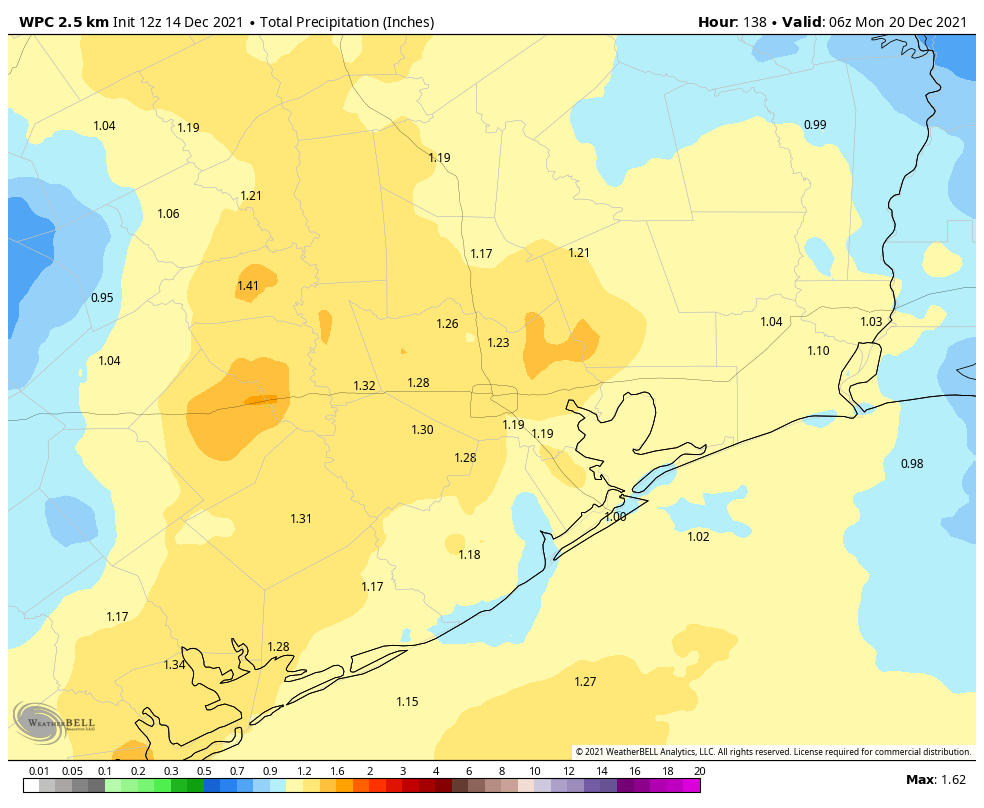 In terms of temperatures, they'll drop into the 60s in the wake of the front. Clouds will probably limit lows on Saturday night to about 50 degrees in central Houston. Sunday may peak at about 60 degrees, with scattered showers, and lots of clouds. Lows Sunday night will probably drop into the upper 40s in Houston.
Next week
Skies clear out on Monday and this will lead to sunny days and cooler nights. Monday and Tuesday should both see highs in the 60s, with lows in the 40s. (Tuesday morning will likely be the coldest of the week). After that we start warming up, and if you're wondering about Christmas weather the question becomes the timing of the next front. If one doesn't come before the holiday, which seems like the most plausible scenario, then your Christmas Day weather may be something like today. (I know, right?) Right now I'd lean 60-40 in favor of no front, versus the next front to cool things down.