Good morning. After a winter-like weekend, our temperatures will be back on the upswing toward near-record heat this week, with highs of around 80 degrees from Tuesday through Friday. By week's end another front will arrive, and this should usher in more typically chilly weather for December. What happens after that? Read on below for full details about the Christmas week forecast.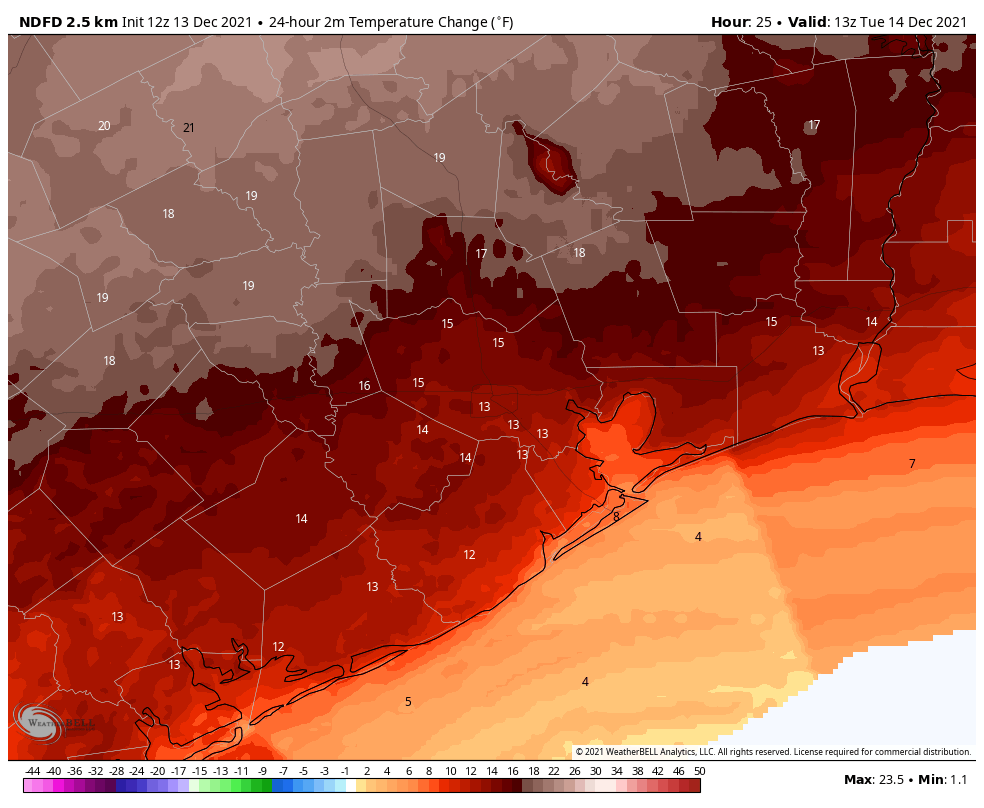 Monday
Temperatures are generally in the 50s across the metro area this morning, and we can say goodbye to those after a few hours. Today will generally be mostly cloudy, which will help to limit high temperatures to about 70 degrees. Some very light rainfall, almost mist-like, will be possible later today, but any accumulations should be scant. Winds will be light, shifting to come from the southeast later today. Lows tonight will only drop a few degrees from daytime highs, into the mid-60s for most.
Tuesday
Dewpoints on Tuesday will morning will be about 20 degrees higher than on Monday, and accordingly it's going to feel pretty muggy outside. Some fog will be possible as a result. As skies clear out some on Tuesday, high temperatures will reach about 80 degrees. Overnight lows will drop to around 70 along the coast, with conditions a few degrees cooler inland. This is about 20 to 25 degrees above normal for this time of year.
Wednesday
Conditions will be more or less same as on Tuesday, although winds out of the south will be more noticeable, gusting above 20 mph.
Thursday and Friday
The pattern remains more or less the same. On Thursday a front will move into northern Texas and stall. This may provide the impetus for some cloud cover and potentially some showers locally, but in truth I don't think there will be too much sensible effect on the Houston area weather. There is a stronger front coming, but it probably won't reach the Houston metro area until Saturday morning.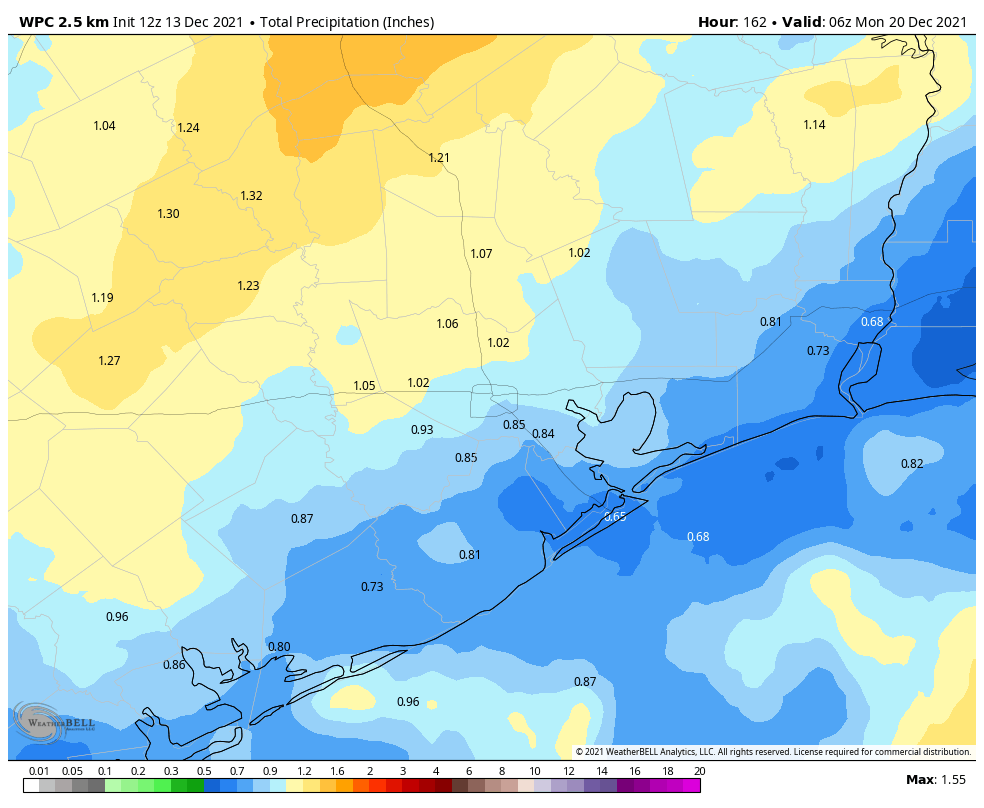 Saturday and Sunday
The weekend is mostly going to be wet, gray, and cold. There are still some uncertainties in terms of timing, but at some point between Friday night and noon on Saturday a strong front will blow in. The details are yet to come, but as there will be plenty of atmospheric moisture with which to work, and this front will be bringing a significantly colder air mass into a warm one, rain showers and thunderstorms are definitely possible. Temperatures after the front on Saturday should be in the 60s, with lows likely in the 40s.
The rain probably isn't going anywhere on Sunday, with a solid 50 percent chance of rain, and highs again probably topping out at about 60 degrees. Lows will again likely be in the upper 40s on Sunday night.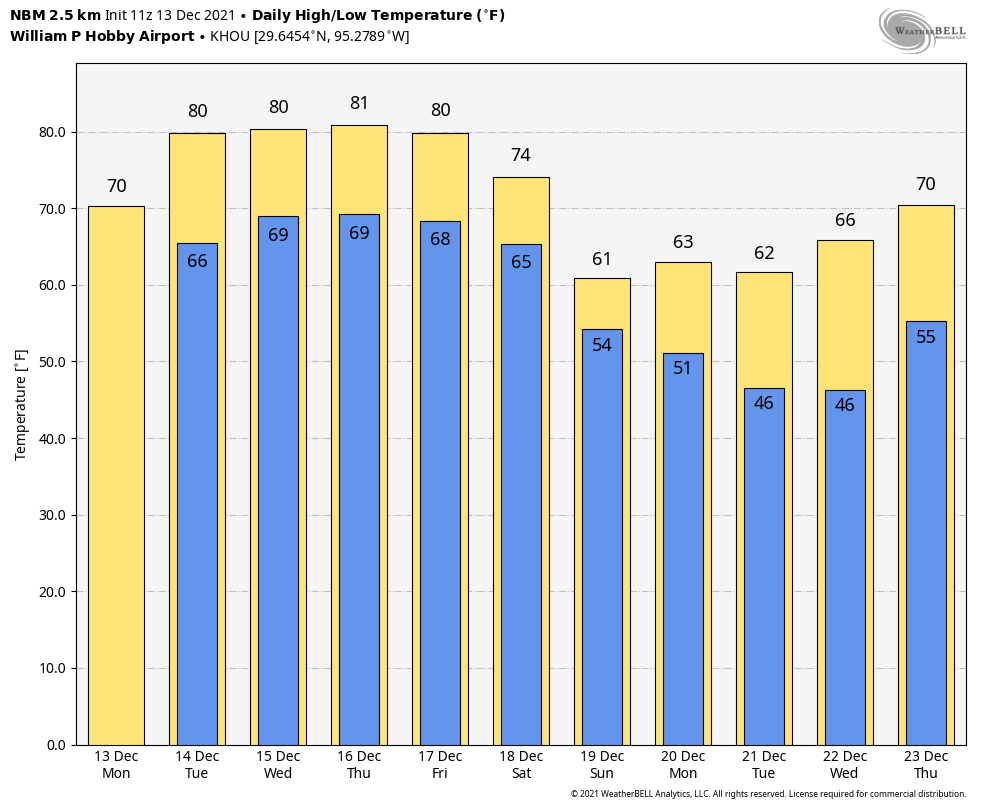 Christmas week outlook
Eventually our atmosphere should settle down, and right now I think this probably will happen on Monday, leading to gradually clearing skies and lowering rain chances. This should set the stage for clear and cool weather through at least Wednesday, with lows solidly in the 40s.
There is no clear guidance in the models about what comes after this, but the most likely scenario is warming trend through next Friday, Christmas Eve, or Saturday, Christmas Day. In this case, I'd guess we're looking at highs in the 70s with warmish nights for the holiday. Right now there is no strong signal for heavy precipitation around Christmas, nor particularly cold temperatures, so snow is not on the menu. If this sounds un-festive to you, take some hope that there's a non-trivial chance that another front slides through before Christmas, in which case things would feel more seasonal out. We shall see.