Good morning, Houston! We are now at the mid-point of December. In the big picture, the forecast is pretty straightforward. After three very warm days, a front arrives to make for a wet and chilly weekend. This colder pattern persists into the middle of next week. And after that? We start warming and waiting to see if another front makes it through before Christmas Day. If not, then Mele Kalikimaka my friends, as it will feel more like Honolulu in winter than Houston.
Wednesday
Modest southerly winds are helping to mitigate the formation of fog this morning, although there are still a few patchy areas around town. Otherwise, we're going to see partly sunny conditions today, with highs reaching about 80 degrees, or possibly warmer for inland areas. Those winds will continue from the south throughout the day, possibly gusting as high as 20 mph. Some very light, spotty showers will be possible. But rain chances are less than 20 percent. Overnight lows will be warm, only dropping to around 70 in Houston.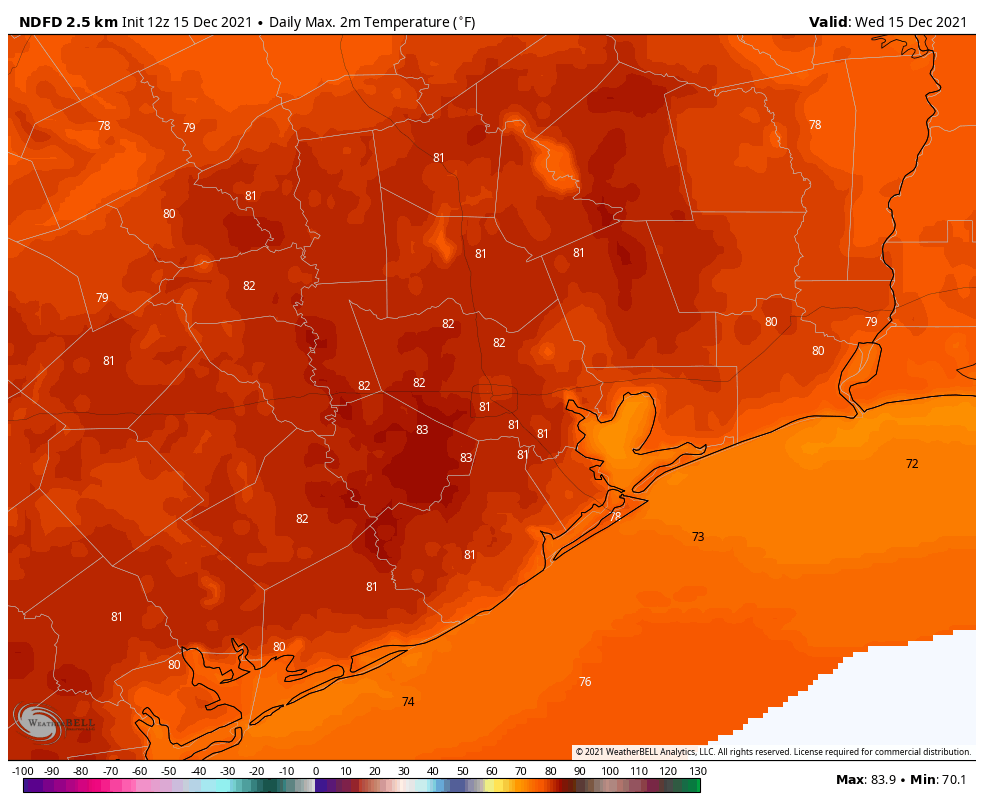 Thursday
See Wednesday's forecast.
Friday
More of the same, with a mix of sunshine and clouds, highs around 80 degrees or a tick warmer, and a pronounced onshore flow of moist air from the Gulf.
Saturday
The timing of the front remains somewhat in question, but most likely it will move through the Houston area between sunrise and around Noon on Saturday. Temperatures will drop into the 60s during the afternoon hours, and lows down near 50 in the city overnight with cloudy skies. On and off rain showers will be possible throughout the day, with accumulations averaging an inch, with some areas seeing more, some less.
Sunday
This will be a mostly cloudy day, with high temperatures likely peaking in the upper 50s. Some scattered showers are possible during the daytime and Sunday night, but we're not looking at anything too heavy. Mostly, it should just be cloudy and cool. Lows Sunday night should get into the upper 40s for Houston, with colder conditions for outlying areas. Rain chances persist into Monday morning.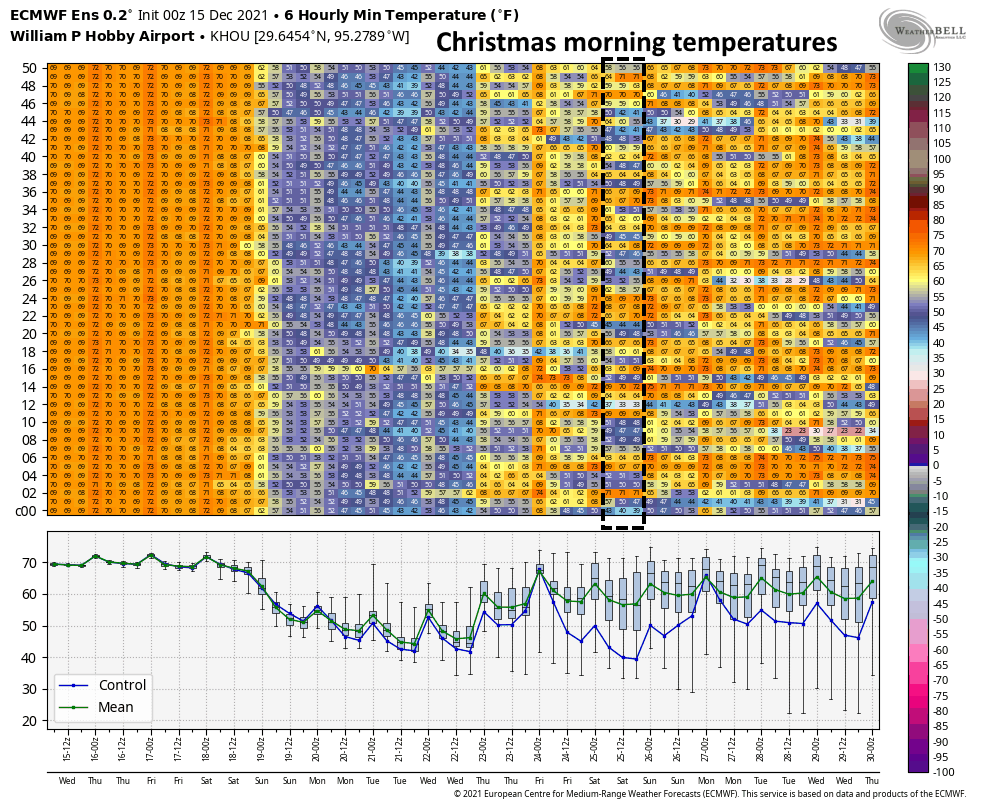 Next week
As mentioned, Houston will remain on the cooler and drier side of things through about Wednesday of next week, after which daytime highs are probably going back into the mid-70s, with mild nights. Rain chances, for now, look low next week. So will this pattern persist all the way into Christmas? I still don't have a definitive answer on that, unfortunately. It all depends on the timing of the next front, which remains uncertain, but now seems a little more likely to arrive just in time for Santa. Yesterday I was predicting a 60 percent chance of no Christmas front, and a 40 percent chance of a front. Today I'm 50-50. One thing is for sure, the probability of snow is the same as that of the Houston Texans making the playoffs.