There is no way to spin Saturday's lousy weather in Houston, which was just a dreary day. But the second half of the weekend made up for it with some spectacularly sunny weather. If you caught sunset on Sunday night and did not go inside right away, then you were able to enjoy an additional celestial treat. The setting Sun was followed by a lovely, very thin crescent Moon on Sunday evening. A little higher in the sky, there was the bright light of Venus. Just to the right of Venus there was a considerably fainter "star." This was, in reality, Saturn.
Looking ahead to this week, our immediate concern is the potential for severe weather on Tuesday, particularly near the coast, with the passage of the next cold front. After that we'll see sunny skies and sharply colder nights through the rest of the work week, with a warm-up by the weekend.
Monday
Today should be pretty nice, with mostly sunny skies and high temperatures near 60 degrees. Winds will be light, out of the northeast, at 5 to 10 mph. However, later today and tonight, winds will start to shift to come from the east, and turn more gusty. This increased atmospheric moisture will support the development of clouds tonight, and should hold overnight lows at about 50 degrees.
Tuesday
An upper-level disturbance will approach our region on Tuesday and really stir up the atmosphere. As this low pressure system nears to Houston region it may be intensifying, leading to a line of strong showers and thunderstorms as it sweeps through the region during the afternoon hours.
Starting out during the morning hours, we'll see scattered showers and thunderstorms. Winds will shift from the east, to south, to finally come from the west as the front approaches and then passes through the Houston area. I think the line of storms will probably reach areas such as Katy between about 1 to 3 pm, the downtown area about 2 to 4 pm, and push off the coast by 4 to 6 pm. These storms are going to bring three things: Strong winds, especially near the coast, where gusts will reach 40 to even 50 mph; briefly intense, heavy rainfall; and the potential for some isolated hail and perhaps a tornado or two. As the low pressure system will likely be intensifying as it moves into Houston, the strongest and most severe weather appears likely to develop south of Interstate 10, in areas such as Brazoria and Galveston counties.
We are closely monitoring the potential for street flooding, as these storms will likely produce widespread accumulations of 1 to 3 inches of rainfall, with higher isolated totals. We are not quite ready to issue a Stage 1 flood alert, but it's something we may do later this afternoon as we see more data. The bottom line is that conditions in Houston on Tuesday afternoon may briefly turn fairly nasty. Winds become northerly on Tuesday after the front's passage, dropping lows to around 40 degrees in Houston.
Wednesday and Thursday
These will be cold winter days (for Houston). Look for mostly sunny skies, breezy northerly winds, and highs in the mid-50s. Both nights will drop into the upper 30s in Houston, with colder conditions further inland. We cannot entirely rule out a freeze for some far inland areas.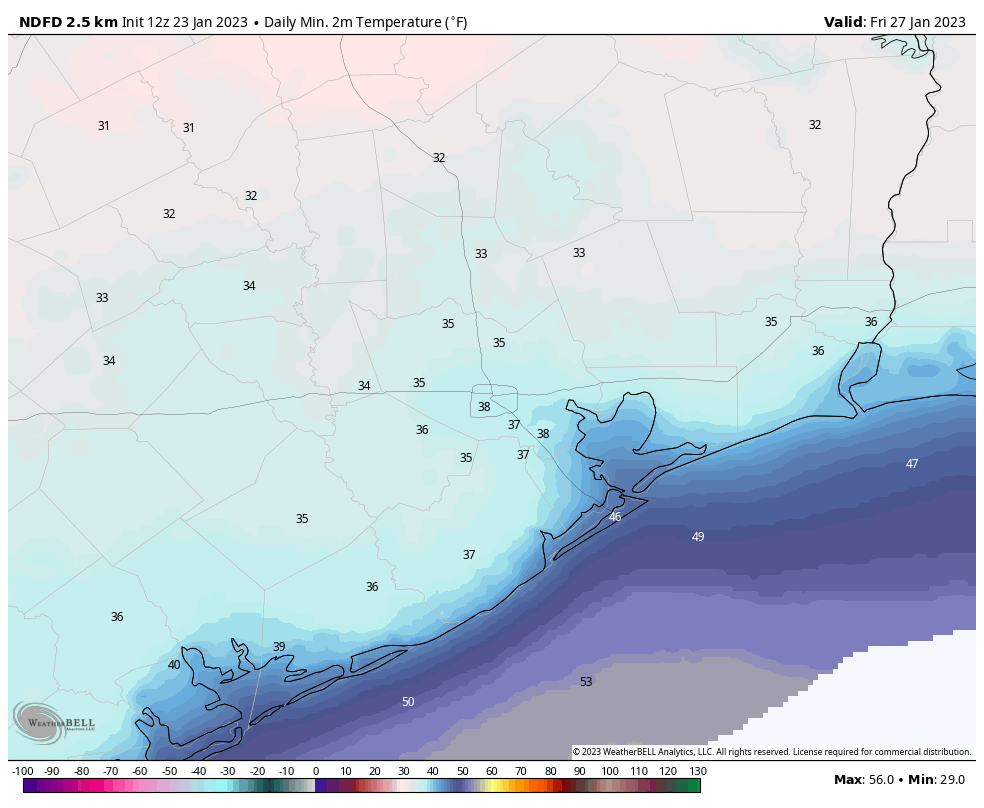 Friday
Highs should climb to around 60 degrees on Friday, so a bit warmer, with mostly sunny skies. Lows Friday night will only drop into the mid- to upper-40s as a more southerly flow returns.
Saturday and Sunday
The forecast for the weekend is a little bit blurry, but I do think we'll see a healthy chance of showers, although it's difficult to pinpoint when, or how much rain. Chances, for now, look best south of Interstate 10. Temperature wise, I think we'll be back to highs of around 70 degrees, with lows just in the 60s. Hopefully we'll get some more clarity on the weekend forecast in a day or two.
Next week
The broad trend supports a cooler pattern again for next week, but the details are understandably lacking. There is perhaps a 1-in-4 chance of seeing some substantially colder weather later next week, with lows near freezing, but my guess is that we'll probably see something milder than that. I only mention this because some readers have been asking whether winter is over yet. My short answer is: "I don't think so."