Happy Friday to those of you celebrating. I just want to give a quick thanks to Eric for covering me last Friday, as I attended the American Meteorological Society's annual meeting in Denver. I also got to give a talk about the Space City Weather Flood Scale, and we may have some opportunities to partner up with some experts to improve it, something I'm excited to wade into (pun intended). The talk should be publicly available to view in a couple months. I'll let you know when that happens.
Our forecast today features a bit of a mix, including two fairly decent rain opportunities, one tomorrow and another next week.
Today
Clouds will be on the increase today have arrived today, as the first of our two systems comes this way. Yesterday was sunny and pleasant. Today will be cloudy and cool. High temperatures should check in about 15 degrees cooler than Thursday, with most areas not escaping the mid or upper-50s. As far as rain goes, sprinkles and/or showers will begin to spread from southwest to northeast as the day progresses. Most places should see some form of rain by this afternoon.
Tonight into Saturday
While it probably will not rain all night tonight, there will be periods of drizzle, light rain, and moderate rain likely at times through the night. A stray rumble of thunder is also possible. These waves of showers and rain will continue pumping in through much of Saturday. Again, it's unlikely that it will rain everywhere all day. But you'll need an umbrella at the ready wherever you are.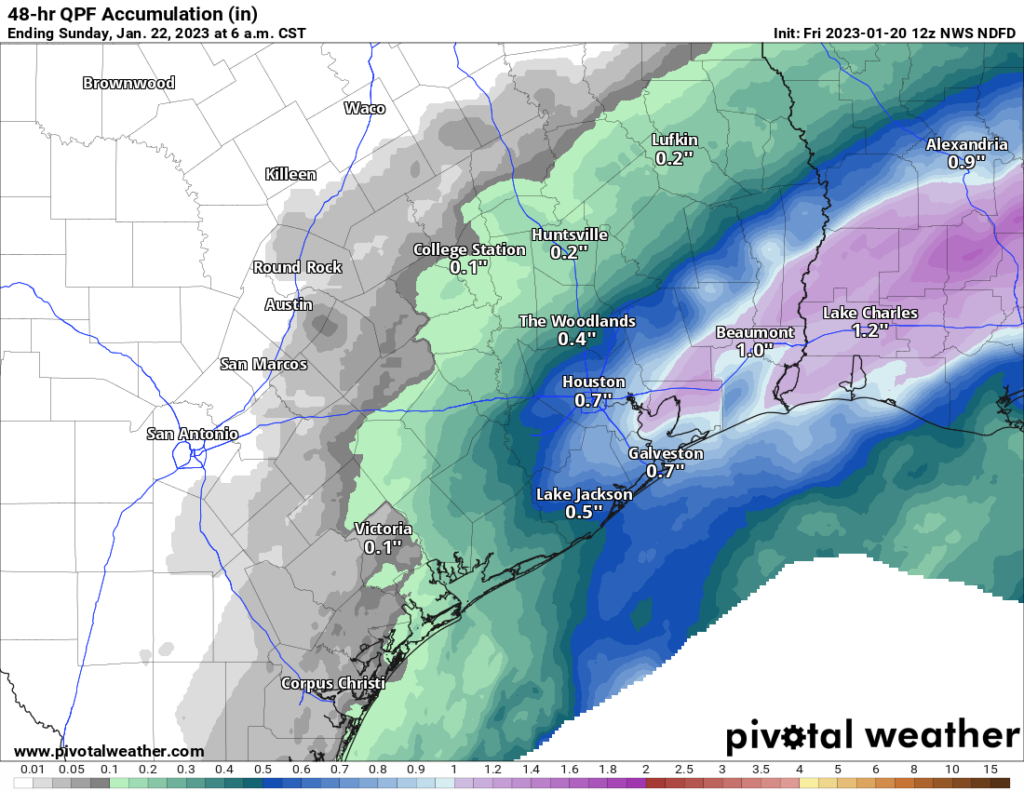 This is unlikely to be a soaker for most of the area, but we will see some places with a decent amount of rain, perhaps close to an inch or so. Other areas will only see a couple tenths of an inch or so.
In addition to the rain, it will be rather breezy, especially over the water and near the coast. Winds of 15 to 25 mph will be likely, along with some higher gusts, especially in the morning on Saturday. That'll add some chill to the air.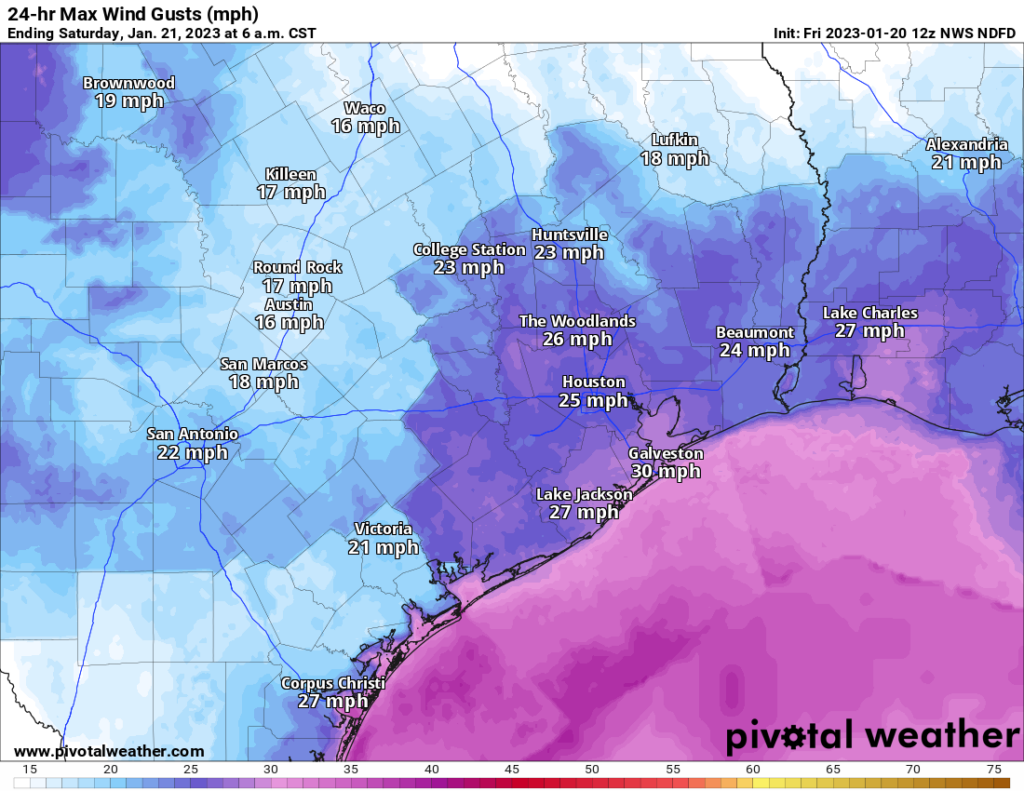 Temperatures will fall back into the low-50s Friday night and Saturday morning before climbing back into the mid or upper-50s Saturday afternoon.
Sunday
The second half of the weekend looks lovely, with sunshine, less wind, and highs around 60 degrees after morning lows in the 40s or upper-30s.
Monday
I would expect mostly a repeat of things Monday, although clouds may increase a bit later in the day, and temperatures will warm from the low-40s into the mid-60s.
Tuesday and beyond
If there is one day worth watching in terms of weather, it's Tuesday. Modeling has been fairly inconsistent on the exact details of this next system, but a couple things are known. There is likely going to be a storm system that develops in Texas. It will bring both rain and wintry precipitation to the state (just rain here in Houston). But depending on the exact strength and track of this system, we could be in for some strong or severe thunderstorms Tuesday in the Houston area.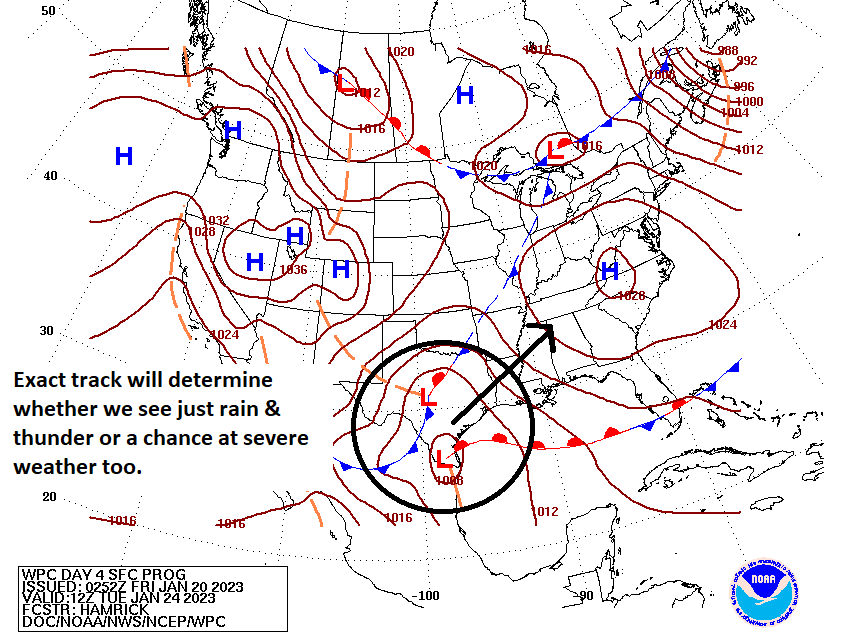 Right now the warm front is expected to be just offshore, which keeps our instability and chances at severe weather rather low. However, if this shifts farther north any, we could be in for a forecast change. So you'll want to check back with us on Monday. In addition to an inch or locally more of rain, I would expect some pretty healthy wind on Tuesday too.
If you are planning any travel to North Texas, Oklahoma, or the Panhandles there is a pretty decent chance that snow or ice could be an issue. This is primarily true for Lubbock and Amarillo into Wichita Falls and Oklahoma, but I would also watch the DFW Metroplex and Abilene as well.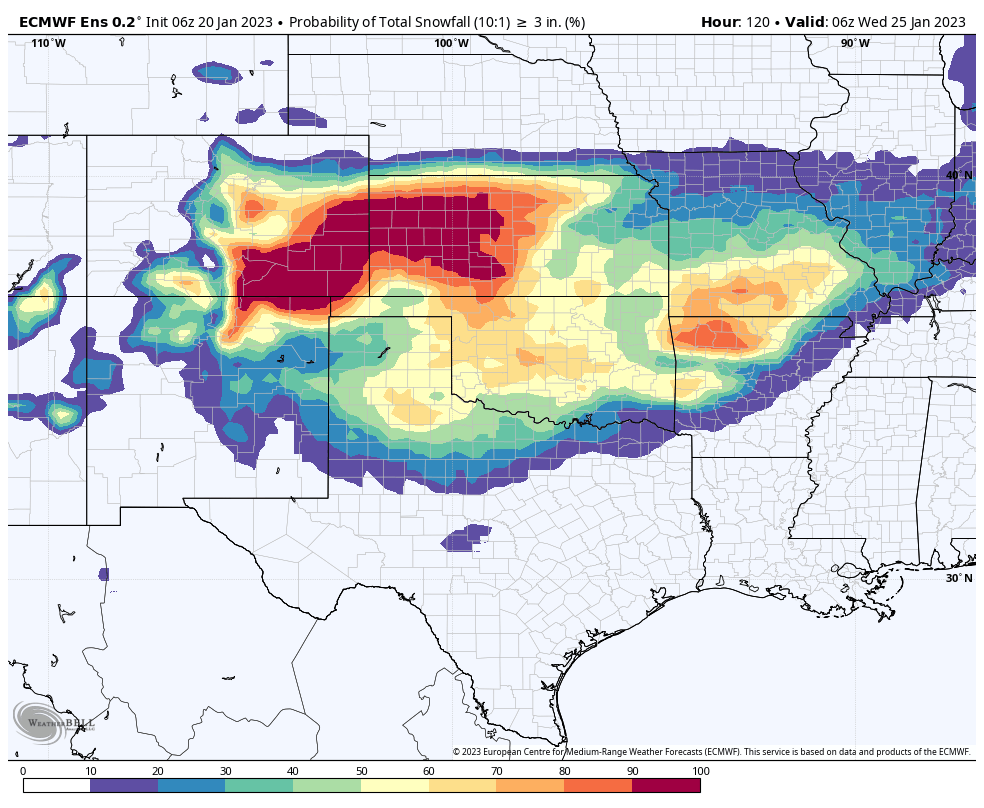 We have a long way to go here, so specific details are impossible to flesh out, but this could be an impactful storm for parts of the state. After this storm passes, we look good for a few days, with highs mostly in the 50s and lows in the 40s or upper-30s.