Hi all. We're jumping in here with a quick update on the storm system associated with a cold front that will move through Houston on Tuesday afternoon. Put simply, we are more concerned about the potential for tornadoes to develop ahead of, and along with a line of showers and thunderstorms at that time.
This morning, if you recall, we said we would assess whether a Stage 1 flood alert is warranted for Tuesday's storms. After a discussion, Matt and I don't think that is necessary. Most of the region will likely see 1 to 3 inches of rainfall, which is manageable for area roadways, even if it comes down in some heavy bursts. Some areas may see higher totals, and low-lying areas may briefly flood. But these storms should sweep through the area during the afternoon and then be gone. Showers and thunderstorms will be possible ahead of the main line of storms. However, we expect the main event to come with the line itself, which should reach west (Katy) and northwest areas (Tomball) around 2 to 4 pm, downtown an hour later, and push off the coast by around sunset.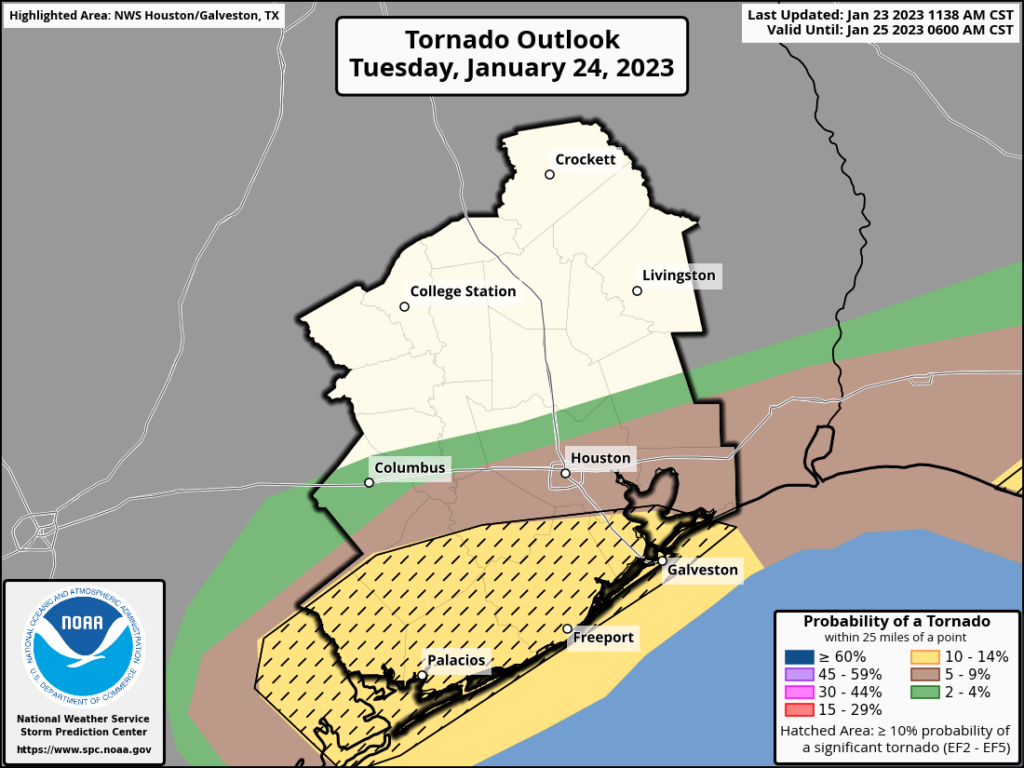 Our post this morning also mentioned strong wind gusts, particularly along and south of Interstate 10. This forecast remains the same. Areas such as Brazoria and Galveston counties may see gusts up to 50 mph. What has changed is the tornado threat. High resolutions models indicate conditions may become favorable for rotation, which increases the likelihood that tornadoes may form. This threat is reflected in an update from the NOAA Storm Prediction Center this afternoon, which highlights an area of greatest risk south of Houston (yellow area in the map above). I know the mention of "tornadoes" freaks some people out, but it is important to remember that twisters in our region are usually short-lived, and have fairly narrow tracks. Your odds of being directly impacted are rather low, even during an event such as we will see tomorrow.
The worst of this should be over for most of the metro area by the evening rush hour on Tuesday, but that will be something to monitor. The bottom line is this: Tomorrow is a day to be weather aware in the Houston community, especially from around noon to sunset. After that time skies will be clearing, and sharply colder air moving in from the north. Then we'll get a few days of very solid winter-like weather.
Our next update will be posted by 7 am CT on Tuesday.