After a very dry spring and start to summer, August brought beneficial rains to the entire region. Parts of the Houston metro area, particularly in Brazoria and Galveston counties, remain in a moderate drought as of this writing, but we have come a long way over the last 30 days. This is especially true as August is typically our hottest and potentially driest month, so we just got through the worst time of year for drought. If you're wondering how your area stacks up, the map below shows "percent of normal" rainfall for the 30 days preceding September 6. Pretty much the entire western half of the metro area received 200 percent or more of normal rainfall, with most of the eastern half recording 125 to 200 percent.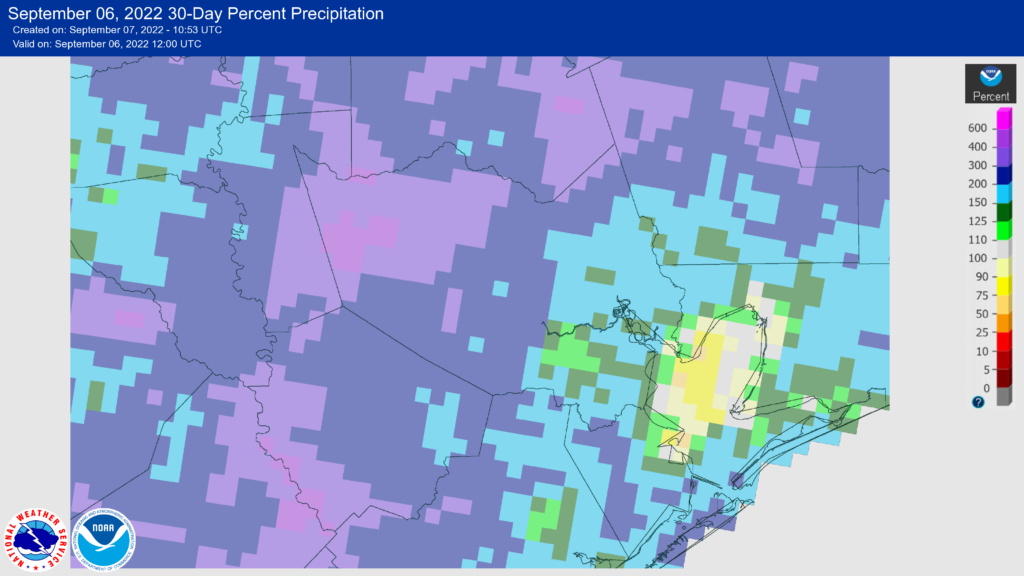 All good things must come to an end, however, and after today the next two weeks look fairly dry. This does not necessarily signal that we're going to enter into a prolonged dry spell, but it does mean the frequent rainfall we've seen in recent weeks should now subside.
Wednesday
Houston will have another shot at rainfall today, however. I'd peg chances at about 40 percent as an upper-atmospheric disturbance helps generate lift. Look for showers to start out up north later today and then drop down toward the metro area. None of these storms look severe, but you could see a briefly heavy shower. Rain chances fall back this evening. Otherwise expect partly to mostly sunny skies, with high temperatures generally in the low 90s.
Thursday and Friday
These days should see lower rain chances as the disturbance moves away from the area. Call it a 20 percent chance for each day, with mostly sunny skies. We'll also see winds veer to come more out of the east-northeast, and this should moderate temperatures slightly so that we see highs of around 90 degrees. Overnight lows should drop into the low 70s for Houston, with cooler conditions further inland, and mid- to upper-70s near the coast. This won't be great, but it won't be terrible either.
Saturday and Sunday
Expect more of the same this weekend, with sunny skies and about a 20 percent chance of daily showers. Highs will be in the low 90s, with nights generally in the 70s.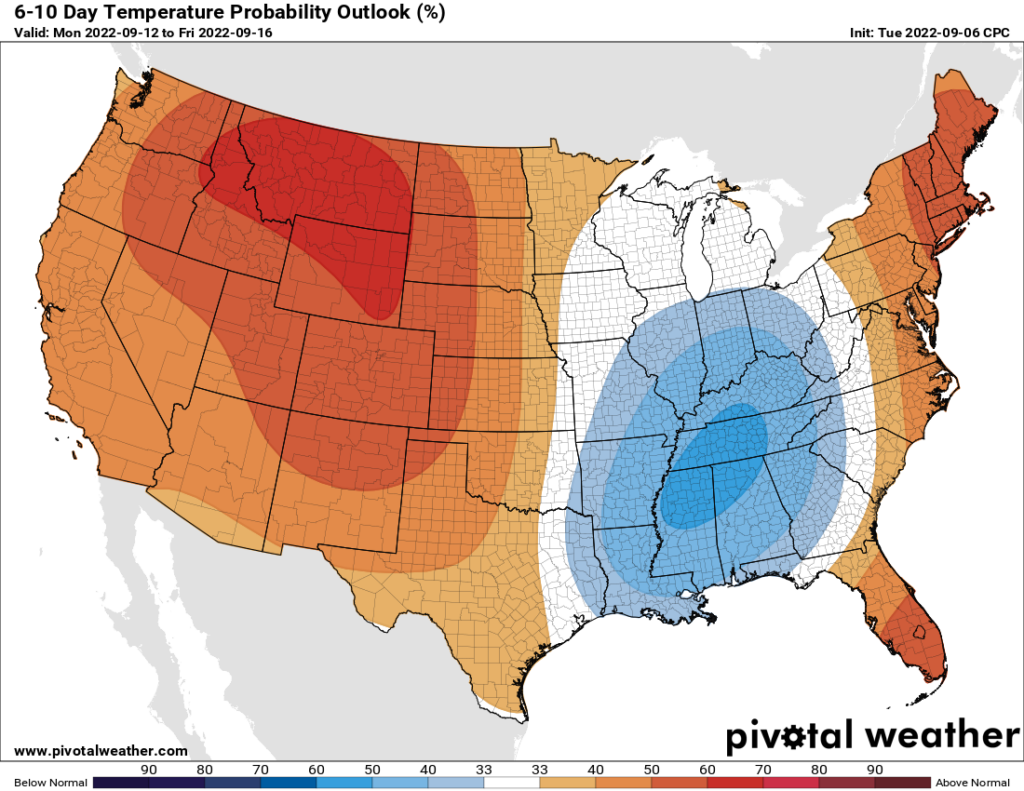 Next week
We're still looking at the potential for a front to make it through early next week, and at this point I think it's likely that something will push into Houston and off the coast on Monday. Please set your expectations accordingly, as this front is probably not going to bring significantly cooler air. But for a day or two we may see some drier air, which should make mornings and evenings feel somewhat—dare I say it?—kind of almost pleasant? Look for highs of 90 degrees for most of next week with low rain chances.
Tropics
There's a lot going on right now, but over at least the next week or so there is very little of concern for the United States. This is an amazing place to be as we approach the absolute peak of hurricane season on September 10.