Yesterday was something. There are still about 35,000 customers without power across the Houston area early this morning according to Centerpoint. We saw trees down, fences down, and more yesterday. Pasadena and South Houston saw just shy of 3 inches of rain. Officially, we had a couple 56 mph wind gusts reported, one in Cypress, one atop a building in the Med Center. Hobby and Bush Airports both gusted near 45 mph. Pearland hit 47 mph. San Leon topped off at 53 mph. A few stronger gusts may have occurred in between. We have some photos (and fun videos) shared by readers on our Instagram account. Feel free to tag us over there if you ever see something cool!
Today
The good news is that we should have a much quieter day today. We will start to feel the heat creep up however with temperatures likely hitting the mid-90s this afternoon. Yes, look for a handful of pop-up storms later this afternoon, but it should pale in comparison to Thursday's action.
Saturday
It continues to look as though a weak little disturbance will pass across Texas tomorrow, disrupting the growth of the hot ridge of high pressure out of Mexico and bringing a bumped up chance of storms, especially north of Houston. While I don't think storms will have quite the punch in Houston as they did yesterday, some of these storms could easily be on the stronger side, so if you have outdoor plans Saturday afternoon, keep this in mind. The Storm Prediction Center has Houston proper split between a marginal and slight risk of storms, with the higher risk north and lesser risk south.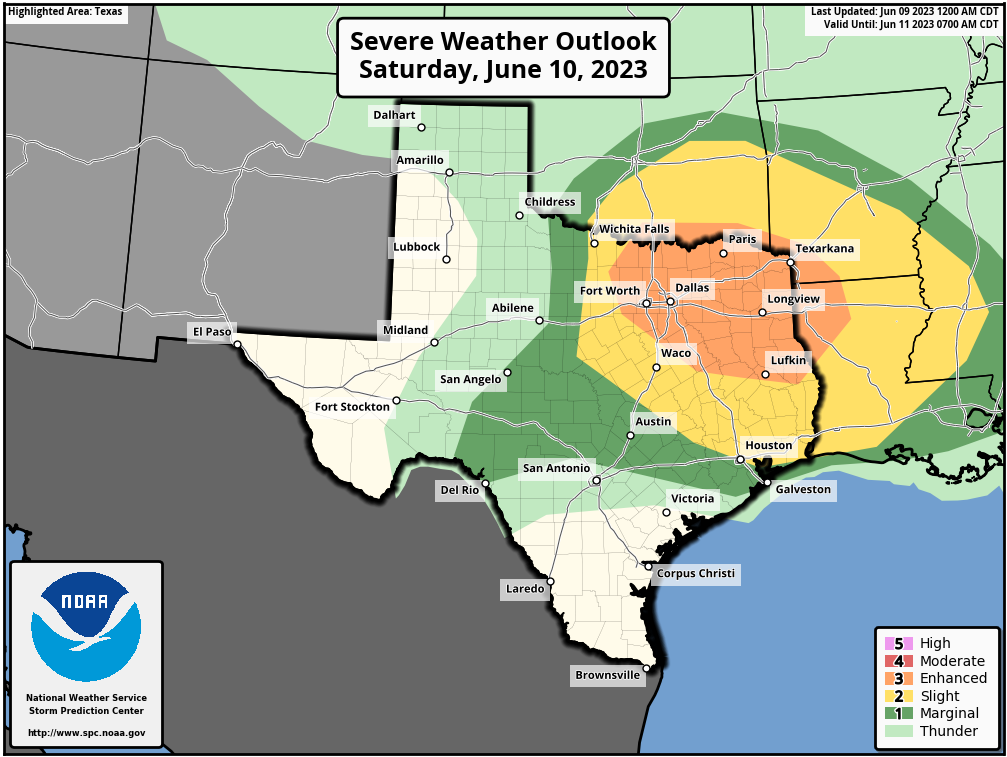 We are again mainly concerned about the potential for damaging winds. There's a good chance we'll have a quick updated post for you tomorrow morning to better time and assess things. Outside of that, look for sun, clouds, and highs in the mid-90s with morning lows in the 70s.
Sunday through Tuesday
The pattern should stabilizes Sunday onward, dropping our rain chances down to about 10 percent or so and leading to temperatures in the mid to upper-90s. Some morning lows could be near 80 degrees. It'll feel a bit rough. Again, practice heat precautions during this time, as we're not yet quite acclimated to this sort of summer heat.
Wednesday through Friday
Temperatures should continue to creep upward later next week, with our peak odds of 100 degree weather coming on Thursday, Friday, and Saturday. At this point, we don't see anything meaningful enough to wreck this forecast, so expect that the worst of the heat is yet to come.
Lastly: Yes, we are aware of a certain operational weather model frequently showing a tropical storm or hurricane in the Gulf in about 10+ days. Make sure you're following our companion site, The Eyewall for more detail on the entire tropics, including things like this in fantasyland. Spoiler alert, we don't believe it to be a legitimate concern.