Good morning. Northern areas of Houston are seeing a light freeze this morning, but for the most part regional temperatures have remained in the mid- to upper-30s. We're going to have one more sunny day before the clouds and potentially some heavy rain returns Wednesday afternoon through Thursday morning.
Tuesday
Winds are calm this morning, but will shift to come from the east this morning, and this should help begin the process of returning some clouds and moisture to our skies. Still, today should be partly to mostly sunny, with highs in the upper 50s. By this evening, and during the overnight hours, expect mostly cloudy skies to build over the area, as lows generally fall into the 40s for most of Houston.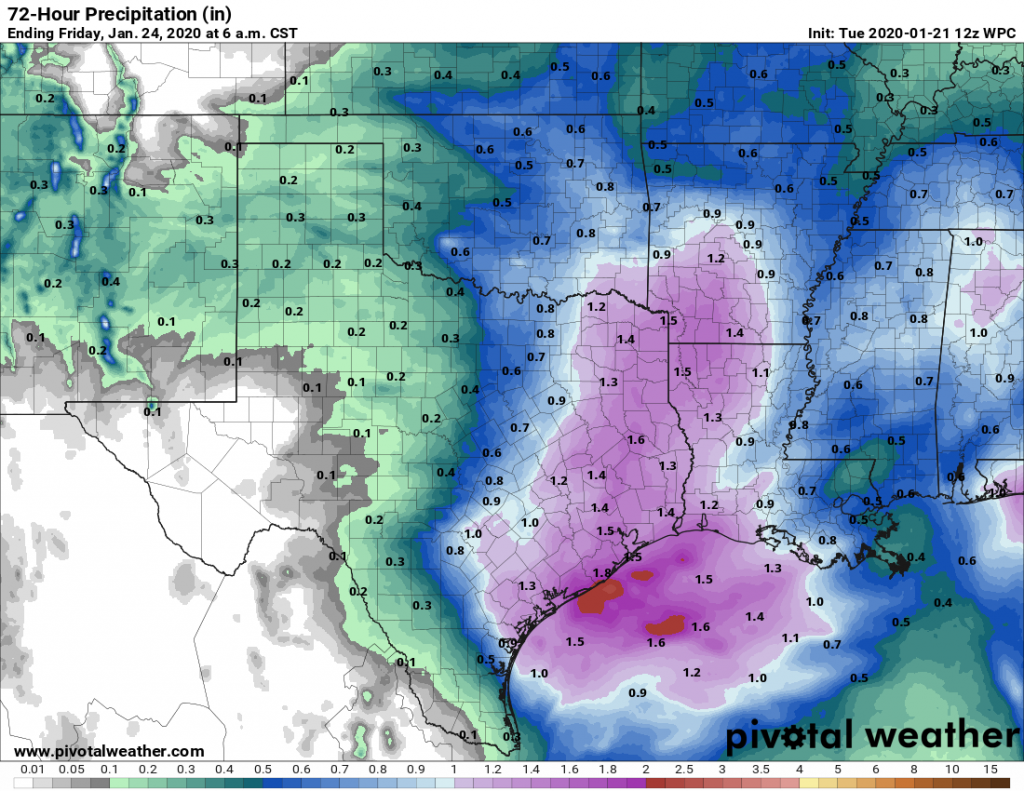 Wednesday through Thursday morning
Wednesday will start out mostly cloudy, and high temperatures will climb to about 60 degrees. However, during the day the upper atmosphere will gradually become more disturbed as an upper-level storm system approaches our area and a segment of the jet stream accelerates—with the net effect of forcing air at the surface to rise. This, combined with increasing moisture levels, will lead to a chance of moderate-to-heavy rainfall Wednesday evening through about sunrise on Thursday. Most of the area will likely see 1 to 2 inches of rainfall, which is manageable, but we're concerned about Matagorda and Southern Brazoria counties which are already sodden from rainfall associated with Saturday's front. There is a risk that some areas, especially near the coast, receive upwards of 2 to 3 inches with this system.

Thursday afternoon
Skies will clear in the wake of a cold front that moves through during the day Thursday, with highs expected to reach about 70 degrees. Temperatures Thursday night will drop into the 40s, with clear skies.
Friday and Saturday
The first half of the weekend looks stellar. Expect mostly sunny skies on Friday and Saturday, with highs in the 60s and cool temperatures Saturday morning in the 40s.
Sunday
We can't rule out the possibility of some scattered showers on Sunday, with a slightly more perturbed atmosphere overhead. However, for the most part we think this probably will be a partly to mostly sunny day with high temperatures near 70 degrees.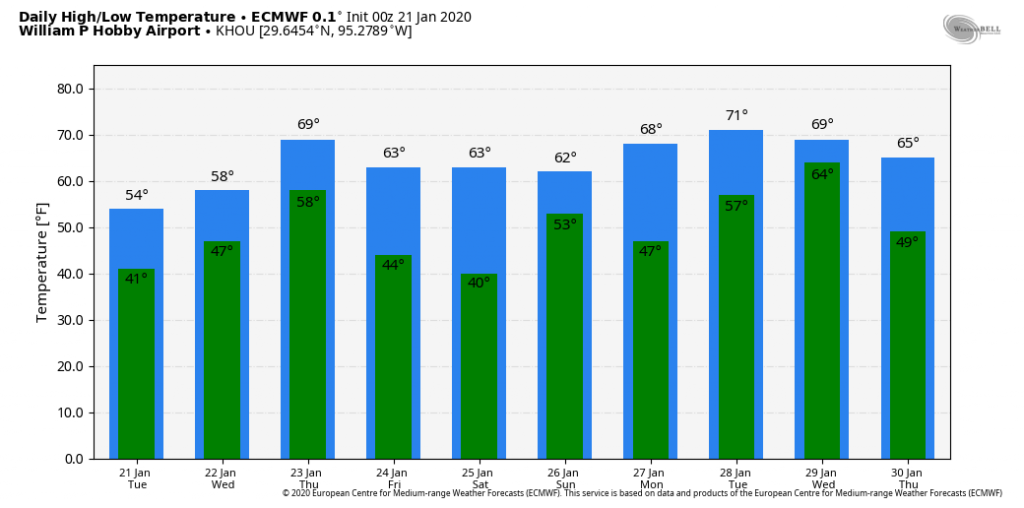 Next week
Partly to mostly sunny skies should prevail for Monday and Tuesday of next week, with highs in the low 70s. Another upper-level storm system appears poised to move across Texas during the mid-week period, raising rain chances on Wednesday or so, but it's hard to have too much confidence in the details. There is no real evidence of another freeze in the next two weeks after the cold weather this morning.