Good morning. For the last seven days, temperatures in Houston have averaged 10 to 15 degrees above normal for January, with mostly cloudy skies. Now, following a weak front on Monday, and a stronger one on Wednesday, Houston will return to somewhat more normal conditions for January, with cooler and clearer weather.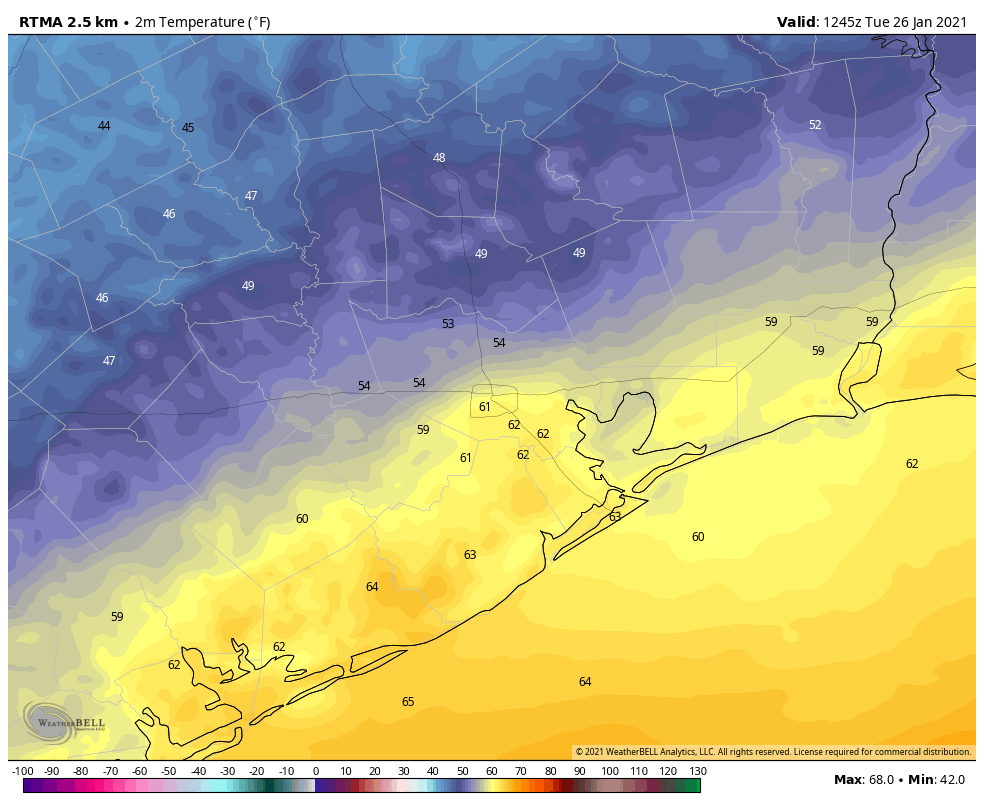 Tuesday
In the wake of Monday's front winds are out of the northwest, but our air mass has modified only slowly, especially along the coast. As a result there is a wide variance in temperatures across Houston this morning, ranging from upper 40s for inland areas like Montgomery County, to the low 60s south of the city. This is because Monday's front is lingering just offshore, and it may also allow for some clouds to form along the coast later today. Highs should get into the upper 60s or low 70s for most today, with winds shifting to come from the east. Overnight lows should drop into the 50s for most.
Wednesday
Another front will push into Houston on Wednesday morning, and this should bring somewhat more drier air. We can't rule out some very light showers early Wednesday near the coast. However these will end with the front's passage, and we should be left with a partly to mostly sunny day, with highs in the 60s. Wednesday night should be the coldest of the week, with temperatures dropping down to the low 40s in Houston.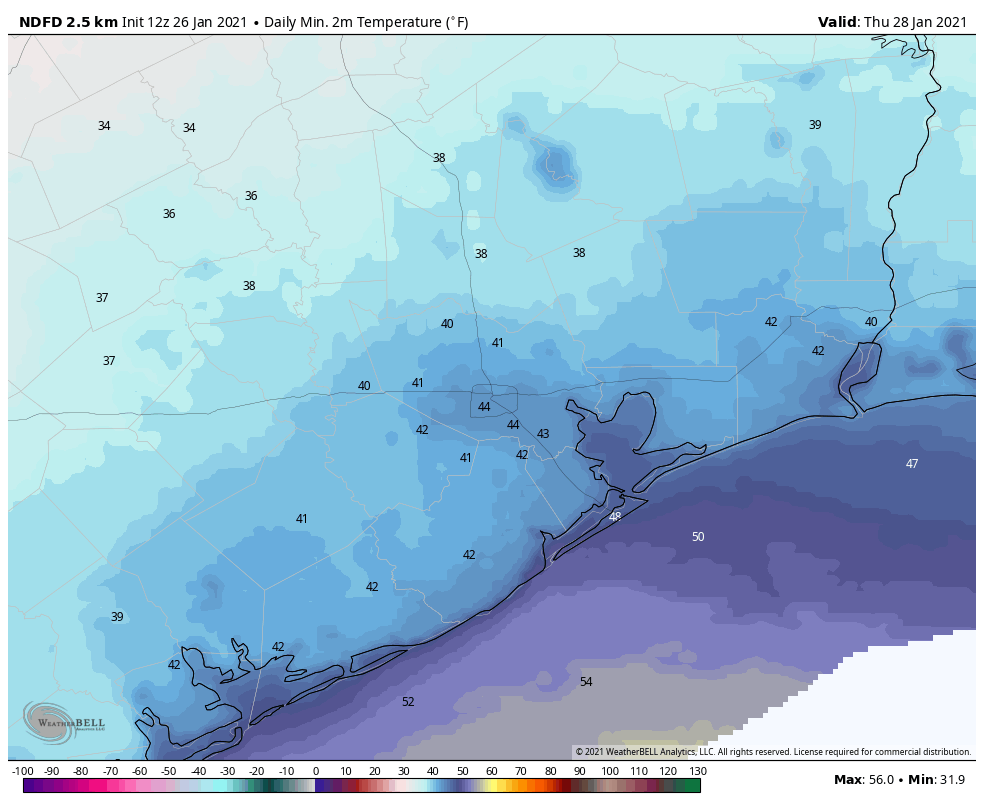 Thursday and Friday
High pressure will make for a pleasant end to the work week in Houston, with mostly sunny skies predominating. Highs on Thursday may not get much above 60 degrees after the cool start, and Thursday night should again see lows in the 40s. However, by Friday the onshore flow will push highs back into the upper 60s.
Saturday, Sunday, and beyond
The forecast for the weekend is coming into slightly better focus. We expect a warmish and probably cloudy day on Saturday, with high temperatures pushing up into the 70s. A chance of rain enters the forecast later in the day, when another front moves toward the region. Depending on the timing and movement of this front, we're less confident about Sunday's weather. Most likely, however, we'll see partly to mostly sunny skies on Sunday after the front moves through. Monday and Tuesday of next week should see highs in the 60s, and lows in the 40s.