It's been a gloomy few days here in the Houston area, between overcast skies or fog or showers or drizzle. The bad news is that it continues somewhat today, but the good news is that the end is coming for tomorrow. It won't be a brilliant, totally sunny week, but it will be a lot nicer than what we've had recently.
Today
We have the clouds this morning, but there is definitely less fog around than in some other recent days. Tough to find any location, even at the coast, with less than 5 miles of visibility this morning.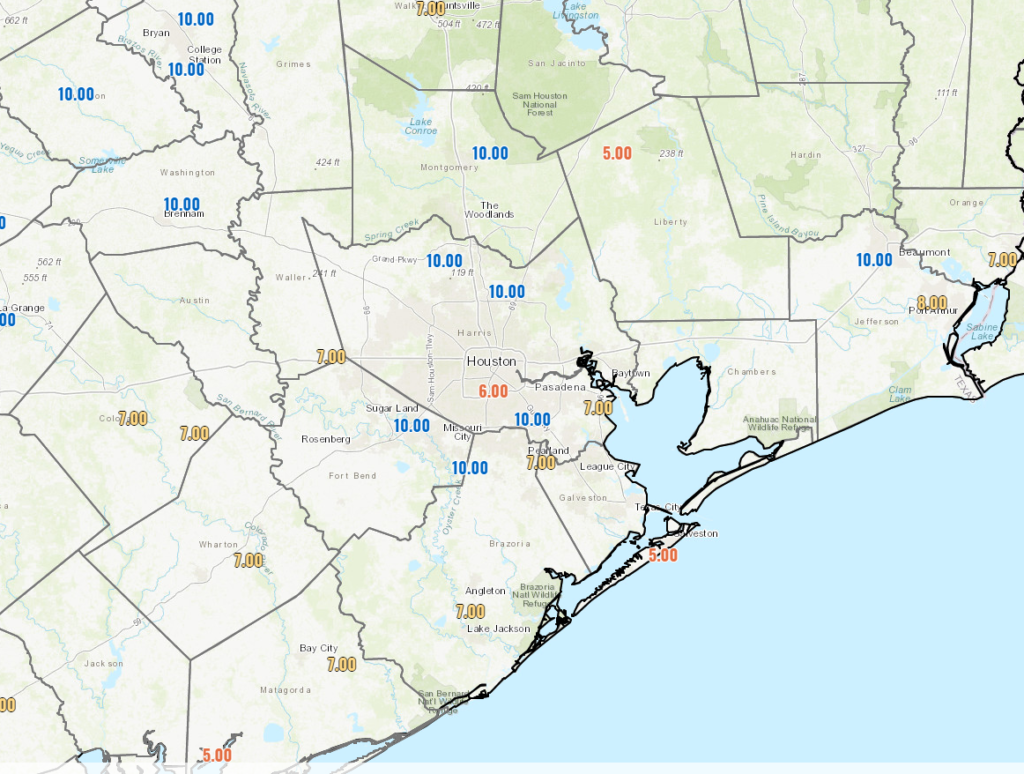 So that's a good start. There are some showers around this morning already, none of which are particularly heavy, but expect sort of a dreary start to the day, with low clouds and light rain, heavy drizzle, mist, or a shower. A narrow band of slightly heavier showers may try to roll in with the cold front itself, late this morning northwest of Houston and around midday in Houston itself. The front should get to the coast by late afternoon.
You'll know when the front passes by a wind shift and about a 5 to 10 degree temperature drop. We'll reach the low-70s north and west of Houston before the front and the mid to upper-70s south and east of Houston. So the change behind today's won't be too dramatic initially.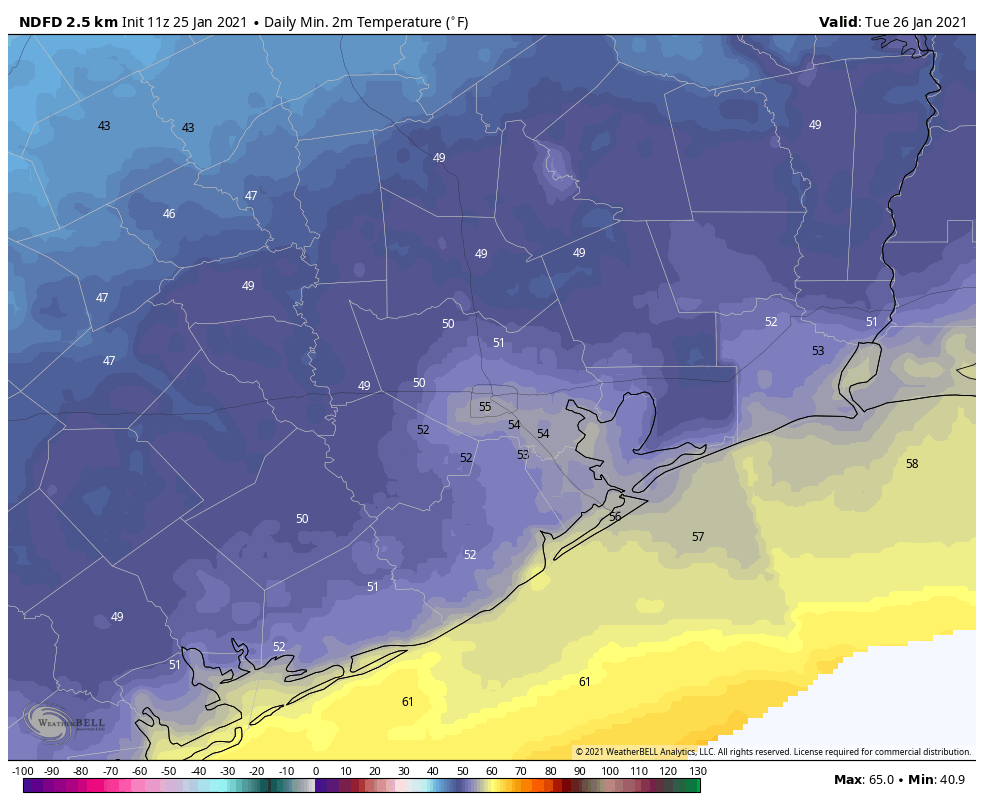 Where you'll really notice the change will be tonight, as temperatures drop into the upper-40s to mid-50s for low temperatures by Tuesday morning.
Tuesday
Tomorrow won't be perfectly sunny, but it will surely be a bit nicer than it has been. Look for a mix of sun and high clouds tomorrow, with high temperatures pushing back close to 70 degrees or a touch warmer.
Wednesday
A second cold front, this one a bit stronger, will push across the region on Wednesday morning. It will probably be a dry front, however. Look for a breezy day, with gusts of 15 to 20 mph out of the north. It will be sunny, but there will be a good deal of high cloud cover likely around at times to dim the sun. This should keep us in the mid to upper-60s for highs, after starting the day in the low to mid-50s.
Thursday & Friday
Expect more high clouds on Thursday, along with some sunshine. Friday may see the high clouds disappear, and it will likely start off sunny before some lower clouds roll in later in the day as onshore flow returns. Low temperatures for Thursday and Friday morning will likely average in the low 40s, though it will probably be in the upper-30s north and maybe upper-40s southeast of the city along the coast. For the daytime, expect cool upper-50s to low-60s on Thursday, followed up by mid-60s on Friday.
Weekend
It's a bit early to say too much about this coming weekend, but it appears somewhat similar to this past weekend, with a good deal of low clouds, perhaps some patchy fog, and at least some shower chances, albeit low ones right now. We may see a cold front swing through the area by Sunday morning or afternoon, however, which could clear us out a bit and yield a nicer Sunday. Temperatures will be warm, with 70s for highs and 50s or 60s for lows. We should be back in the 40s on Monday morning behind the front, however.