Storms on Tuesday afternoon and evening proved more intense than anticipated, with some areas near Rosenberg, West University Place, Pearland, Friendswood, and Clear Lake seeing 2 inches of rain or more, and Deer Park and La Porte seeing 3 to 4 inches of rain. Fortunately, this threat of heavier rain appears to have passed—although daily precipitation chances are likely to remain with us through Sunday. It's a messy forecast, so let's jump into it.
Wednesday
The main problem this morning is fog, as warm air in the 60s moves over cooler water. A dense fog advisory is in effect until 10am this morning so take some extra care for your commute, or trips around town. Today will be fairly warm, with highs in the mid-70s under mostly cloudy skies. We probably will see some scattered showers develop this afternoon, although I don't expect them to be nearly so organized or as intense as those on Tuesday evening.
Rodeo forecast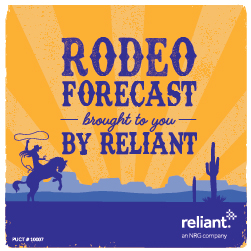 Temperatures will still be in the low 70s at around 6pm today, and we cannot rule out some showers over the central Houston region. I'd put the chances of light rain near NRG Stadium at about 30 percent going into the show. Conditions will still be muggy after the concert, but rain chances should fall down to around 10 percent.
Thursday
The will-it or won't-it make it cold front appears likely to stall somewhere over the Houston metro area on Thursday. Of this much, we can be sure: a cold front will push into the northern edges of the metro area on Thursday morning. After this, the most likely scenario is that the front stalls somewhere along Highway 59, or perhaps a bit closer to the coast. Your local temperature, humidity, and rain chances are all going to vary Thursday depending on how far the front makes it (for example, the range of possibilities for afternoon temperatures at Bush Intercontinental Airport in the European ensemble model range from the upper 50s to 75 degrees). So our official forecast is ¯\_(ツ)_/¯.

Friday
Depending on the extent of the front, some areas of Houston will see some sunshine on Friday, and temperatures will probably get into the 70s. Rain chances look fairly low, but non-zero (20 percent).
Saturday, Sunday, and beyond
A stronger front is coming this weekend, but it's not clear whether it will arrive Saturday evening, Saturday night, or Sunday. (We're really helpful today, huh?) We can be pretty confident that Saturday will be a warm, gray, humid day for Houston with highs in the range of the upper 70s with lots of humidity. Of course we'll also see some healthy rain chances (50 percent) but I'm not seeing anything right now to suggest any severe weather.
Sunday's temperatures will depend on the timing of the front and, whenever it blows through, it will be significantly colder. A reinforcing front blows through on Monday, or so, and after that we could finally see a stretch of clear (yes, sunshine) and cold weather for most of next week. I'm thinking highs in the 50s or low 60s, and probably a good 40 percent chance of a freeze for areas such as The Woodlands and points north.