It's a cloudy, misty morning generally in the 50s across Houston this morning, and overall this will be a wet day. Most of the rest of the week, and the weekend, will also be gray although rain chances probably won't be quite so high as today. If you're wondering about seeing some sunshine, there's a bit of hope for Thursday, but Friday is probably the day you're looking for.
Tuesday
The combination of a warm front moving onshore, nearby low pressure, and increasing atmospheric moisture levels will lead to a day of widespread showers and perhaps a few thunderstorms. As we saw on Monday, there is a chance of seeing some small, likely pea-sized hail in the strongest thunderstorms. Most of the region will likely see 0.25 to 0.50 inches of rain as highs rise into the mid-60s under gray skies. Will it be humid? Oh yes, it will be humid.
Rodeo forecast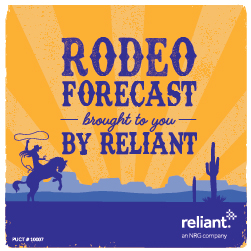 On Monday, we saw rain showers diminish as the gates opened at 6pm for NRG Stadium and the Houston's rodeo. I'm not sure that will happen tonight. It does appear as though the rain will lift north and east of Houston this evening, away from the city, but it's not clear whether that will happen by sunset, or a little bit after. We'll therefore carry rain chances of about 40 percent going into the show, and 20 percent after.
Temperatures will be in the low 60s at 6pm, and largely unchanged later on. With dewpoints nearly the same, expect 100 percent humidity. By the way, at the end of today's post, be sure and check out a special message from Reliant about it's rodeo-related activities.
Wednesday
Rain chances will be lower on Wednesday, perhaps in the 20 to 30 percent range, as the atmosphere calms down a little bit. Temperatures will reach the 70s, as warmer air moves into the region from the south and southwest, and Wednesday night (mostly if not completely dry) will only fall into the 60s.

Thursday and Friday
There remains some uncertainty about whether a weak cold front pushes all the way through the region on Thursday—or not. And so the end of the week is somewhat in flux. For now, I think the front probably doesn't make it, which would lead to a mostly cloudy day Thursday, and perhaps some clearing skies for Friday. Highs both days will probably be in the 70s, and we can't rule out rain either day. Sorry for the lack of clarity.
Saturday, Sunday, and beyond
Saturday's conditions are going to depend on the timing of the next stronger cold front. It could be a situation where temperatures at midnight are warmest, with a front moving through during the pre-dawn hours, or more likely a later front could allow Saturday's daytime to be warmer. Regardless, after the front's passage, daytime temperatures will drop into the 50s, with colder nights for next week. Sunday looks gray, and cold, with a decent chance of rain.
Just a bit of a warning: The forecast models are now starting to show the possibility of a second, reinforcing cold front a week or so from today. If that occurs, we can't rule out a freeze around March 7 or so in parts of Houston. We'll see if this trend continues, but I wanted to warn the gardeners.
Sponsor message
When you head out to Rodeo this year, be on the lookout for our sponsor Reliant's fun activations:
Hats off to Houston Rodeo Art Contest: Ten local nonprofits are showing off their artistic abilities and competing for the top donation of $10,000 in Reliant's charitable art contest. Visit the display at NRG Center and vote for your favorite on Reliant's Facebook page between now and March 10!
Reliant Rodeo plan: Make the switch to Reliant's Rodeo plan and get a $100 Cavender's gift card to use toward your favorite Western wear.
Must-Have Photo Moment: The Reliant Big Boot, at nearly 25 feet tall, has become a well-known landmark on the Rodeo grounds. Located near the Champion Wine Garden, the boot provides the ultimate backdrop and social media moment for the Rodeo's millions of visitors each year.
Reliant Charging Stations: Reliant's portable power solutions can help Rodeo fans stay powered while on the go with free first-day rentals. There are 12 charging stations available at NRG Stadium, located at every ramp on levels one, three and five, and six stations available across NRG Park, including popular spots like the Champion Wine Garden and inside NRG Center at Hall E.