Overall it's been a cold start to 2021 in Houston. Through the year's first 17 days, the average temperature is running about 3 degrees below normal. And at the city's official station at Bush Intercontinental Airport, since January 6, the overnight low has never been warmer than 42 degrees. Most nights have been in the 30s. But now, that's about to change. It's possible that much of Houston will not see lows below the 50s until near the end of January. "Winter" isn't over, but the next stretch will definitely be warmer than normal. We'll be trading clear and cool for cloudy and more muggy.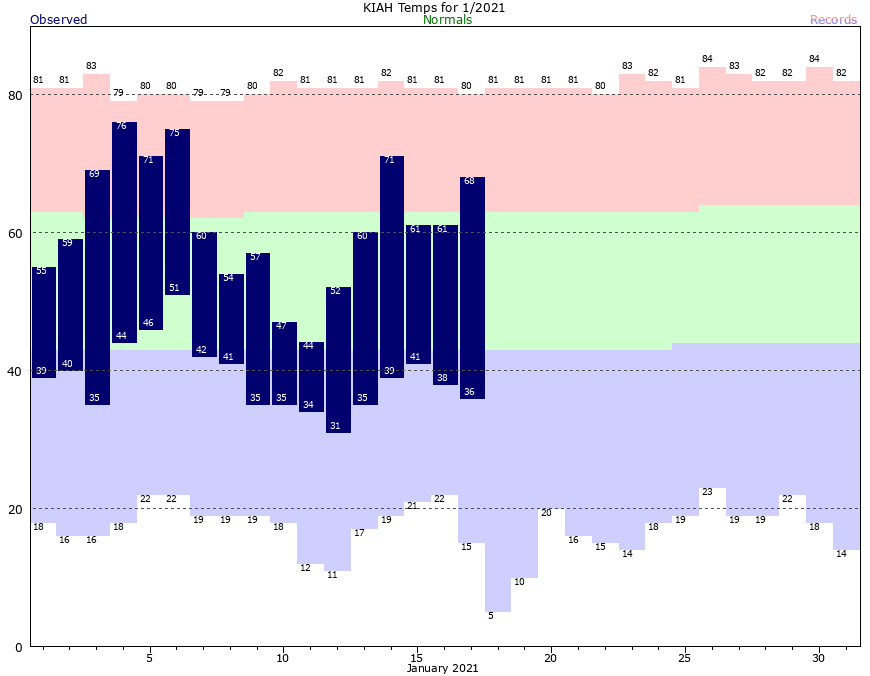 Monday
Houston will enjoy one more sunny day for the Martin Luther King Jr. holiday. But as high pressure departs the area, you may notice winds becoming more prominent from the south this afternoon. With partly to mostly sunny skies this afternoon, high temperatures will likely get near 70 degrees for much of the area. However, unlike the last 10 nights or so, temperatures will not drop significantly after sunset. Rather, with the southerly flow and increasing clouds, low temperatures tonight will probably only drop to around 60 degrees for most.
Tuesday and Wednesday
The mid-week weather will be determined by the progression of a cold front that seems most likely to stall out just to the northwest of the Houston region. For areas not reached by the front, which for now I will include pretty much all of the metro region, the effect of this will be a continuance of warm days, with highs around 70 degrees, and lows in the upper 50s to 60 degrees. We should see mostly cloudy skies and rain chances somewhere in the neighborhood of 30 percent. The better rain chances will fall closer to the front, with areas like College Station possibly seeing one-half inch of rain or so by Wednesday.
Thursday and Friday
The forecast gets less certain later in the week, as the frontal boundary may move around some. For now, I'd expect more mostly cloudy days in Houston, with low- to moderate rain chances. Overall accumulations for this week should be less than one-half inch for nearly all of the region—although northern areas, think Walker County, may see a bit more. Daytime highs will be in the 70s, with generally warm nights.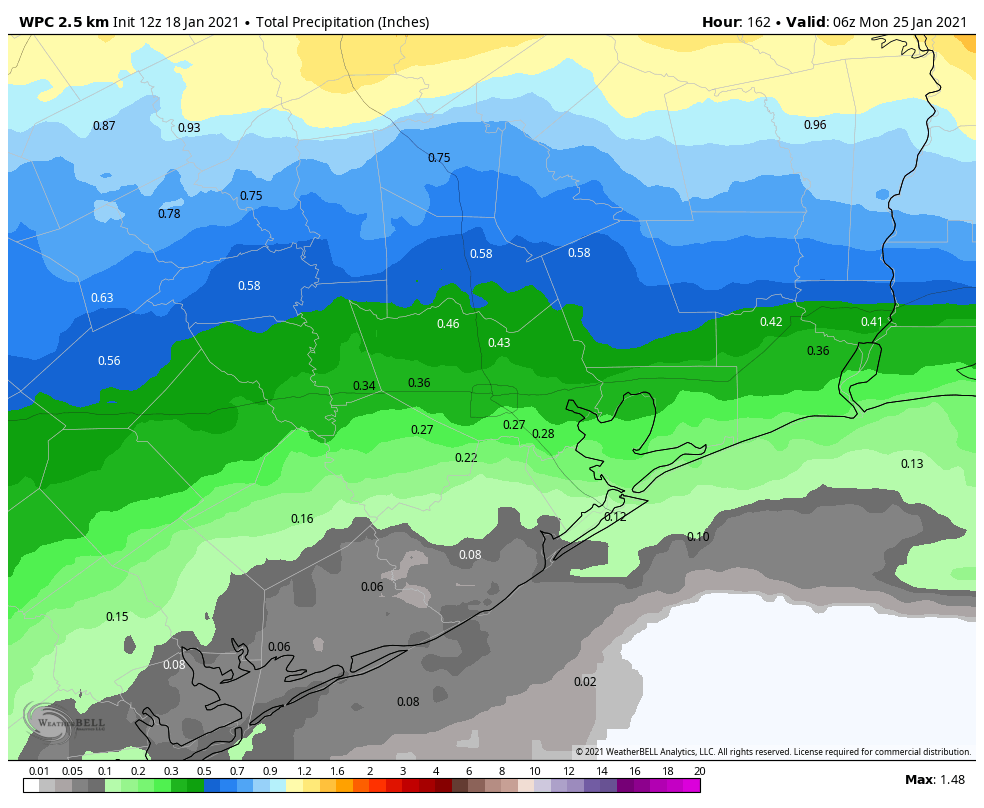 Saturday and Sunday
Neither of the weekend days is a clear winner, in terms of weather. Rain chances look low for Saturday, but non-zero. Sunday may be a bit higher. Either way, expect highs around 70 degrees, with lows in the upper 50s to low 60s. Skies will likely remain partly to mostly cloudy. A stronger front may finally push through the region next Monday or Tuesday to bring colder, clear weather back into Houston.