As noted in Monday's post, Houston's weather is now making a pretty hard transition into something other than winter-like weather. Over the next week to 10 days we'll see much warmer conditions—although I don't think high temperatures will reach 80 degrees—to go along with plenty of humidity and lots of clouds. If there's a silver lining its that, while we expect decent rain chances during the coming period, we don't really have any indication that the region will see heavy rainfall.
Tuesday
Today's weather will be driven by a cold front that is advancing toward Houston but will stall somewhere. But where? It now looks as though the front will reach the College Station area around sunset, and may sag toward Interstate 10 in Houston overnight and possibly reach the coast. The front will produce decent rain chances to the northwest of Houston today, but I think we'll only see scattered to isolated showers in the metro area itself. Otherwise, we can expect highs in the low 70s today, with overnight lows depending on the progress of the front. Most areas will probably drop into the 50s.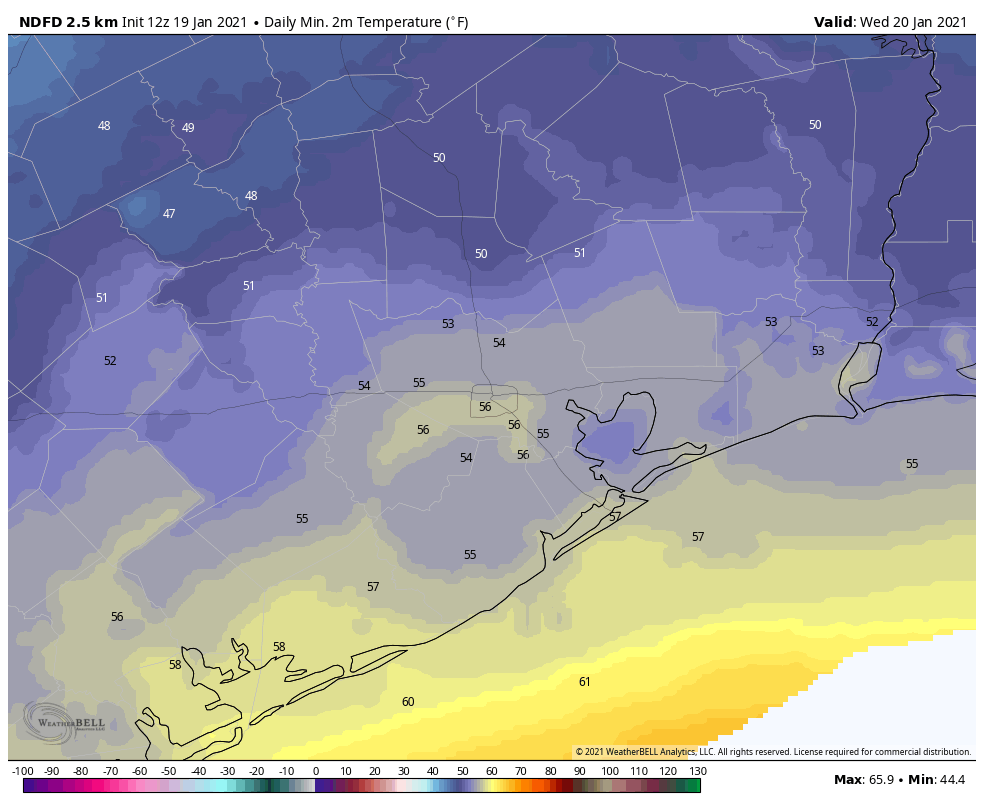 Wednesday
With the weak front effectively stalled out over Houston, conditions on Wednesday will probably yield mostly cloudy skies, with highs somewhere in the 60s. Overnight lows on Wednesday night are unlikely to drop below 60 for much of the area as winds return from the southeast.
Thursday and Friday
The end of the work week should see highs in the 70s as Houston falls under a predominantly southerly flow, with mostly cloudy skies. Rain chances both days look decent—better for areas north of Interstate 10, likely—but again mostly we're talking about accumulations of a few tenths of an inch of rain. A weak "backdoor" front should slide into Houston from the northeast on Friday night, bringing a brief cool down.
Saturday and Sunday
In the wake of the front, which is probable but not certain, Houston should see mostly cloudy skies and highs in the 60s on Saturday. This front should wash out pretty quickly, however, and as a result I'd anticipate rain chances returning on Sunday, along with highs in the 70s.
Next week
It looks like we're going to have to wait until the Tuesday to Thursday time frame of next week before we see a stronger front that moves off the coast, clears our skies, and brings drier sunny weather back to Houston. That should offer us a decent reminder that it is still, in fact, January.