A cold front is moving through Houston this morning, and should push off the coast within about an hour of sunrise. For those who like fall weather in Houston this is a good thing—the high temperature at Hobby Airport reached 87 degrees on Wednesday, setting a record for the location. Bush International Airport, Galveston, and College Station narrowly missed setting records. But now that's passed, with cooler and fairer weather ahead.
Thursday
As anticipated, this morning's frontal passage has largely been a dry affair. Drier air will move in today on winds of 10 to 15 mph from the north and northwest. Skies will be mostly cloudy through the early afternoon, helping to limit highs to about 70 degrees, but there should be some clearing later today. Skies tonight will be partly cloudy allowing lows to drop into the upper 40s, with cooler temperatures inland, and slightly warmer ones right along the coast.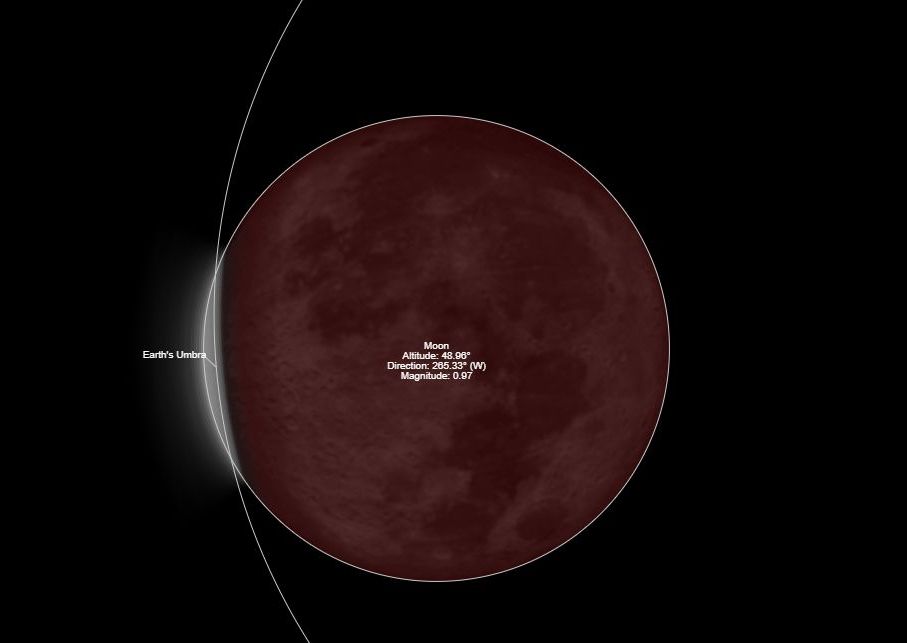 I mentioned the possibility of clouds tonight as there is a partial lunar eclipse that runs from about midnight to 6 am, with a peak at 3:02 am CT locally. At that time Earth's shadow will darken 97 percent of the Moon's surface. The bottom line is that there should be enough breaks in the clouds to see the eclipse if you're up late tonight, or early on Friday.
Friday
This will be a splendid late fall day, with light northerly winds and highs in the mid-60s. Skies will be mostly sunny. Lows will probably be a degree or two warmer than Thursday night.
Saturday
The first half of the weekend has no weather concerns. After the cool start, temperatures will warm into the mid-70s with partly to mostly sunny skies. As winds shift to come from the south, lows on Saturday night will only drop into the 60s for most of the region.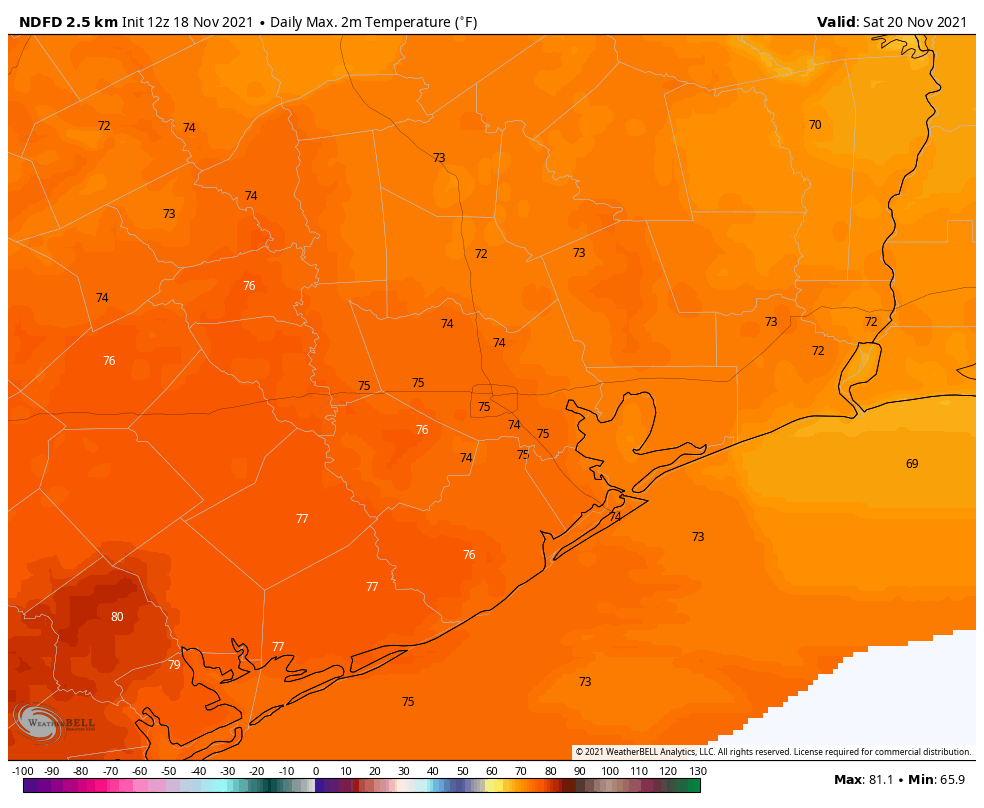 Sunday
This day should see a few more clouds, and more humidity, as highs push into the upper 70s to 80 degrees. It now appears as though another front will move through on Sunday afternoon or evening, and could bring at least a broken line of showers with it. Any rain accumulations should be fairly light, however. Lows overnight should drop into the 50s, with drier air moving in.
Next week
Monday and Tuesday look clear and cool next week, with highs in the upper 60s to 70 degrees. Unfortunately, we're still anticipating a messy pattern during the middle of next week, with the passage of a cold front later on Wednesday or on Thanksgiving Day. With fairly high atmospheric moisture levels, I expect to see some rainfall along with, and possibly after the passage of this front. As we're still a week out I don't have too much confidence in the details, but showers and thunderstorms certainly seem like a distinct possibility at some point on Thanksgiving. Conditions will be warm ahead of the front, with temperatures dropping afterward, and lows in the 40s likely at the end of next week.
Fundraiser
Just a quick word to say that we're still raising money for 2022 for Space City Weather with our annual fundraiser. You can buy merchandise or simply donate funds for the site. We truly appreciate your generosity.