Houston will see one more warm day before more fall-like conditions return with a cold front arriving early on Thursday. This will bring a significantly drier shot of air into the region on Thursday night and Friday morning, with dewpoints dropping into the 20s and 30s. Mostly sunny and somewhat warmer conditions return for the weekend, with uncertainty ahead for the Thanksgiving holiday.
Wednesday
Before we get to the drier air, however, we'll see fairly muggy conditions today—by November standards at least. Temperatures this morning are only slightly below 70 degrees, and with mostly sunny skies temperatures this afternoon will probably get into the low- or possibly mid-80s for some areas. I'm tempted to say this is the warmest day left in the year, but Sunday may also see highs of about 80 degrees so I'm not going to make any firm predictions. Winds will be fairly light today, generally out of the south. Lows will be sticky again tonight ahead of the front.
Thursday
As for the front, roughly speaking it should reach the College Station area around midnight or shortly thereafter, push into central Houston between 5 and 7 am CT, and reach the coast between 7 and 9 am. Some scattered showers will be possible with the front, but nothing too heavy or lasting too long. Any rains will probably end quickly as drier air moves in. Highs on Thursday should max out in the low 70s, with clearing skies during the afternoon. Winds will be out of the north and northeast at 10 to 15 mph.
Thursday night will be the coldest of the week, so if you're participating in the Sleep Out event for Covenant House, be sure and have an extra blanket. Lows will likely drop to 50 degrees, or slightly lower, in Houston with winds out of the north at 10 to 15 mph. Skies will be partly cloudy. Further inland, lows may drop into the low 40s.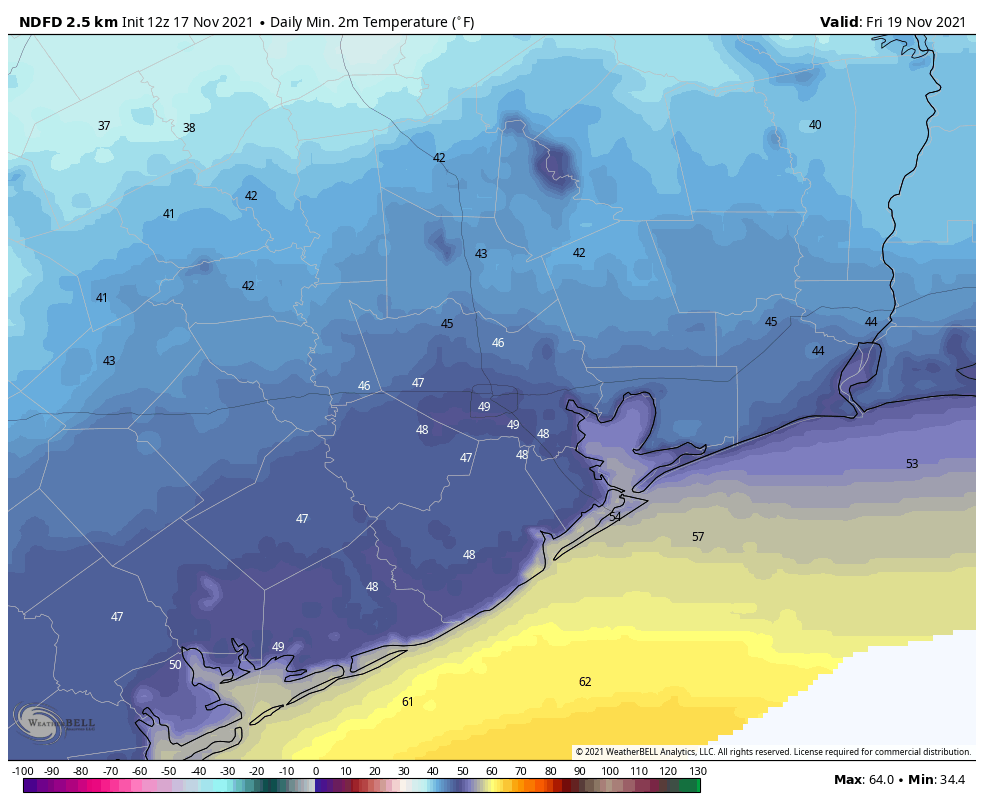 Friday
A fine late fall day, with highs in the mid-60s and mostly sunny skies. Winds will be generally light. Lows Friday night will probably be a degree or two cooler than Thursday night.
Saturday and Sunday
After a cool start, temperatures on Saturday should climb into the mid-70s with mostly sunny skies. Overnight lows will drop to about 60 degrees, and then Sunday should be warmer with highs of around 80 degrees and a mix of sunshine and clouds. Another front should arrive on Sunday night, probably around midnight but there's still plenty of uncertainty. Overall rain chances with this front are fairly low, but not zero.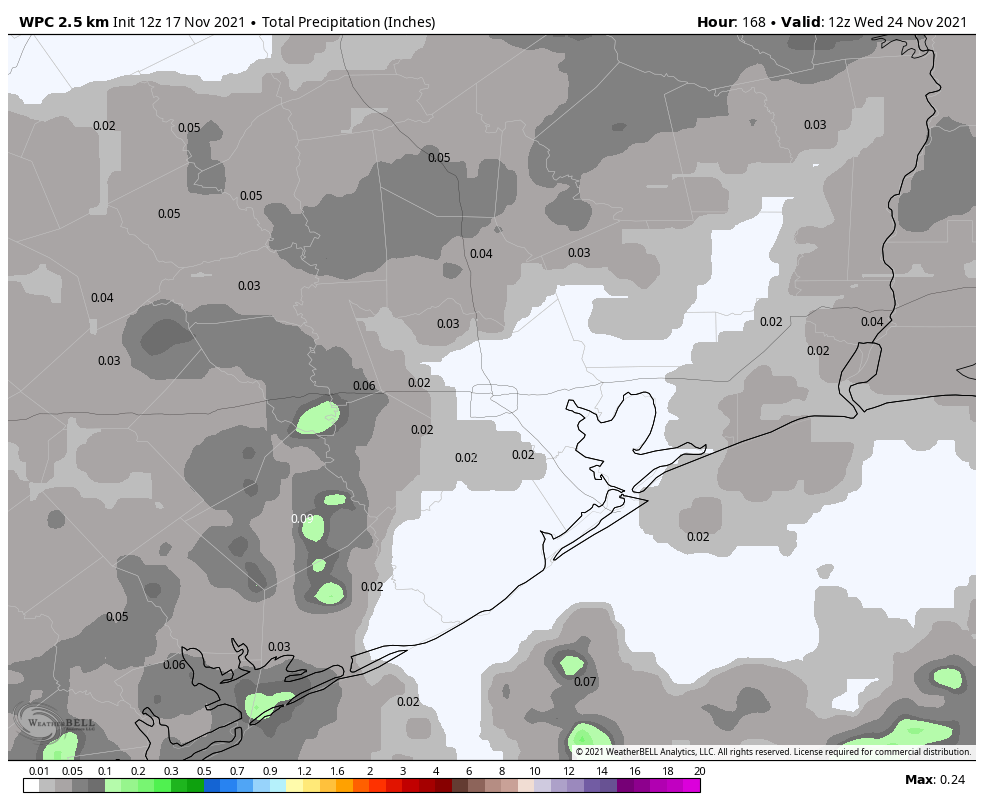 Next week
Monday and Tuesday should be clear and cooler before a warming trend begins again Wednesday. Then, all eyes are on the next front and its implications for Thanksgiving. We've had several questions about outdoor events, such as the Houston Turkey Trot on Thanksgiving morning. Due to the pandemic, many of these activities were put on hiatus last year, but are now returning. So will Mother Nature cooperate?
The big picture is fairly clear: A front will be moving toward our region on Wednesday night or Thursday morning, but we still have questions about how quick (or slow) and dry (or wet) its passage will be. At this point I'm thinking we'll see a slower moving front, making for a gray Thanksgiving Day with a healthy chance of rain. We're not looking at inches and inches of rain, I don't think, but there may be enough precipitation to put a damper on outdoor events at some point during the day. After the front moves through things probably will cool down significantly, with lows at least in the 40s. But the colder air may not come until Thanksgiving night or Friday.
Our confidence in such a forecast will, of course, increase in the coming days as we feast upon additional data.
Fundraiser
I want to extend a very, very warm thank you to all who have contributed to our annual fundraiser so far. As always, your response has been tremendous. There's still time to get your t-shirts, umbrellas, caps, tumblers, or to simply donate.