Not long after our morning update on Friday, the National Hurricane went full steam ahead and declared the disturbance near the Yucatan Peninsula to be (Sub)tropical Storm Alberto (more on that in a moment). For us in Houston, this is of *no* concern. We remain with a hot and mostly dry forecast. But if you have friends and family east of here or know folks visiting there for the holiday weekend, we wanted to provide a quick update.
Now
Alberto has maximum sustained winds of 40 mph, making it a lower-end tropical storm. Looking at a satellite loop, you can see Alberto is far from the most aesthetically pleasing tropical system we've ever seen.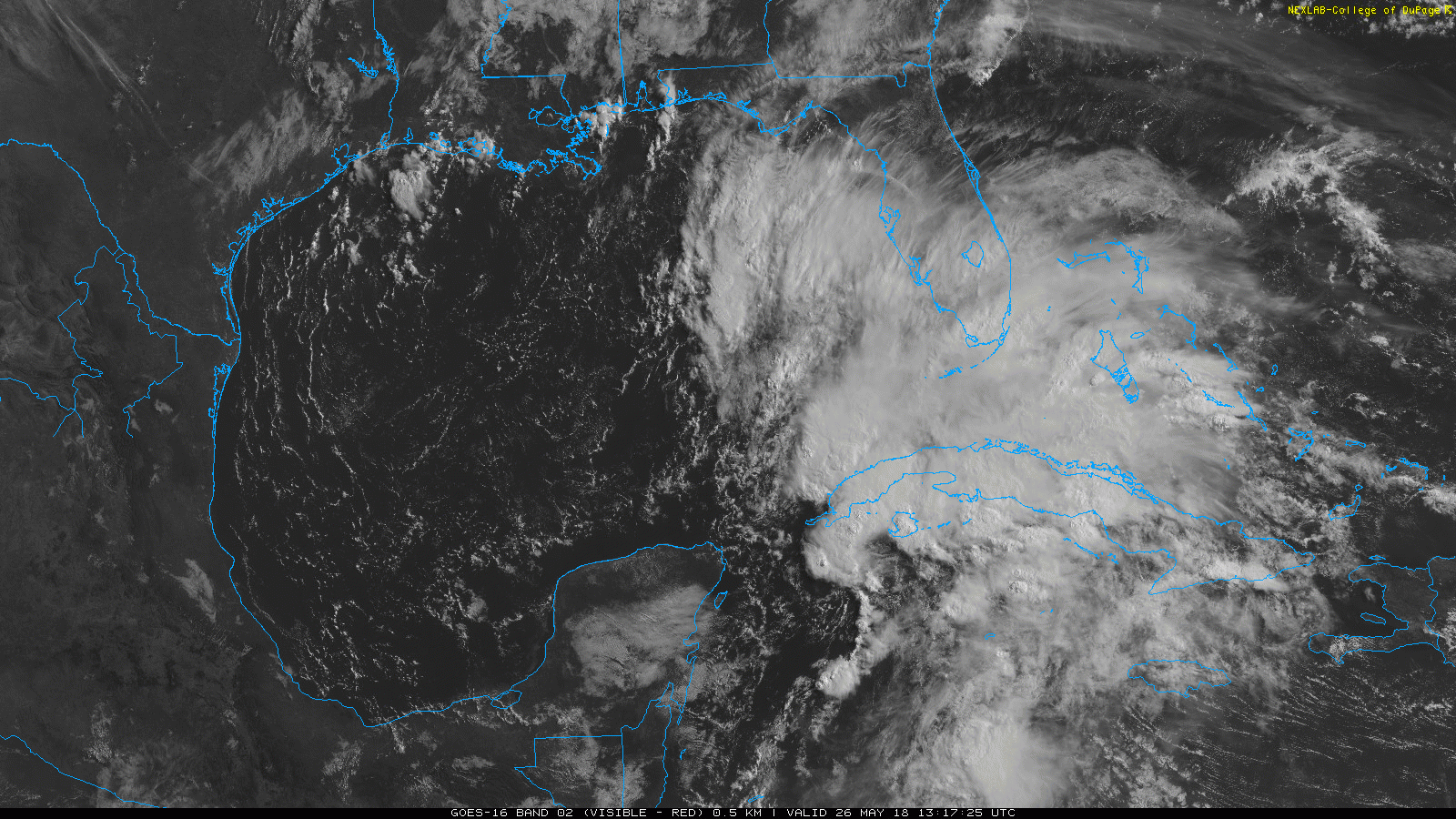 The center of Alberto is sort of broad in nature and located just off the western tip of Cuba. It may hopscotch its way along over the next 12-24 hours, reforming at times in different places in the southeast Gulf.
Forecast track & intensity
Over the next 24-36 hours, the environment over Alberto is expected to become more hospitable for a tropical storm. Thus, Alberto should strengthen a bit on its trek north. The current forecast from the National Hurricane Center takes Alberto north to between about Gulfport, MS and Panama City Beach, FL, with a possible landfall by Monday night or early Tuesday.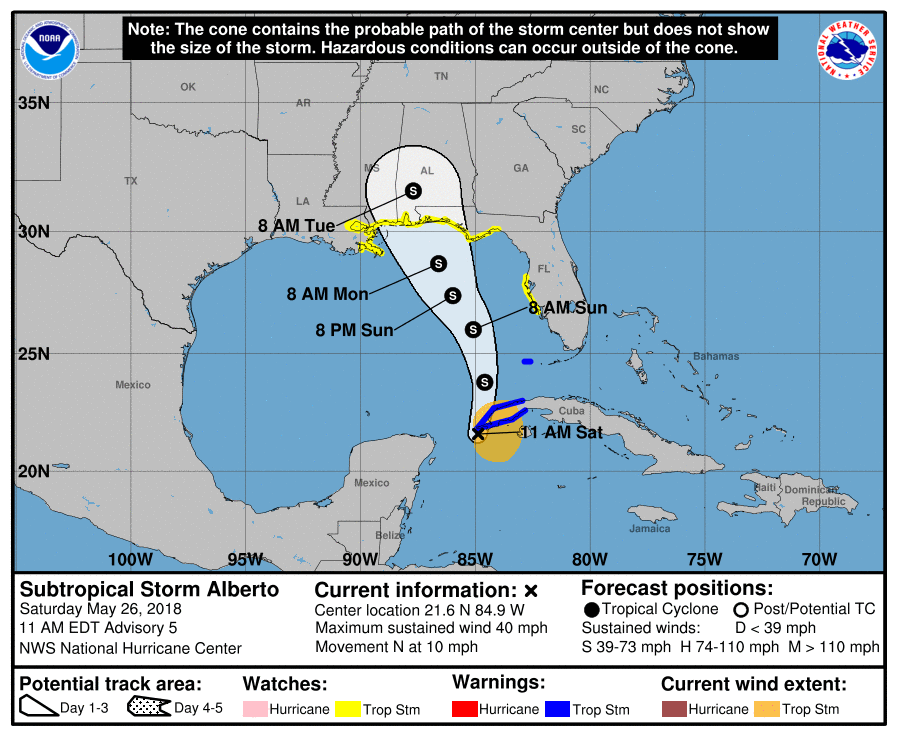 While the NHC track is fine, some forecast modeling shows Alberto taking a more erratic path as it approaches the eastern Gulf, possibly shifting a couple hundred miles east or west. Thus, tropical storm watches cover a pretty broad chunk of the coast, between far eastern Louisiana and the New Orleans area to just south of Tallahassee on the Florida Panhandle. The Tampa area is also under a watch. Tropical storm watches mean tropical storm conditions are possible within the next 48 hours.

There are also storm surge watches posted for much of the Florida coast back to the mouth of the Mississippi River south of New Orleans, meaning storm surge inundation is possible. You can see a map of potential inundation from the NHC here. Keep in mind that the map is displaying a reasonable worst case scenario, meaning it's showing what forecasters perceive to be the upper bound of the risk of storm surge inundation. It's factoring in uncertainty in the forecast, as well as other things to come to this outcome.
In terms of wind, it's likely that as the environment over Alberto becomes less hostile, it will slowly strengthen. As of right now, the NHC is taking Alberto up to a 65 mph tropical storm before landfall. That seems reasonable. I'd probably place odds of 15% that Alberto could briefly achieve hurricane status before making landfall. Much will depend on how quickly it's able to consolidate as it lifts north.
Rainfall
Arguably, the biggest issue with Alberto will be rainfall. Rain totals of 3-7″ will be widespread in the eastern Gulf.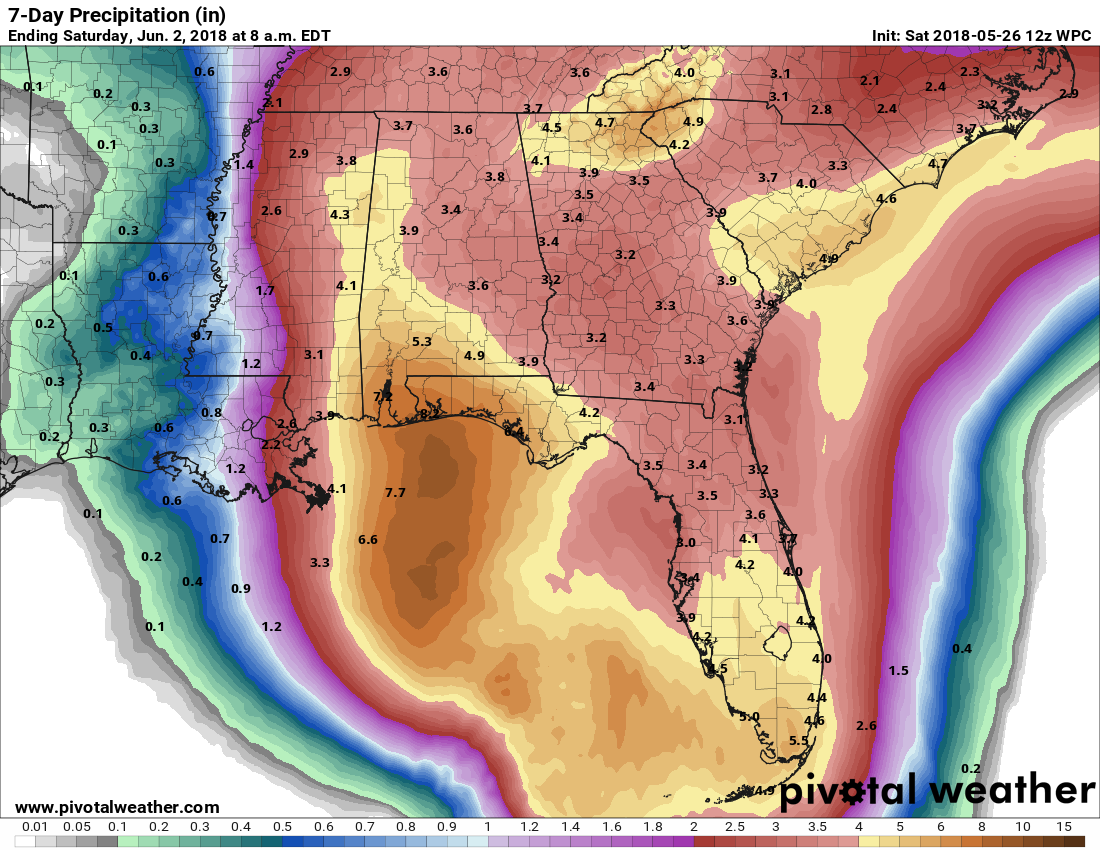 Some areas may see upwards of 10 inches of rain or more depending on the exact speed and track. The heaviest rains are likely to be in South Florida and along the east-central Gulf Coast between about Biloxi and Tallahassee. Rain totals will drop off sharply as you move west of New Orleans.
What's this "subtropical" funny business?
Warning: A lot of "in the weeds" stuff and meteorology speak ahead!
One of the questions we've seen and likely to continue receiving is, "You said this is called 'Subtropical Storm Alberto.' Why not just 'Tropical Storm Alberto?'"
Basically, the difference between a "subtropical" system and a "tropical" system is an academic debate. It has little to no bearing on outcome for residents in the path, so a subtropical storm is no less of concern than a regular tropical storm.
But as science and observation has advanced, we are able to dig in and refine how we define certain things. By definition, a tropical system, coming from the tropics, is called a "warm core" system, meaning it has warm air at its core. It feeds off warm water and uses that to help it gain power. A non-tropical storm has colder temperatures at its center. It's known as a "cold core" system. Think of a nor'easter up in New York City or Boston. That's a cold core, "extratropical" cyclone. They strengthen because of air mass interaction. Often, it's a couple upper level disturbances in the jet stream that help them grow. They have fronts attached to them. Tropical cyclones do not have fronts and aren't feeding off air masses. They're feeding off warm water.
Think of a subtropical storm as being a hybrid of the two types of cyclones (warm core and cold core). A subtropical storm is basically an extratropical (cold core) system that sits over warm water and begins to derive some of its energy from those warm waters underneath.In time, after feeding more and more off the warmer water, it can transition from a cold core to a warm core system. In Alberto's case, this is likely to happen in about 24-36 hours or so. Read more about the transition process here.
Here's a cool, complex chart from Florida State University if you're interested in seeing this in situ on a model. These charts show the model basically transitioning Alberto from a weaker cold core system to a more tropical, warm core system. Thus, it would be likely to see Subtropical Storm Alberto become just regular old Tropical Storm Alberto in a day or so.
Again, this is really just meteorologists making sure our science is technically sound. For folks in the path of Alberto, it means little to nothing.