Yesterday's thunderstorm activity probably came as a bit of a surprise to many of us, not so much because they happened but because of how potent they were. We saw a few reports of hail and wind damage around the region. And some incredible sky pictures.
@NWSHouston Possible RFD/tornado damage at MSR Houston. Metal roof ripped clean from a 2-story building and debris lofted 150 yards. #TXWX pic.twitter.com/qUznPjbTki

— Jared Harris (@The_Circuit_Man) May 27, 2018
Severe weather damage at M and M Air Service in Winnie. Witnesses say at least two airplanes inside the hangar suffered severe damage. Awaiting @NWS to confirm if tornado. @NWSLakeCharles @NWSHouston #12NewsNow pic.twitter.com/zASLhdSGuM

— Paul Bergen (@pbergen2000) May 27, 2018
What a beauty of a storm in Houston looking NE.@NWSHouston @TxStormChasers pic.twitter.com/78JizSlq0h

— Landon (@landon1988) May 27, 2018
https://twitter.com/JCB_511/status/1000548824383881216
Our Friday forecast suggested the most activity would be east of US-59 on Saturday, and it was, but I'd be lying if I told you I was expecting the potency that it came with. So why did it happen?
A confluence of factors led to a busy Saturday evening. Storms early in the day in western Louisiana and eastern Texas likely produced some boundaries in the atmosphere, and with winds directing weather in the less common northeast to southwest direction, they ended up moving our way. We probably saw cold air aloft, necessary to help regenerate storms as they moved across southeast Texas. We had sea breeze interaction with some of those boundaries also. There was decent jet stream and upper level support in the northeast flow that helped add extra support. Then, it also hit 94° at IAH, so you had plenty of instability. All these factors came together just right, and we ended up exceeding most people's expectations, including my own.
So that begs the question: Will we do it again today?

As of 11:30 AM, radar shows a handful of showers and storms in East Texas and along the Sabine River bordering Louisiana.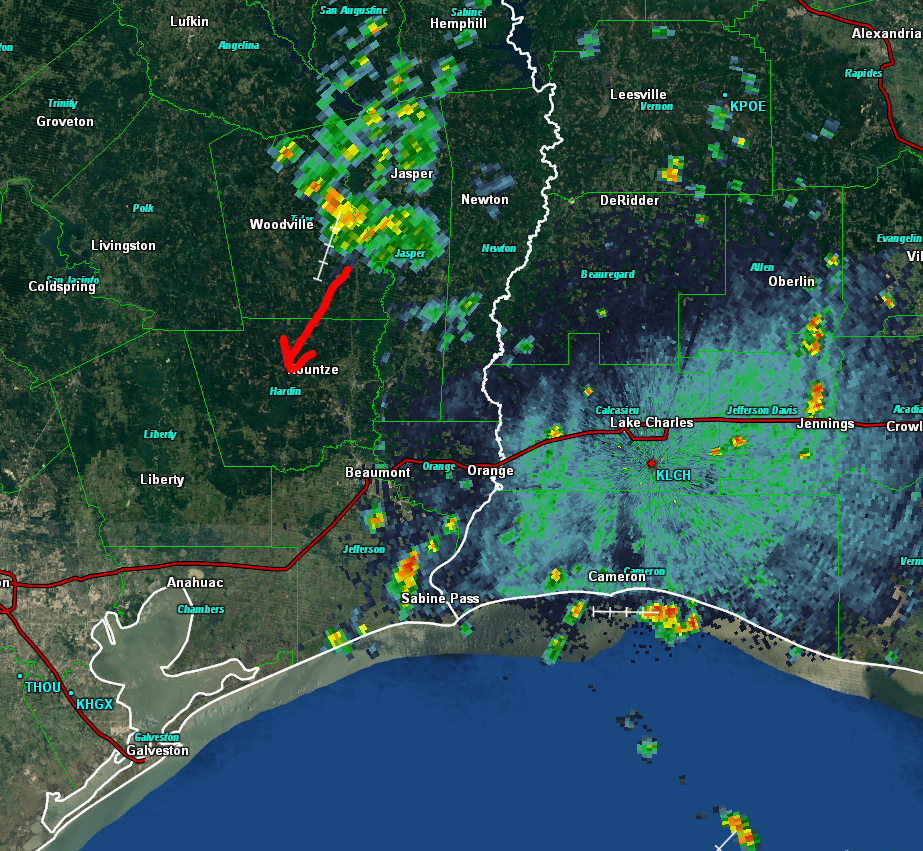 This looks somewhat similar to what we saw yesterday at this same time. Today I'll be watching what those thunderstorms in Jasper County do. As that drops south, boundaries, potentially enhanced by sea breeze boundaries and a disturbance aloft moving around the backside of Alberto's broader circulation (not *due* to Alberto, but indirectly connected) may act to once again allow storms to fire up in the Houston area, particularly on the east side.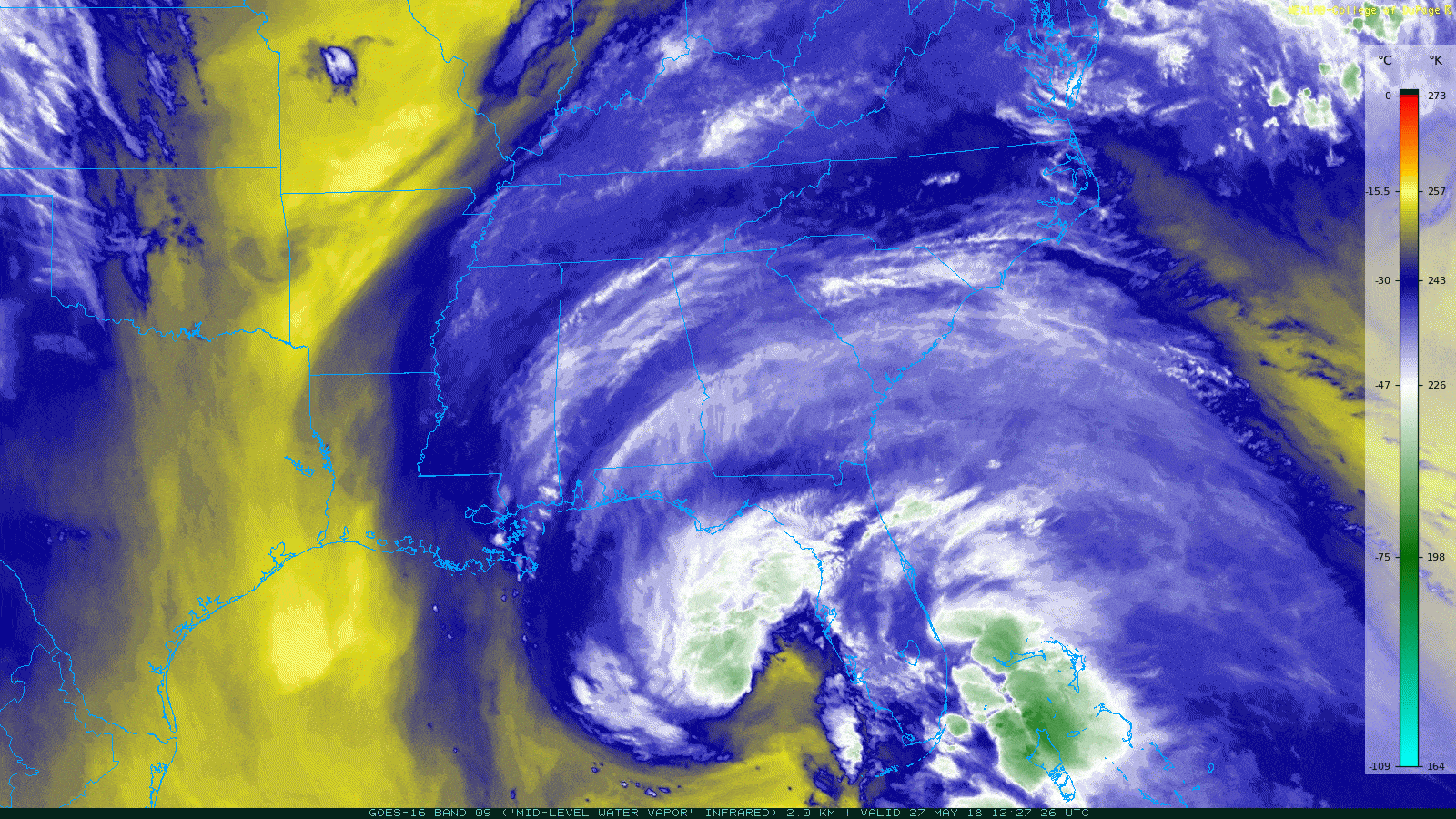 What to expect
So, after laying the groundwork, here's what to expect today.
Mostly sunny and hot much of the afternoon. High temps in the low to mid 90s east and mid-90s west.
A handful of showers and storms will fire up during the middle and later afternoon, especially east of I-45 and US-59.
Any storms that form today will be, like yesterday, capable of producing strong wind gusts in excess of 50 mph, hail, frequent cloud to ground lightning, and heavy rainfall. But not everyone will see storms.
Storms should linger past sunset for a couple hours and then fizzle.
If your plans this evening involve being outdoors, please stay alert and aware of changing weather. Lightning yesterday was coming down in some places well in advance of the storm itself.
805 CT Saturday: Northeast side of the Houston area may see some "bolts from the blue" or lightning front running the storms dropping in from the northeast. Be aware if outdoors. #houwx pic.twitter.com/XC9jlh3GK8

— Matt Lanza (@mattlanza) May 27, 2018
So if you hear thunder today, even if it's bright and sunny where you are, I'd encourage you to begin to get inside.
We'll have a continued slight chance of storms tomorrow, but atmospheric conditions do look a bit less favorable for as much coverage as we saw yesterday and may see today.
Quick Alberto update
For those interested, just a quick update on Alberto. The storm has gotten somewhat better organized, but it remains a subtropical system and is encountering a few growing pains. That will likely change later today, as Alberto transitions to a warm core, tropical system (see my post yesterday for an explainer on "subtropical" vs. "tropical" terminology).
The forecast has shifted a bit further east since yesterday with Alberto's track. The range of possibilities with landfall has narrowed to about Pensacola, FL through to south of Tallahassee.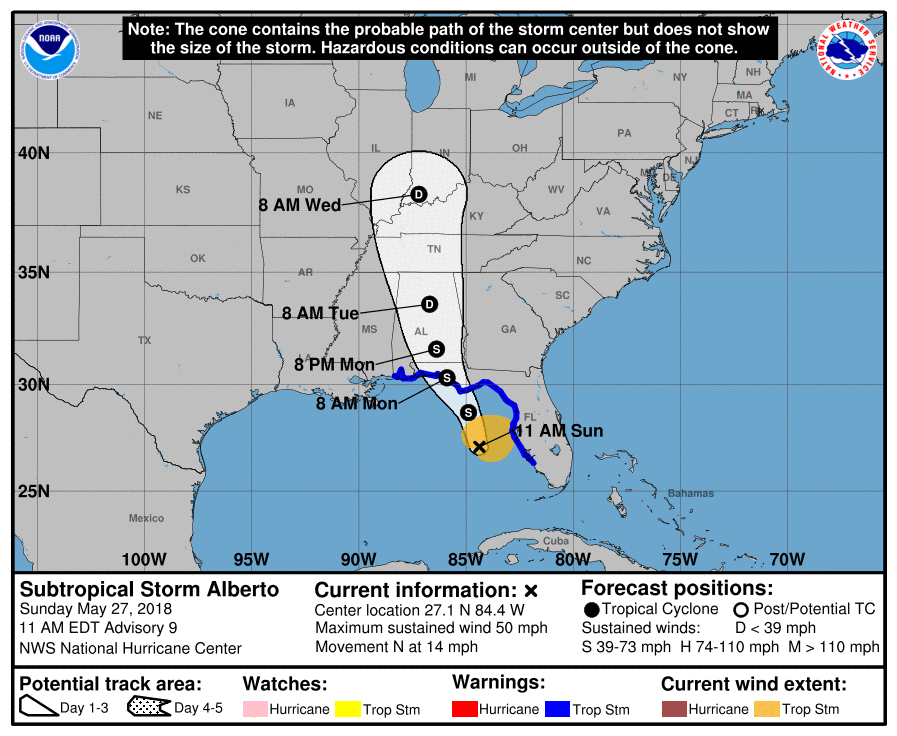 Alberto is still expected to strengthen into a moderate tropical storm. Risk of Alberto becoming a hurricane is very, very low. Impacts to Florida and the Southeast in general have not changed much since yesterday. There will continue to be heavy rainfall and areas of flooding in that region, especially in parts of Florida up through eastern Alabama and western Georgia. Winds of tropical storm strength will be likely on the Florida Panhandle coast, though the strongest winds will likely be contained in a fairly small area. Storm surge and coastal flooding will generally be minor to moderate in Florida as Alberto approaches today and tomorrow.