If the weather forecast going into next week holds, we may look back on this week as being one of the more important weeks of summer, because we needed some rain and most of us have received some.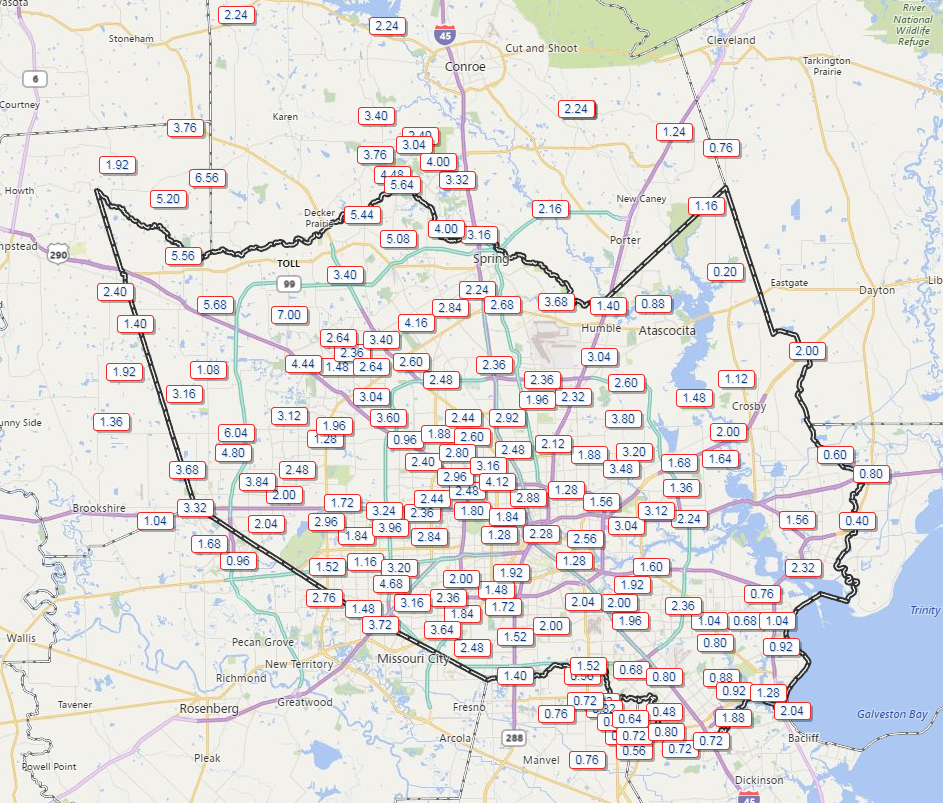 Yes, some areas have been mostly avoided, which is unfortunate, but regionally, at least we were able to ease the potential descent into drought. We have a very repetitive forecast over the next week or so.
Today & Saturday
Both days will carry at least a chance of showers. Radar has a couple offshore showers this morning, but nothing too significant. I expect we'll see showers kick up later this morning (after 9-10 AM) near the coast, then spread inland this afternoon. Coverage will be similar to a little less than what we saw yesterday. Some of you may pick up a quick quarter to half inch of rain with thunder. Others will again listen longingly to distant rumbles of thunder.
Saturday should see slightly less coverage of storms, especially west of US-59. The better chances for showers tomorrow will be east of US-59, especially as you get closer to Beaumont/Port Arthur and Lake Charles.
Temperatures today and tomorrow will top off around 90 or in the lower 90s. And they may also be the coolest days of the next 7-10.

Sunday through next week
With a tropical system staying to our east (see below) and dry, sinking air rotating around it down from Louisiana, Houston and Texas in general will be locked under a hot pattern that is very impressive for this early in summer. Weather modeling has been hinting at strong temperatures next week for several days now. And with that will come mainly dry weather.
Sunday should see highs in the mid-90s. Memorial Day through Wednesday should see middle to upper 90s. Tuesday is likely to be the hottest day of this stretch. We may cool down a few degrees after Wednesday, perhaps more like mid-90s. Unfortunately, I do think we will drift back up hotter again by next weekend.
Can we hit 100°? Model guidance says "maybe" for Tuesday. I personally do not think we will get there officially. I do however think someone in our area could see a 100 register on their backyard thermometer Tuesday or Wednesday afternoon (especially north and west of the city). And if we don't do it then, we will have another chance next weekend. Houston's earliest official 100 degree temperature occurred in the historically dreadful summer of 2011, when we hit the century mark on the second day of June. Next closest? June 10, 1902. Let's just say it would be unlikely but perhaps not impossible.
Either way, this stretch looks miserably hot and our summer is hitting the accelerator this year. As Eric said yesterday, this is more like August than June.
Tropics
In the tropics, the disturbance classified as "Invest 90L" is likely to become either a tropical depression or tropical storm in the Eastern Gulf of Mexico this weekend. It will not be a threat to impact Texas, but the National Hurricane Center is now up to 90% odds of development over the next three to five days.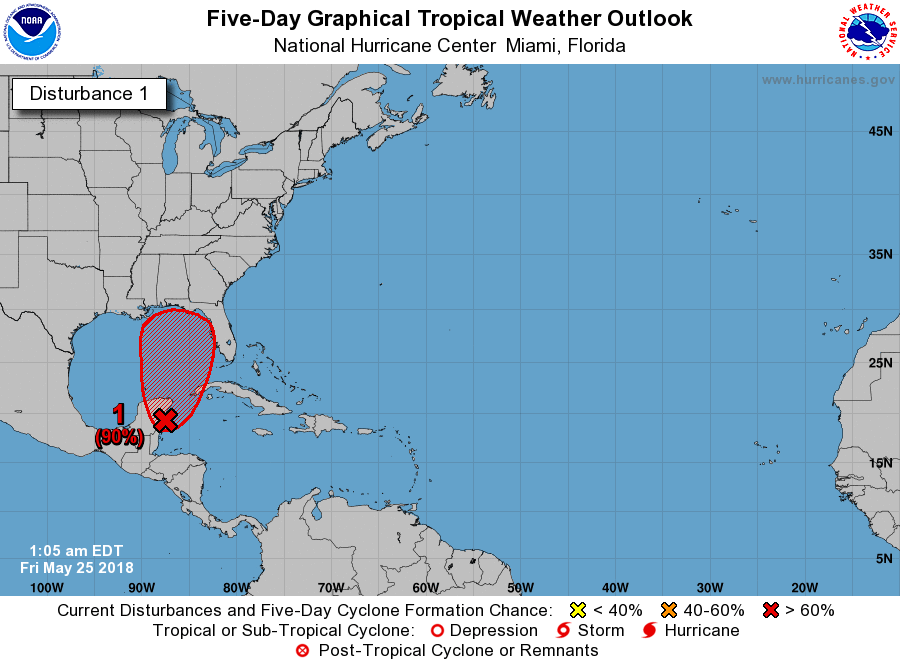 Current forecast modeling and the upper level pattern should steer 90L (or whatever it will be called, either Tropical Depression One or Tropical Storm Alberto) northward toward the central or eastern Gulf Coast. Some modeling is a bit aggressive with this becoming a moderate tropical storm. Other modeling is less so. Typically, early season systems are ragged and lopsided, meaning the east side of the storm is disproportionately loaded with rain versus the western side. While there could be some localized wind and minor surge issues between New Orleans and the Florida Big Bend, the biggest story with this system is likely to be rainfall.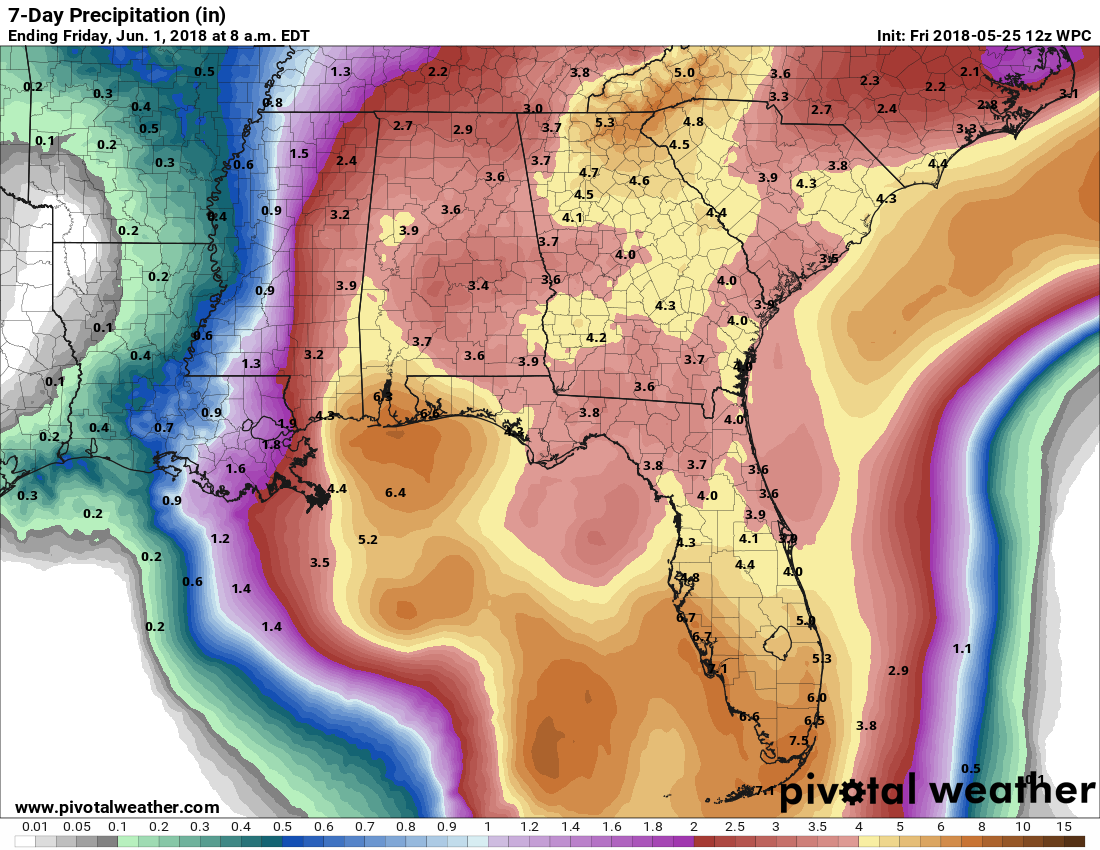 Many areas between the Florida Keys and about New Orleans will see substantial rains from this system. That should mean areas of flooding in the Southeast. If your travel plans this holiday weekend take you to Florida, the eastern Gulf, or the Southeast, stay aware of local weather conditions. Also, be aware of local swimming conditions. Rip currents are likely to be an issue in the eastern Gulf this weekend too.
Just as a note, even though we shouldn't see impacts from this system in Houston, with folks traveling all over, I'll be tracking the tropics all weekend. I'll have an update for you Saturday or Sunday.