Good morning. Moderate to briefly heavy rainfall moved through the Houston area during the overnight hours, generally dropping between 0.25 and 1 inch of rain. This looks to be the last of our organized storm systems for awhile, although our region will certainly face the possibility of scattered showers and thunderstorms this week. But overall, the last week of May 2020 will be reasonably pleasant weather-wise, with slightly lower humidity than normal. Enjoy this, friends, because June is around the corner.
Tuesday
The remnants of the overnight rainfall system are pushing through Houston this morning, and should move out by 8 a.m. or 9 a.m. Skies should be partly to mostly cloudy today, with the possibility of additional scattered showers this afternoon. Highs will reach the mid-80s. You may notice winds start to come from the north later today, and this will give us shot of slightly drier air that may linger for most of this week. It should be especially noticeable this evening, and on Wednesday morning when lows drop into the 60s for most areas except the coast.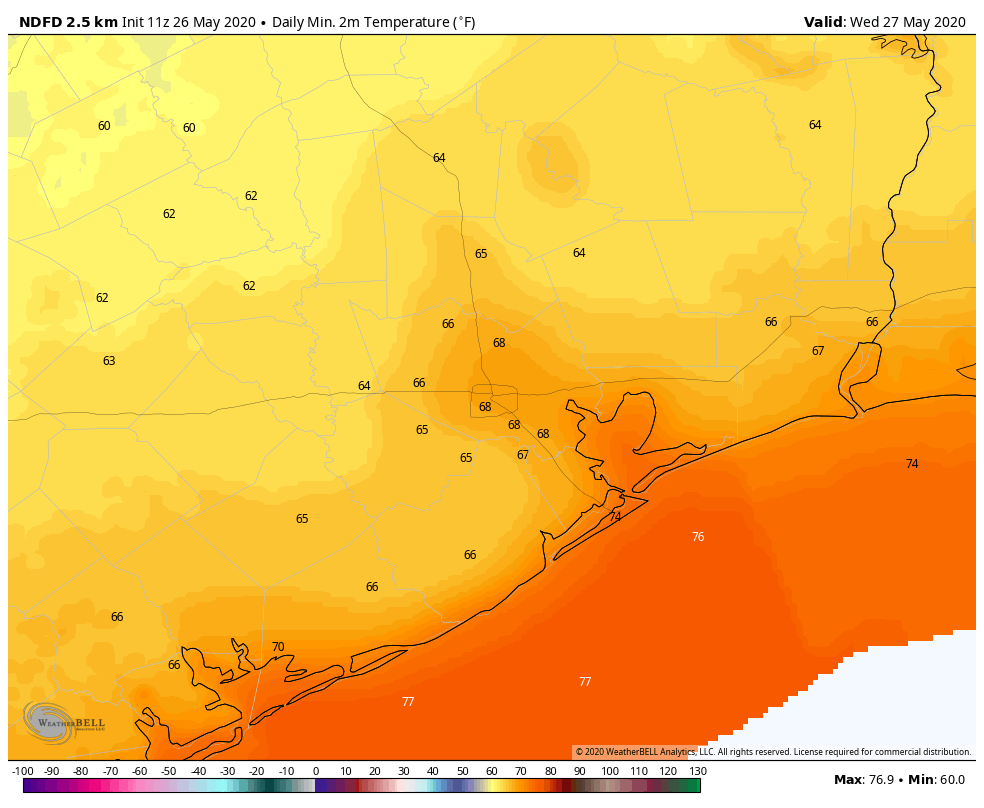 Wednesday
The much discussed upper-level low pressure system should continue to wobble away from the region on Wednesday, and this should lead to partly to mostly sunny skies. This, in turn should allow for temperatures to push into the upper 80s, and this daytime heating may trigger a few afternoon showers. Lows Wednesday night should be a few degrees warmer than Tuesday. It's possible we may see some additional showers late Wednesday night into Thursday morning, but I don't have overly high confidence in this.

Thursday and Friday
The details of the atmosphere are pretty complex toward the end of the week, but the big picture story is that we should see a pair of pretty typical days for late May. We can probably expect partly to mostly sunny days, with highs near 90 degrees. Some afternoon showers and thunderstorms will be possible, kicking up along the sea breeze, but nothing particularly organized. Lows should be in the low 70s for most.
Saturday and Sunday
The weekend looks similar. We expect to see mostly sunny days with partly to mostly cloudy nights—a fairly standard diurnal pattern for this time of year. Highs will reach about 90 degrees, with lows in the low 70s. This won't be oppressive heat for Houston, and will cap what should be a pretty nice way to end May. Some scattered showers will be possible on both days, but right now we don't think they will put too much of a damper on any outdoor activities.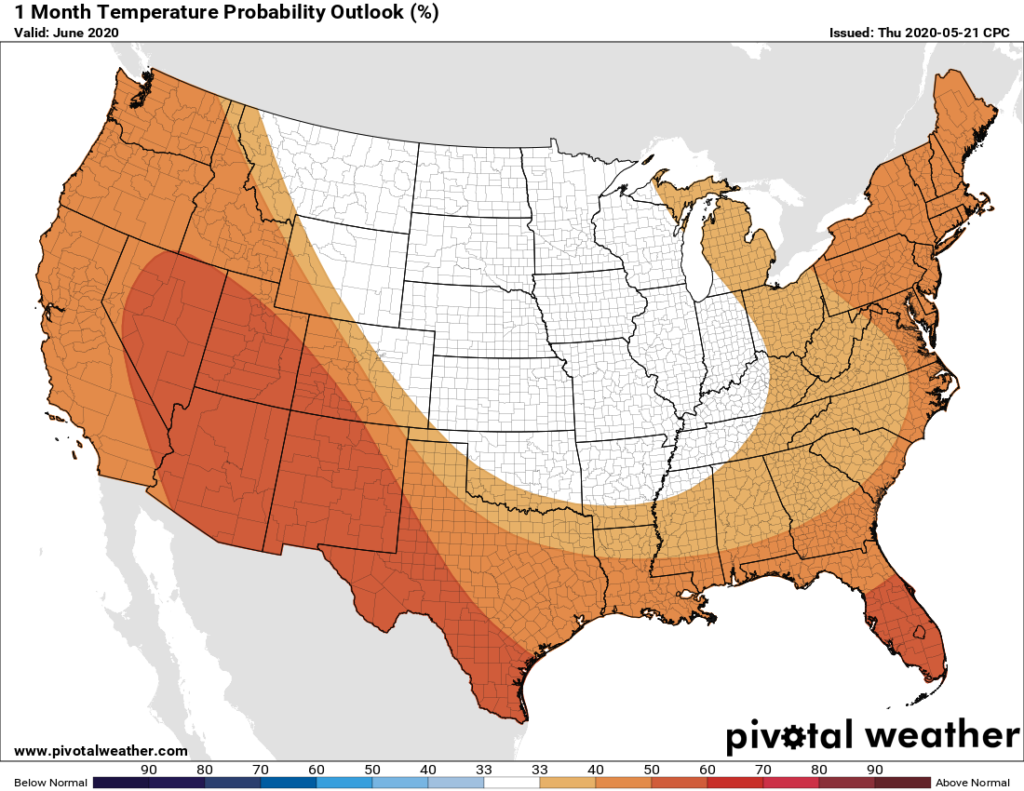 Next week
There's no real strong pattern in the cards for next week, at least not that we can see at this point. I expect the first week of June to feel like the first week of a typical June, with highs climbing into the low 90s and plenty of humidity.