Yesterday was the hottest day of the year for Houston thus far, as IAH Airport officially checked in at 97°, besting the previous high for 2019 of 96° one week ago. The good news? We are done with that kind of heat for a little while. And we will also lose a good bit of our humidity this week too.
Today
Our somewhat rare June cold front has pushed through the region, and it will continue to progress south through the day today.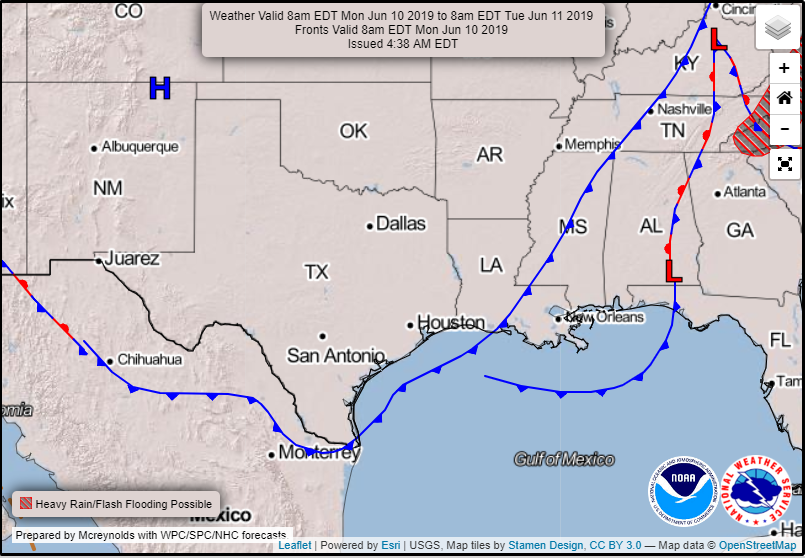 Offshore winds have arrived, and they will help lower the temps and humidity today just a bit. Expect highs in the low-90s this afternoon, a good bit cooler than we experienced yesterday. An isolated shower could crop up, especially south and west of Houston, but I think most areas will be dry with a mix of clouds and sun.
Tomorrow and Wednesday
Both days should see mostly sunny skies. I'm not going to say that Tuesday will feel delightful, but it's not going to feel like high summer, that's for sure. Expect tolerable humidity, with dewpoints in the 50s possible through the day. If you missed it on Friday, dewpoints in the 50s have only occurred during 0.8% of June hours since 2010. So this is a bit of a rare event. Temperatures will hover in the upper-80s Tuesday afternoon as well. It's not often Houston fails to hit 90 in summer with sunshine. We will add back a couple degrees on Wednesday, back up around 90° or in the low-90s in the afternoon. Humidity should remain tolerable.
Morning lows will probably be in the 70s again Tuesday morning. But there is a chance that a lot of locations outside the city and away from the coast will dip well into the 60s Tuesday night into Wednesday morning. Morning joggers, take note!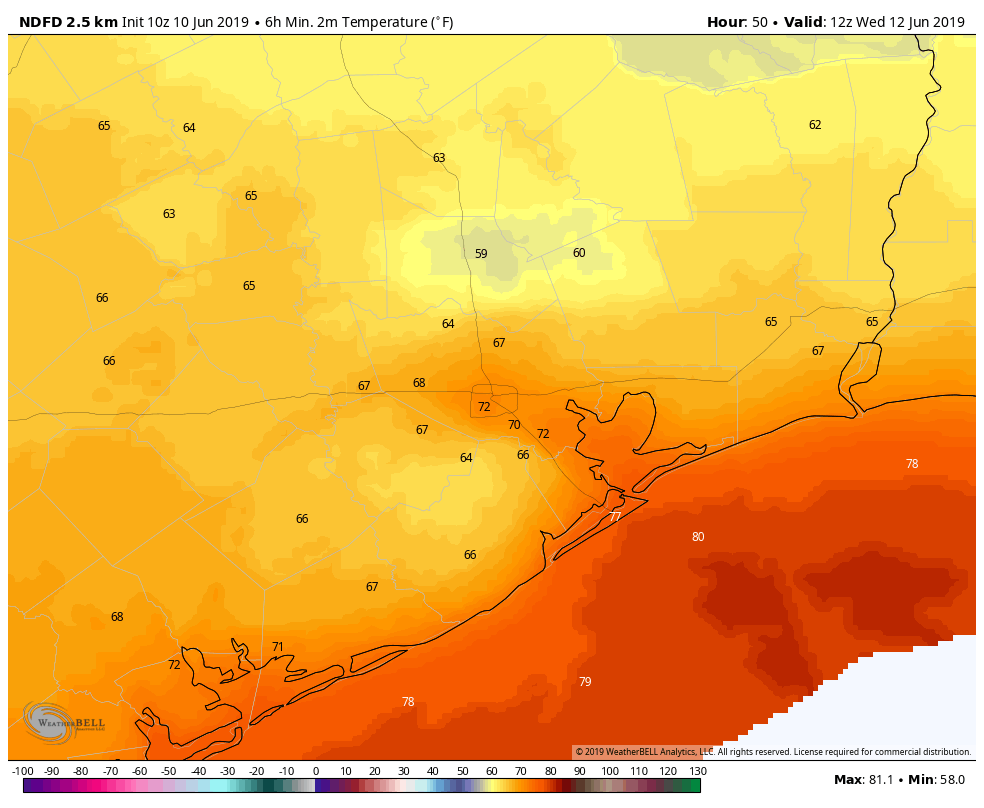 As far as rain chances go, there should be at least a few showers around, primarily on Wednesday. The highest rain chances will be to the south and west of Houston, closer to Matagorda and Victoria.

Thursday and Friday
We will reinforce the offshore flow and drier air mass over the region later Wednesday, and that means another pair of nice days by June standards headed this way to close out the workweek. Expect mostly sunshine and near-zero rain chances on both Thursday and Friday. High temperatures will peak around 90° or in the low-90s on both days. Thursday morning will start in the low-70s, but there's a slight chance that Friday morning starts in the 60s in a few spots again. Humidity will stay fairly low until onshore flow resumes later Friday and Friday night.
Weekend
We should get back to more typical summer weather this weekend. Expect a mix of sun and clouds each day with the requisite chance of an afternoon shower or storm. Otherwise, it'll just be hot and humid. Look for highs in the 90s and lows building up through the 70s.
Tropics
One thing we're planning to do here at Space City Weather this hurricane season is to provide a special weekly post on the state of the tropics. Due to a bunch of commitments and scheduling issues, that will probably begin at the end of this month. That is also because the tropics are extremely quiet right now. Even the more aggressive weather models we look at each day can't spin much of anything up. That't not abnormal; it's June. But it's reassuring to see for the time being. Hurricane season is a marathon, not a sprint, and we'll be watching closely.