Unsettled weather is going to be the main story this weekend, as we continue to bounce around in a weather pattern that resembles something more like a roller coaster ride than anything. Here are the details.
Friday
A change is afoot this morning. Overnight, winds shifted solidly onshore, and as you step outside this morning, you may not like how it feels.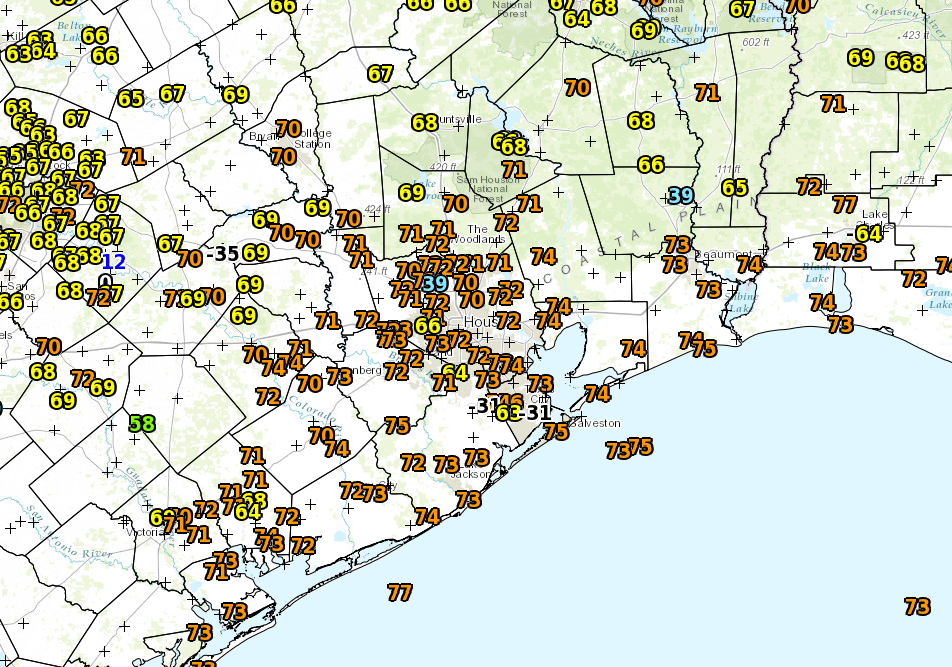 Onshore winds mean higher dewpoints which means more humidity. It's back, and it's staying through tomorrow. Outside of the high humidity and temperatures, expect an otherwise nice day today. We'll see a mix of clouds and some sun. We have a good shot at making another run at 90° this afternoon if we can get enough sunshine. Combined with humidity, it will feel like closer to 100° outside. Unpleasant. With strengthening southerly winds, there is also the potential for some minor coastal flooding starting late tonight and continuing into tomorrow night.
(Space City Weather is sponsored this month by The Mole, a Jonathon Price novel.)
Saturday & Sunday
The pattern begins to really turn unsettled on Saturday. As a cold front and storm system approach Southeast Texas from the west, we'll likely see building chances of showers. In the morning, they'll be scattered and light in most spots, driven by strong winds aloft and that miserable onshore flow pumping in humidity. By afternoon, a few stronger storms will be possible. In Houston and points south, it appears the infamous "cap" that often shields us from severe weather in situations like this will once again do its duty. I don't anticipate much, if any severe weather in and around Houston on Saturday.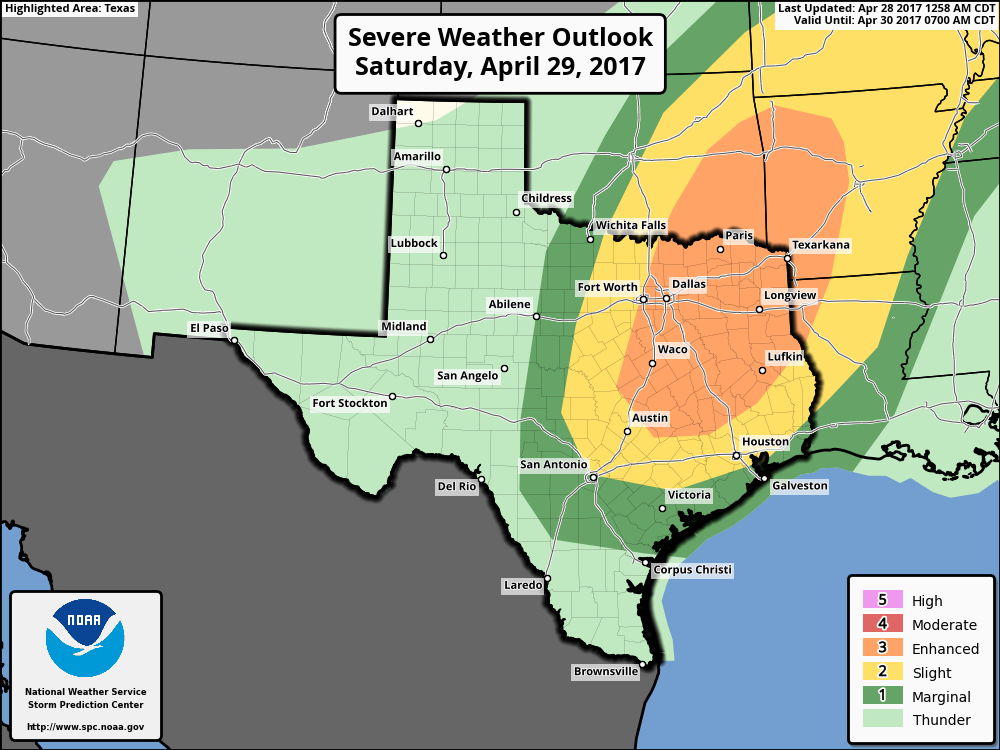 But (there's always a but), as you move north and east, those areas won't have as strong a cap in the atmosphere, so the threat for isolated strong to severe storms will increase. Places like Huntsville and Lake Livingston southeast to Beaumont may be at risk for some isolated strong to severe storms on Saturday afternoon. I do not expect widespread severe weather in that area, but keep the storm chance in mind if you are planning outdoor activities Saturday.
The front should approach the western part of the Houston area Saturday evening after 8-9 PM or so. As it moves through the region, expect a burst of heavy rain, possibly thunder, and maybe some gusty winds too (though it'll already be fairly windy most of Saturday). As of now, I don't expect much if any severe weather from the front as it comes through. The best dynamics and ingredients for severe weather are a bit out of phase with the front here, meaning it will be tough to get much more than an isolated strong to severe storm, with gusty winds or hail being the primary threats. Still, it's something we'll watch and update if appropriate. Rain totals could be locally heavy, but mostly north of Houston. I don't expect a serious flooding threat from this system though.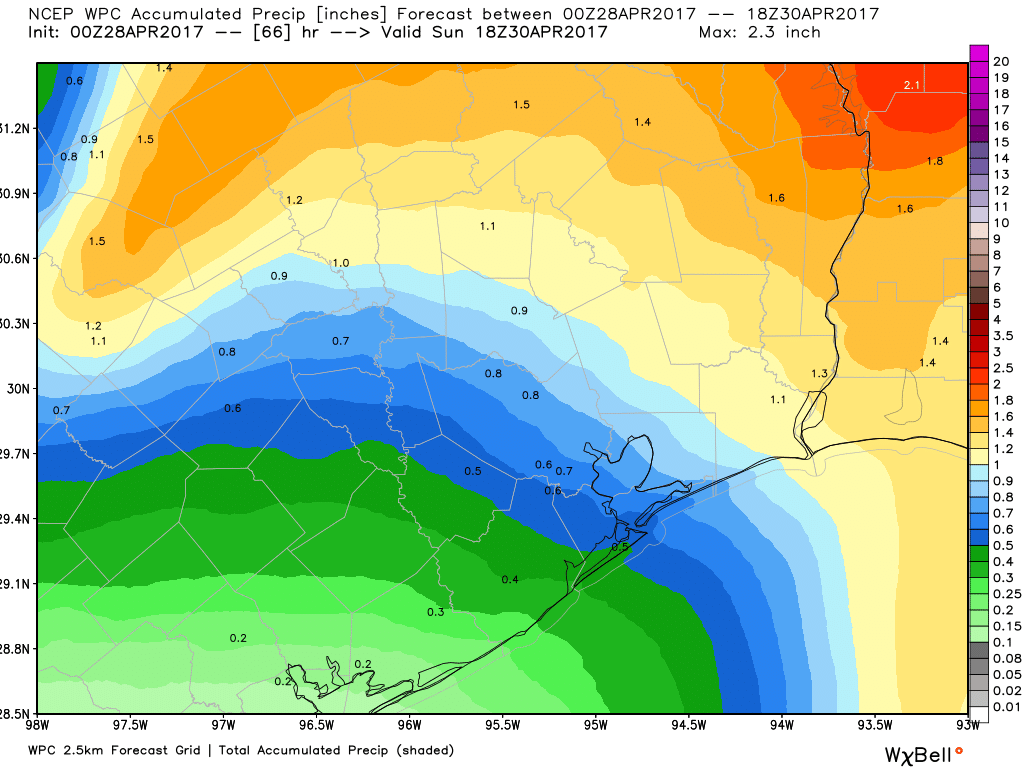 The front should clear the Houston area and points south and east by about daybreak on Sunday.
For MS 150 riders, I think you're fine through early Saturday afternoon with a strong tailwind and perhaps a few lighter showers. There is a slight chance of a storm as you approach your stopping points for the day. The front itself should blow through your locations Saturday evening, probably between 7 PM and Midnight, give or take a couple hours. Expect thunderstorms, some gusty winds, and locally heavy rainfall before it all ends overnight. Your Sunday ride will still unfortunately see a solid headwind, though with much cooler temperatures.
For the rest of us, Sunday looks splendid. Expect sunshine to develop rather quickly, a brisk northwesterly wind, and temperatures in the low to mid 70s. And low humidity. That too.
Next Week
We'll carry the delightful weather into Monday, with low humidity and temperatures starting in the 50s again. We'll warm to near 80 Monday afternoon. Onshore flow begins to return later Monday and Tuesday, bringing back warm temperatures and humidity. Our next front is slated for Wednesday or Thursday, which will bring more unsettled weather back to the area. This one looks a bit more intriguing to me in terms of potential for thunderstorms and heavy rain. We'll assess that again on Monday for you. Whatever happens, it should clear out fairly fast, meaning we may again see another couple days of really nice weather in its wake. Perhaps that will be timed to next weekend. This spring has been something else.
Posted at 6:40 AM by Matt