As we predicted might happen, Houston reached 91 degrees on Wednesday, the city's first day reaching the 90-degree plateau of calendar year 2017—but certainly not the last. Since 1981 the city has averaged its first 90-degree day on April 30th, so it's not all surprising that we reached that mark this week.
Today
Wednesday's sizzling temperatures were enabled by drier air arriving along with a cool front during the afternoon hours, which allowed the mercury to briefly jump up about three or four degrees. This drier air also allowed us to cool off quickly last night, and temperatures have fallen into the 50s across most of the region today. Highs will rebound into the low- to mid-80s as the front washes out this afternoon. A warm flow from the Gulf will prevent lows tonight from falling much below 70 degrees.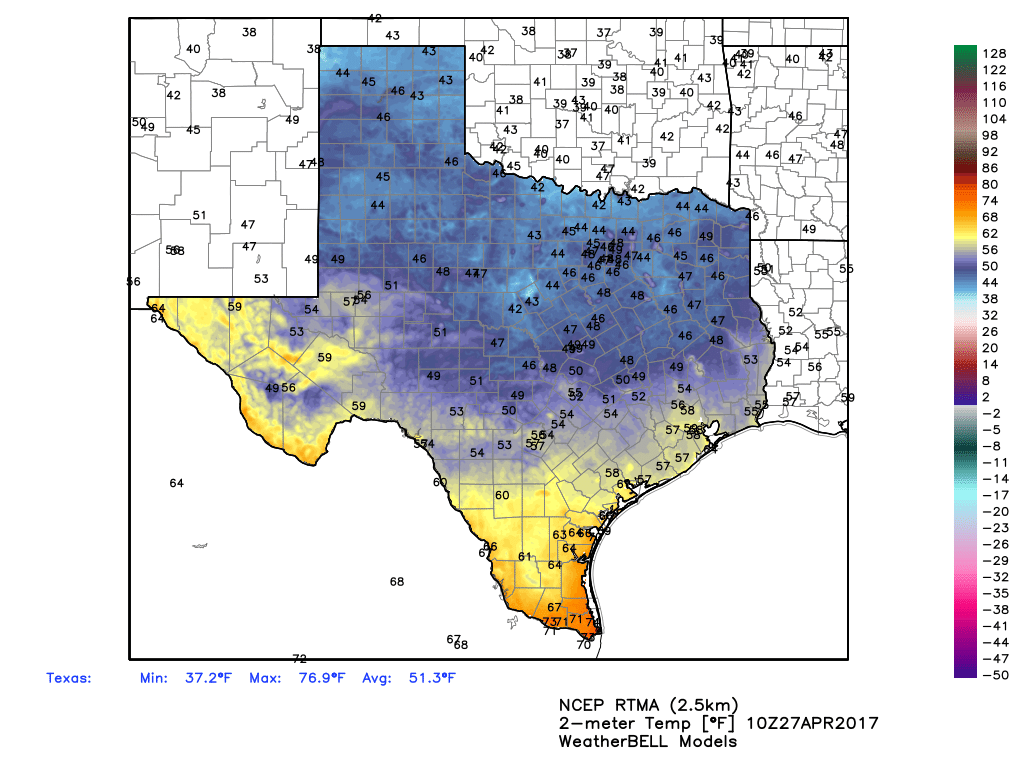 Friday
A warm, sunny day with high temperatures likely reaching 90 degrees again. Or getting very close.
(Space City Weather is sponsored this month by The Mole, a Jonathon Price novel.)
Saturday and Sunday
As we've been discussing, a cold front moving across Texas will collide with warm air from the Gulf of Mexico this weekend, and bring a pretty healthy chance of storms to the region. This will lead to a slight chance of rain on Saturday during the morning and daytime hours, but I think for the most part the region will stay dry, or see only light rain. (If you're riding the BP MS 150, it will be warm riding out of Houston, but you'll have a tail wind with brisk southerly winds).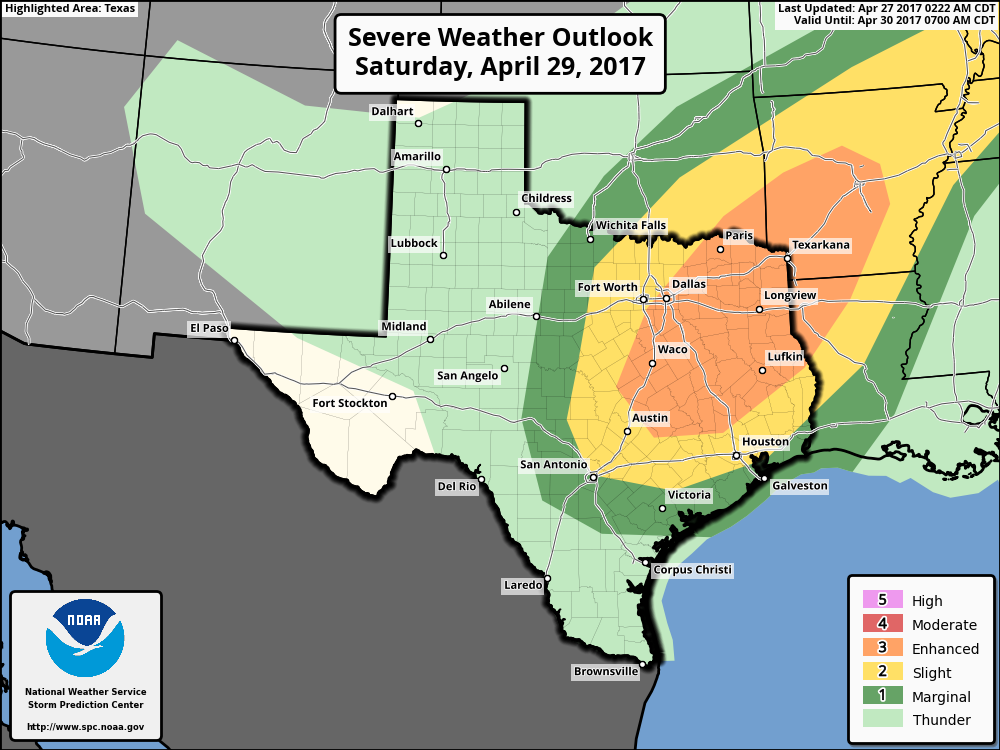 Scattered thunderstorms could develop during the afternoon hours with daytime heating, but the more organized storms are likely going to hold off until Saturday night or Sunday morning. Shearing in the atmosphere and other factors appear favorable for the development of widespread showers and thunderstorms during the overnight hours, with severe weather (primarily hail and winds, but also potentially a few tornadoes) most likely the north of Houston, but possible in the city as well. As the front will scour out the area, I'm not too concerned about the potential for flooding from heavy rains, and skies should turn mostly sunny by later Sunday morning or early afternoon.
If you're riding into Austin on Sunday, you'll face a headwind, but chances are the storms will be gone from central Texas by Sunday morning. For Houston this should give us a couple great, late-spring days of cooler weather, with overnight lows on Monday probably falling into the lower 50s for most of Houston.
Posted at 6:40am CT on Thursday by Eric