Yesterday was Thirsty Thursday in parts of the Houston area. While the coverage of showers and storms was a bit less than Wednesday, some pretty heavy rain fell in spots, even leading to some street flooding. On the map below, the teal color is generally about an inch, green is an inch and a half, and pink/blue starts ratcheting up to 2 to 3 inches. Obviously, the hardest hit areas yesterday were in parts of Fort Bend County, Sharpstown, Bellaire, West U, and close to Pasadena.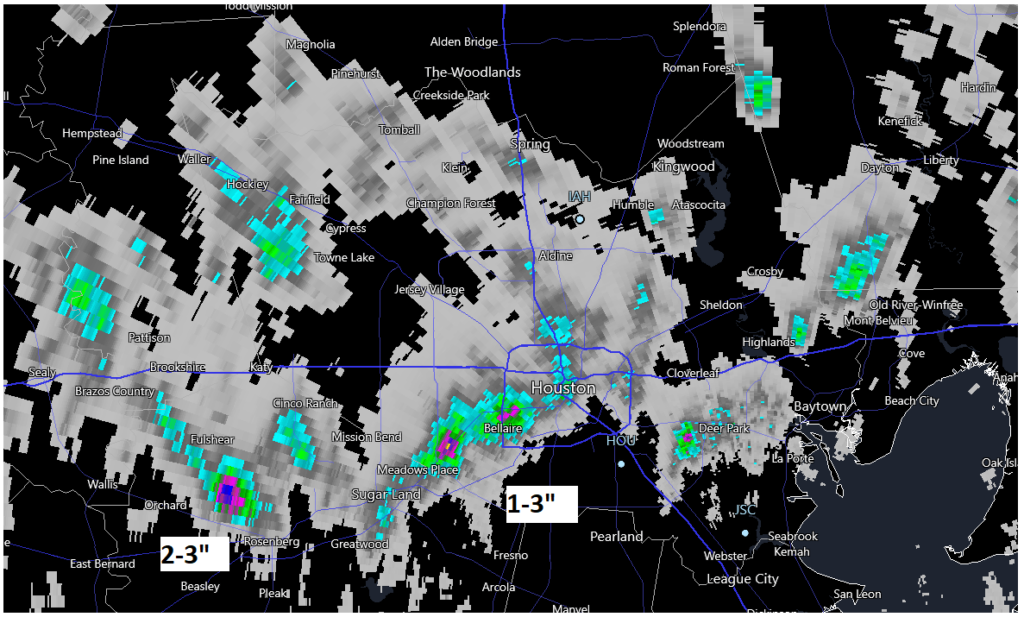 We remain in drought, however. In fact, as of Tuesday, extreme drought had expanded to cover half of the Houston region.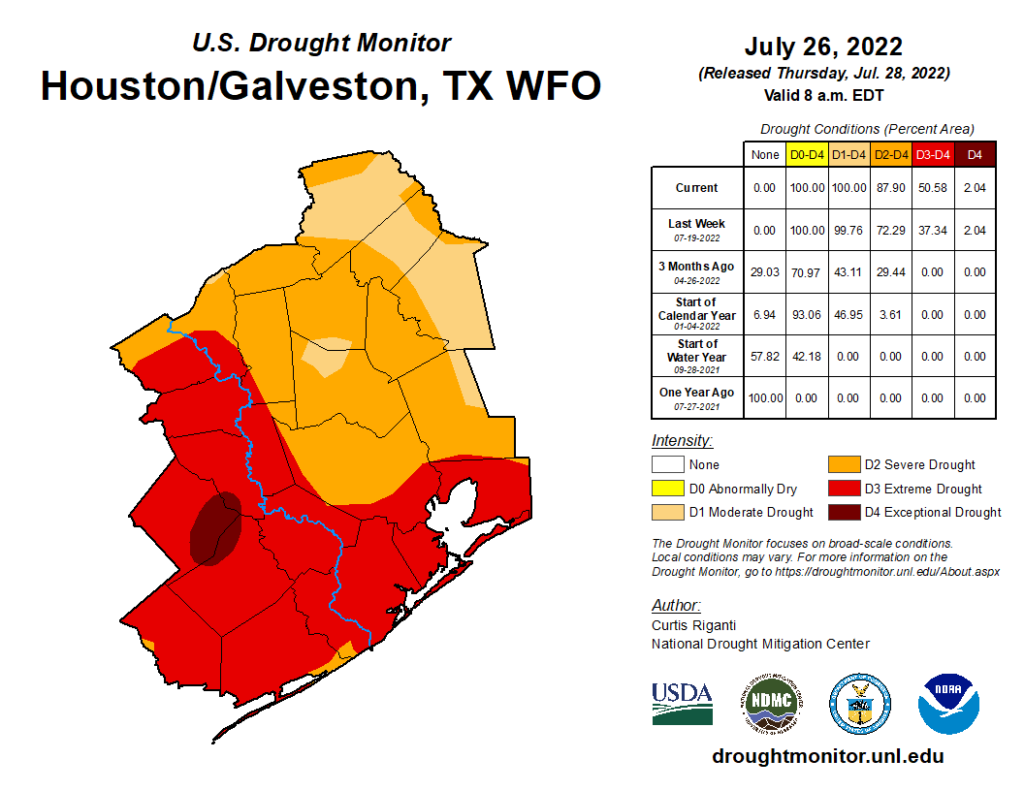 These showers aren't heavy enough over a wide enough area to really seriously dent the drought, but they offer considerable short-term relief. Hopefully we can get some more.
Today
Coverage of showers should be similar to more extensive than Thursday. We have a little extra help today coming courtesy of a little disturbance moving west across the Gulf. Like yesterday, generally slow moving showers could lead to a quick inch or two or even a bit more in spots. Plenty of places won't see rain today. Outside of the storms, mid to upper-90s once more.
Weekend
I do think we'll see a noticeable decrease in shower coverage this weekend. We're sort of at the mercy of exactly how an upper level system tracks, currently expected to pass offshore far enough to sort of "rob" what's needed for showers. A few places could see an isolated storm or two, especially on Sunday. Additionally, look for some haze, courtesy of Saharan dust. Mid to upper-90s should dominate for highs, with 70s for lows.
Next week
Rain chances should bounce back a little bit on Monday again, before diminishing Tuesday and perhaps Wednesday and Thursday as high pressure settles in overhead.
By the end of the week, there are a few more questions. With high pressure expected to anchor in North Texas, Oklahoma, or Kansas this should keep us hot and humid, but it may be just far enough away to keep the door cracked each day for shower and storm chances. More on that next week.
The heat will be with us though with mid to upper-90s each day. We'll have a couple shots at 100+ here or there too, but I'd expect to see more 98s and 99s. Does it matter? Not really, but it's something I guess. More Monday!