Good morning, and welcome to 2020! Light rain has fallen across the region overnight, and with lows only in the mid-50s to lower-60s across the region this morning fog has developed near and along the coast. This should burn off later this morning. Overall, our forecast remains the same, with additional light-to-moderate rain possible today, and then clearing skies for a beautiful weekend.
Thursday
Rains have temporarily stalled this morning, but we expect an additional round of showers this afternoon into the early evening as an upper-level system moves across the area. Accumulations for today will likely be below one-half inch of rain. Rain or not, this will be a gray day, with highs in the mid-60s. Rains should end for most of us Thursday night.
Friday
Lows Friday morning will only bottom out in the mid-50s, and with light winds this should again provide favorable conditions for the development of fog. This soupy weather should end by around midday as a cool front pushes through Houston from west-to-east, bringing somewhat drier air and helping to clear out our skies. Highs Friday should be in the mid-60s, with overnight lows falling into the 40s.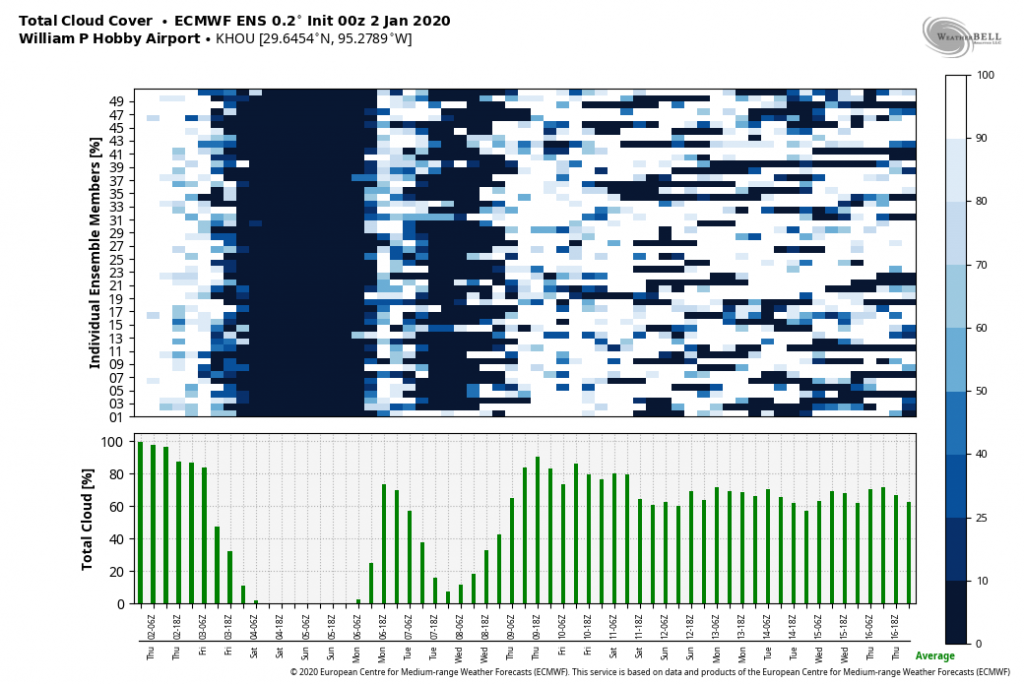 Saturday and Sunday
As mentioned, this weekend will be a winner. Whether your plans include tailgating for the Houston Texans game or yard work or whatever, we're going to enjoy sunny skies with highs in the mid-60s on Saturday, and sunshine and highs of around 70 on Sunday. Depending on your distance from the coast, lows will either be in the 40s or 50s.
Next week
Just as things begin to warm up on Sunday another moderate cool front will push into the region, likely around Monday morning-ish. This should help keep high temperatures in the 60s through Wednesday of next week, with overnight lows generally in the 40s. Oh, and there will be plenty of sunshine. Our next best chance of rainfall after today probably will not come until next Thursday or Friday—so yeah prepare for some very fine weather indeed.