Good morning—we hope everyone is preparing for a fun and safe celebration tonight. Mother Nature will be ready to do its part, bringing a dry and temperate evening to the festivities. Space City Weather will return to normal business on Thursday, so in the meantime please accept our wishes for a Happy New Year!
Tuesday
The last day of 2019 should be fine, with partly to mostly sunny skies through most of the daytime hours. We can probably expect a high temperature of about 60 degrees with very light winds. Some clouds will move in during the afternoon and evening hours, and temperatures during the run-up to midnight should be in the low 50s. Winds will remain light.
New Year's Day
Whereas we once expected New Year's Day to be a soggy affair, the better rain chances have now slipped into Wednesday night and Thursday. Therefore, we expect most of the daytime hours of New Year's Day to be gray, but without too much, if any precipitation. Highs will reach about 60 degrees, or a little above, for most of the region. Rain chances increase during the evening and overnight hours as low pressure moves up the coast.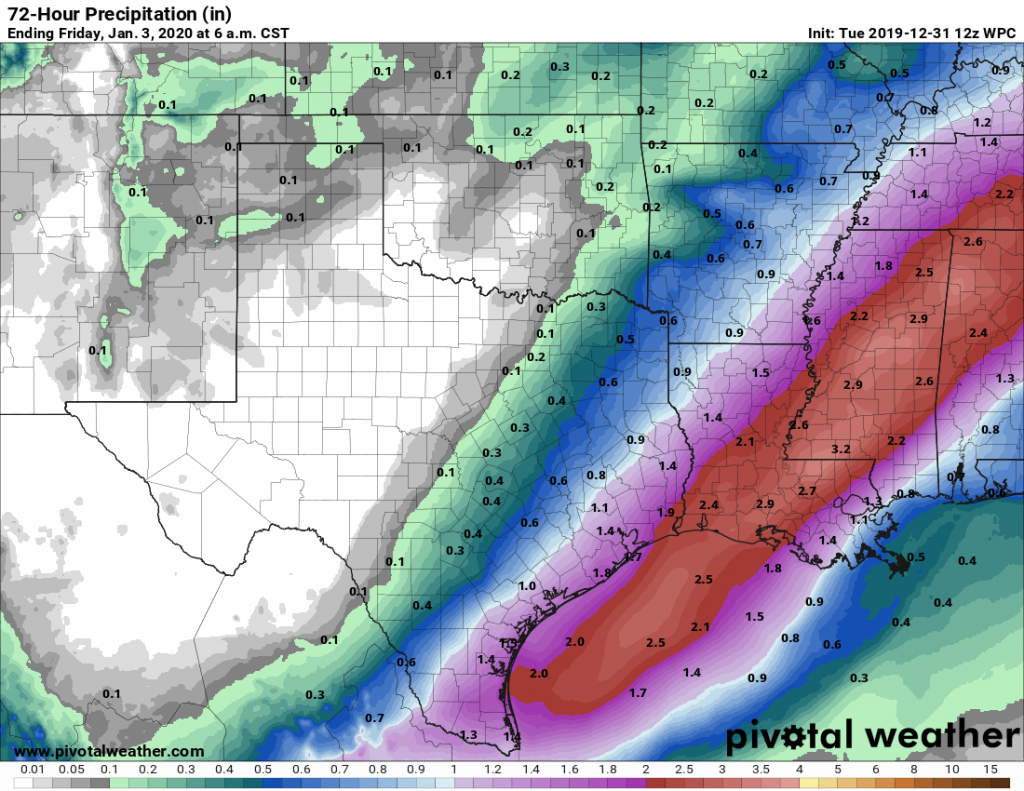 Thursday
Forecast models have been waffling on how best to handle the precipitation resulting from the low as it moves up the coast, through Houston, and into Louisiana. Right now the stronger thunderstorms and greatest amount of rainfall should remain off the Texas coast, and into Louisiana. But the Houston area could still see 0.5 to 2.0 inches of rain from Wednesday evening through Thursday evening, with even a bit more along the coast. As the low pressure system moves off to the east, a cold front will slide in behind it, bringing an end to rain chances by Thursday afternoon or evening.
Friday, Saturday, and Sunday
After a gray, and then wet start to 2020, the region should see several days of sunshine and pleasant weather with highs in the 60s and lows in the 40s. Enjoy!