Yesterday was one of the strongest non-tropical wind events we've had around here in recent memory. It was both impressive and unsettling, as I can attest to nearly being taken out by a falling piece of iron on McKinney Street in downtown Houston. Winds gusted as high as 61 mph at Hobby Airport, 64 mph in Cypress, 52 mph in Pearland, and 49 mph in League City. Thousands lost power for a time due to the wind. We will continue to have windy weather today, but it should be less extreme than Thursday's gusts. We then expect an absolutely sublime weekend of weather.
Today
If winds gusted 40 to 60 mph yesterday, they should gust more like 25 to 40 mph today. It will be something you certainly notice, but it will definitely be less than yesterday's madness. Winds will kick up as the sun gets higher in the sky this morning, then they'll actually begin to back off some as the afternoon wears on.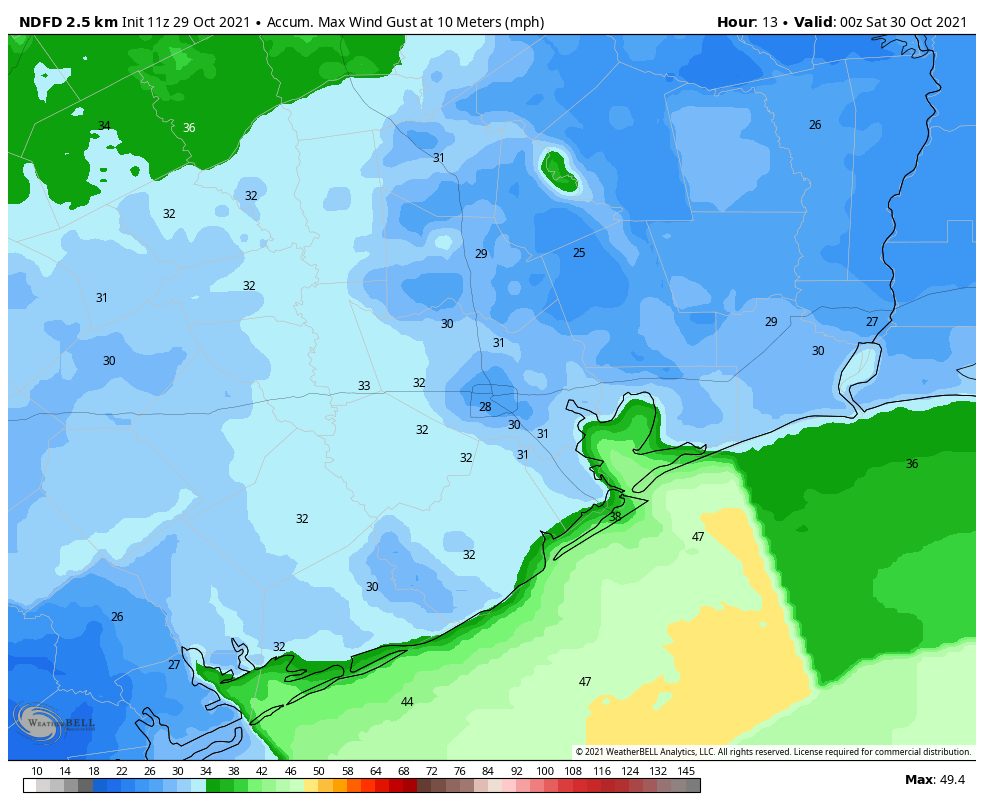 Otherwise, expect sunshine. Highs will top off around 70 degrees or in the lower 70s. All this wind has kicked up a lot of allergens as well, so you may be sniffly or sneezy today into the weekend.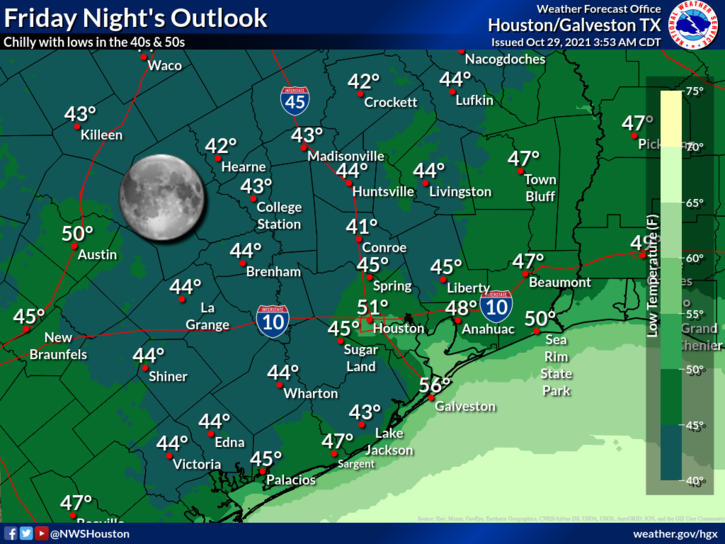 Weekend
The weather this weekend looks just perfect with rampant sunshine. Winds will be light. Look for highs in the mid-70s on Saturday and upper-70s on Sunday. Morning lows will be in the 40s and 50s Saturday and Sunday, coolest inland, warmest in the city and near the coast. Officially, our coolest reading of the season was 50° back on October 17th, so we'll see if we can match or beat that this weekend.
Trick or treating
Look for temperatures around 71° to 75° at 6 PM and 66° to 70° at 8 PM on Sunday evening. It should be clear and calm.
Astros in Atlanta
Obviously we have other important business to attend to this weekend with the Astros in Atlanta today, tomorrow, and Sunday. All 3 games should be playable. Showers will end around sunset in Atlanta this evening, with clouds and temperatures around 50° for most of the game. Winds will be out of the southeast (blowing in from right field) around 5 to 15 mph. Game 4 on Saturday should again see any showers ending. Temperatures will be in the mid-50s, with a light to moderate breeze from right to left field. Sunday looks fine, with gametime temperatures in the upper-50s, falling into the mid-50s and light northwest winds (blowing out to center field). Go 'Stros!
Next week
Monday and Tuesday look to be very nice, though they will warm up and turn just slightly more humid. Look for highs near 80° and morning lows in the 50s and 60s. Our next front will attempt to make it here later next week.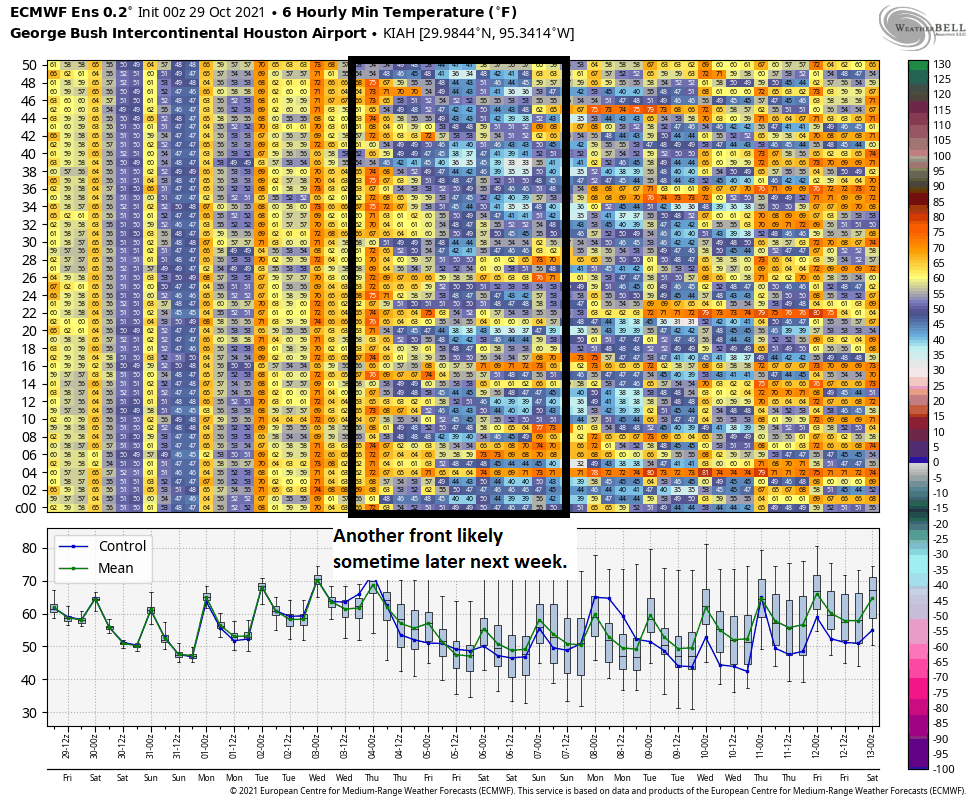 This one could come with even slightly cooler air than what we'll see this weekend, but specific details on the exact timing and strength of the cool air remain a little fuzzy. Check back with us Monday for the latest.
Galaxy Frights, Presented by Reliant
Looking for some tricks and treats this weekend? Check out Galaxy Frights, Presented by Reliant, at Space Center Houston! You can hear from astronauts on the scariest parts of space exploration, become a mad scientist in the Pop-Up Science Labs, experience a great light display, navigate through a spooky maze and, of course, do some trick or treating! More here: https://spacecenter.org/galaxy-frights/