Houston has enjoyed a handful of cold fronts so far this fall, but after a few days we've always warmed back up into the upper 80s or low 90s. But this week, after a stunning weekend, we'll barely warm up to 80 degrees before a strong front arrives on Wednesday. And after that front we'll be in the 60s and 70s for awhile.
I also wanted to spare a few words for the Houston Astros, who found themselves in a challenging spot after a grand slam in the first inning on Sunday night. And still, they battled back, clawing even with the Braves, and then ultimately winning. Now the hometown team returns to Houston for two more games, needing to win both. Minute Maid Park has a roof, so weather won't be a concern on the field. However it's possible that the timing of the next front coincides with the aftermath of Game 7 on Wednesday, assuming there's a Game 7. (And we are). More on this below.
Monday
Today will bring more great weather to Houston. Highs will get into the upper 70s to 80 degrees, with mostly sunny skies. Dewpoints will creep up, so conditions will feel a bit more humid than we experienced over the weekend, but the air won't be uncomfortable by any means. Winds will be light, generally out of the southeast. Overnight lows tonight will generally fall to around 60 degrees in the city, with slightly cooler conditions for outlying areas, and warmer along the coast.
Tuesday
Some patchy fog will be possible on Tuesday morning, but that should burn off rather quickly, leaving us with another mostly sunny day and highs near 80 degrees. Overnight lows will again fall about 60 in Houston.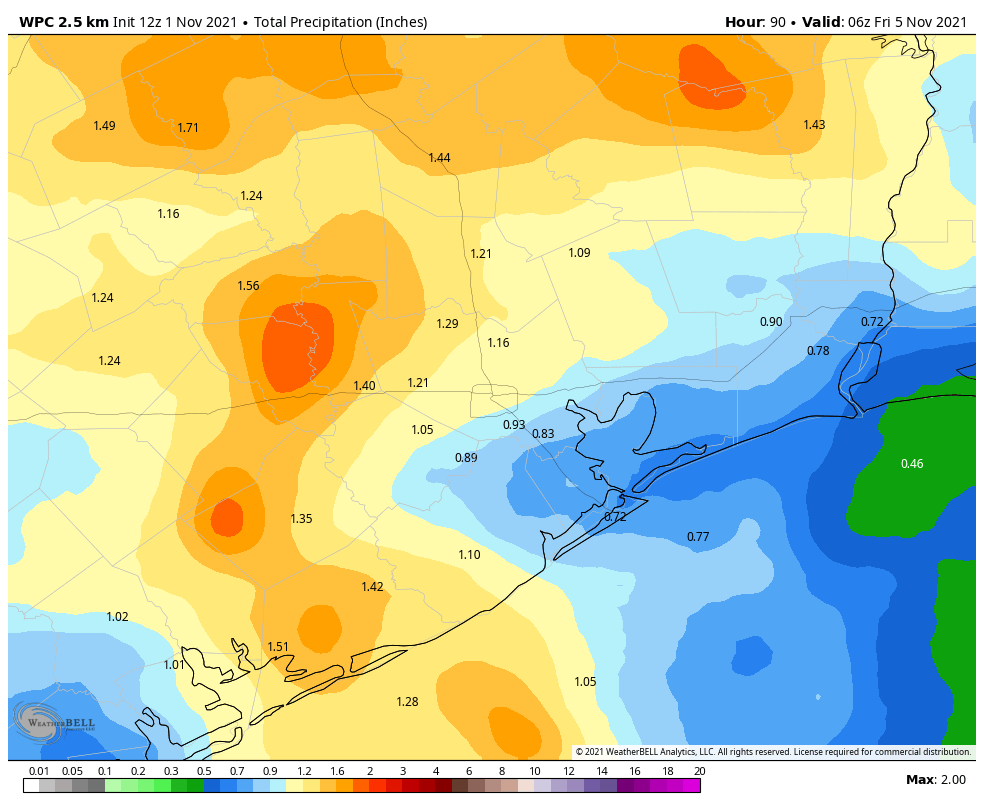 Wednesday
We'll start to see some cloud cover on Wednesday, and with the onshore flow this day will feel a little bit more humid with highs likely ranging from 75 to 80 degrees. The front's timing remains somewhat uncertain, but I'd expect it to come through some time between Wednesday evening or early Thursday morning. We probably will see some briefly moderate to heavy rain with the front—hence my concern about the aftermath of a potential Game 7—but I'm not sure exactly when this is coming. Most areas probably will receive about 1 inch of rain with the front. Hopefully we'll be able to firm up the front's timing in tomorrow's post.
Thursday
Today's a sweater day! Clouds should persist for much of Thursday, and this will help to confine high temperatures into the low to mid-60s for the city, with possibly the 50s for inland areas. With moderate northerly winds (nothing like last week), this will be a chilly day and lows Thursday night may drop into the 40s for all areas but the coast.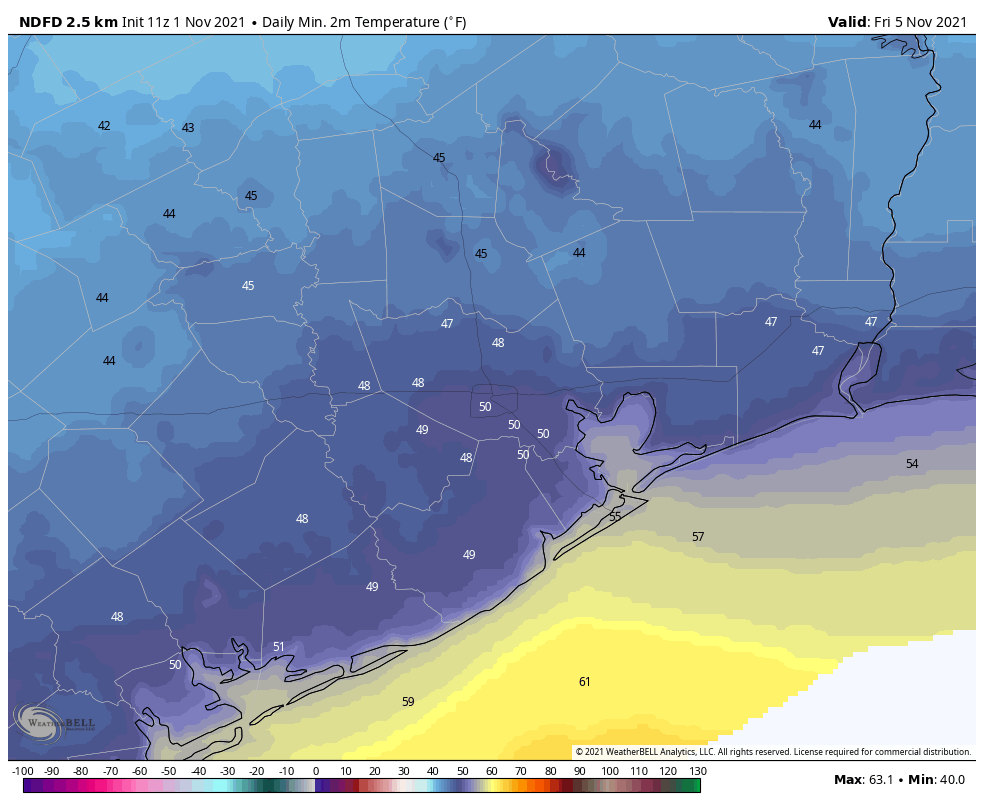 Friday
Friday should start out clear and cold, and despite sunny skies I'd expect highs to only reach the mid-60s. Winds should be fairly light out of the north. Expect another chilly night, with much of the area reaching the 40s.
Saturday, Sunday, and beyond
The weekend looks amazing, with highs of around 70 degrees and lots of sunshine. Rain chances are bascially zero. Plan your outdoor activities with confidence. The early part of next week should bring highs in the 70s with partly to mostly sunny skies and nicely dry air.