The long-advertised front has arrived, bringing a sharp dose if frigid air diving down from the Arctic Circle. Wind gusts this afternoon have exceeded 40 mph at multiple locations this afternoon, including a top speed of 48 mph at Hobby Airport. As of 5:30 pm CT, air temperatures remain just above freezing in the Houston metro area, but that will not last long as the mercury starts to drop tonight.
Cooldown
Houston is headed into the icebox for a solid 36 hours. Lows tonight will likely fall into the mid- to upper-teens for all the metro area, aside from the immediate coast, which may hold at 20 degrees or slightly above. Even will full sunshine on Friday, high temperatures may only briefly reach 32 degrees during the afternoon, whereas areas further inland may only top out at about 30 degrees. Conditions will be very cold again on Friday night, with lows perhaps only 2 to 5 degrees warmer than Thursday night. By Saturday, finally, the area should see highs of around 40 degrees.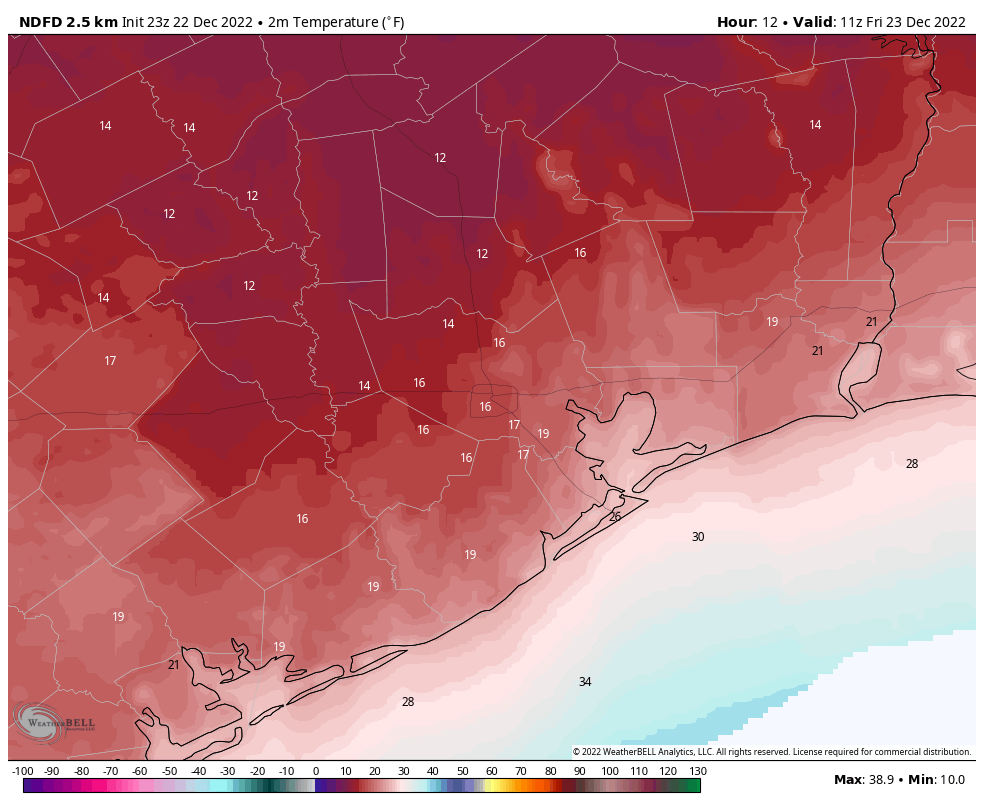 The good news is that there is no snow or ice on roadways, so aside from blustery conditions it is safe to drive throughout the greater Houston area and beyond. Roads will remain dry through Christmas Day and beyond.
Power
One of the major problems during the February 2021 freeze was the lack of power, when "rolling" blackouts became permanent due to poor management of the Texas electricity grid and a lack of oversight for proper winterization of power plants. It does appear this problem has been solved. ERCOT is reporting excess power generating capacity, and expects to have electricity to meet demands overnight as temperatures plummet across the state. You can track supply and demand in real time here.
Next post
Matt will have a comprehensive update for you by around 6:30 am CT on Friday. Until such time, please stay warm, make sure your pets and neighbors have the shelter they need, and take care of one another. It is the holiday season, after all!