Good morning, y'all. As the title said, today is a weather day you may remember for a long time. I can point to half a dozen vivid weather memories in Houston that are as plain as day for me—late-night flooding during Harvey, Allison, and Imelda; winds and tornadoes during Ike; drought during the summer of 2011; and the extreme cold, snow, and ice of February 2021. Today we will be making some new memories I think.
As I look out the window of my home office this morning I see fog, as dewpoints and temperatures have both settled in the mid-40s this morning. After a mild start, we're going to see temperatures climb to nearly 60 degrees. Then, this afternoon, one of strongest cold fronts I've observed in my lifetime is going to whip into Houston. This will, in very short order, drop air temperatures by 30 degrees. When you factor in strong winds, it will feel about 60 degrees colder tonight if you step outside. Not that I would recommend it.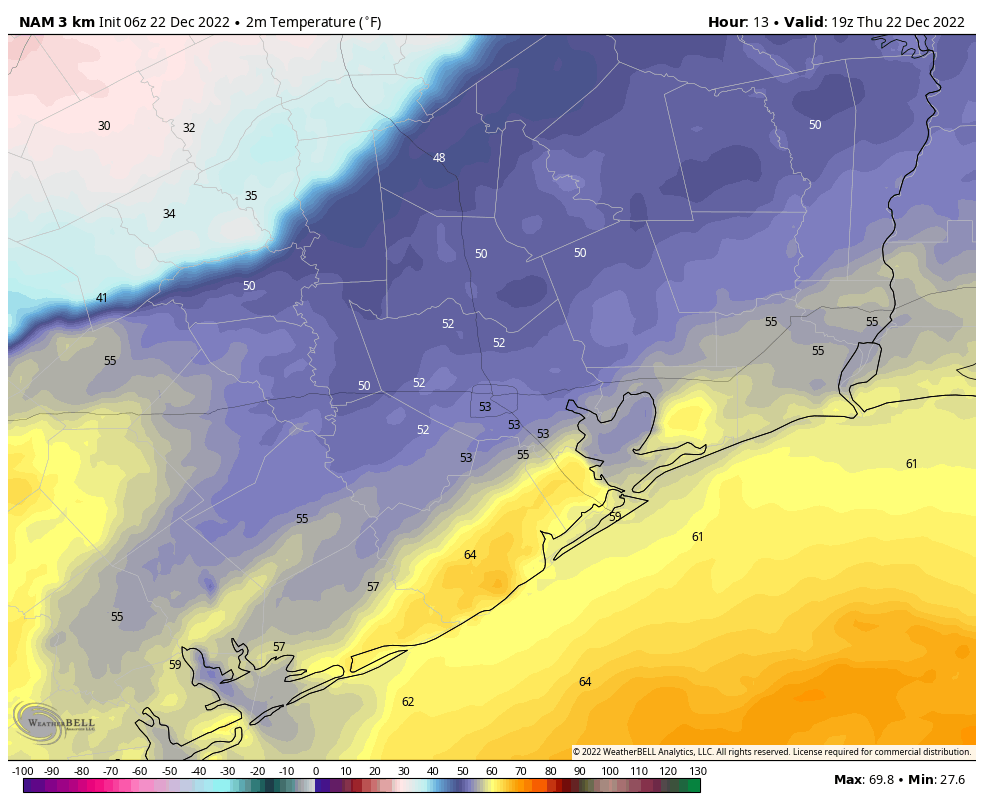 I also want to say a word about forecasting. There are some things we still can't do very well at Space City Weather. For example, if there's a 50 percent chance of rain on any given day, I can't absolutely tell you whether (or not) it will rain at your house. But in terms of large pressure patterns, that span thousands of miles across the globe, our best forecast models are starting to get pretty good. Don't believe me? Here's what I wrote ten days ago about the weather for today, December 22.
There is a fairly strong signal in the models for an even deeper burst of colder air toward the middle or latter half of next week. This could push overnight temperatures below freezing—perhaps even into the 20s—by around December 22 or so. This really is at the edge of our reliable forecasting capability, so it remains speculative. But my sense is that the days leading up to Christmas are going to be quite cold, and possibly the holiday itself. How cold? I'd love to be able to tell you that, but I can't. However, I do think we're looking at lows probably between 25 and 40 degrees, so you can expect Jack Frost to be nipping at your nose.

Space City Weather, Dec. 12, 2022
I'm not going to take credit for that, but I will say that part of good forecasting is understanding when you should lend credence to weather models, and when to consider something as chaff. That is some of the value we try to bring to you, helping to understand what is real about upcoming weather, and what is fluff. The cold tonight, by the way, is very real.
Thursday
As mentioned, we're seeing some fog this morning, but that should dissipate with sunrise or shortly thereafter. The only real change in our ongoing forecast for the front is that its timing has sped up a little bit. If you're living in College Station I'd expect its passage by around Noon, and for it to push into the Houston metro area between 1 to 3 pm, and reach the coast by around 5 pm CT. I can't rule out any precipitation with 100 percent certainty, but anything that falls will be light, and may not make it all the way to the ground.
The immediate changes with the front will be sustained north-northwesterly winds at about 25 mph, with gusts up to 35 to 40 mph. By around sunset most of the metro area will already be experiencing freezing temperatures, with air temperatures dropping into the 20s by this evening. If you're out and about after 9 or 10 pm, be prepared for apparent temperatures in the single digits. To the extent we have electricity concerns, at this moment our largest worry is brief outages due to strong winds affecting poles and lines. Otherwise, we expect the Texas power grid to be able to accommodate demand over the next few days.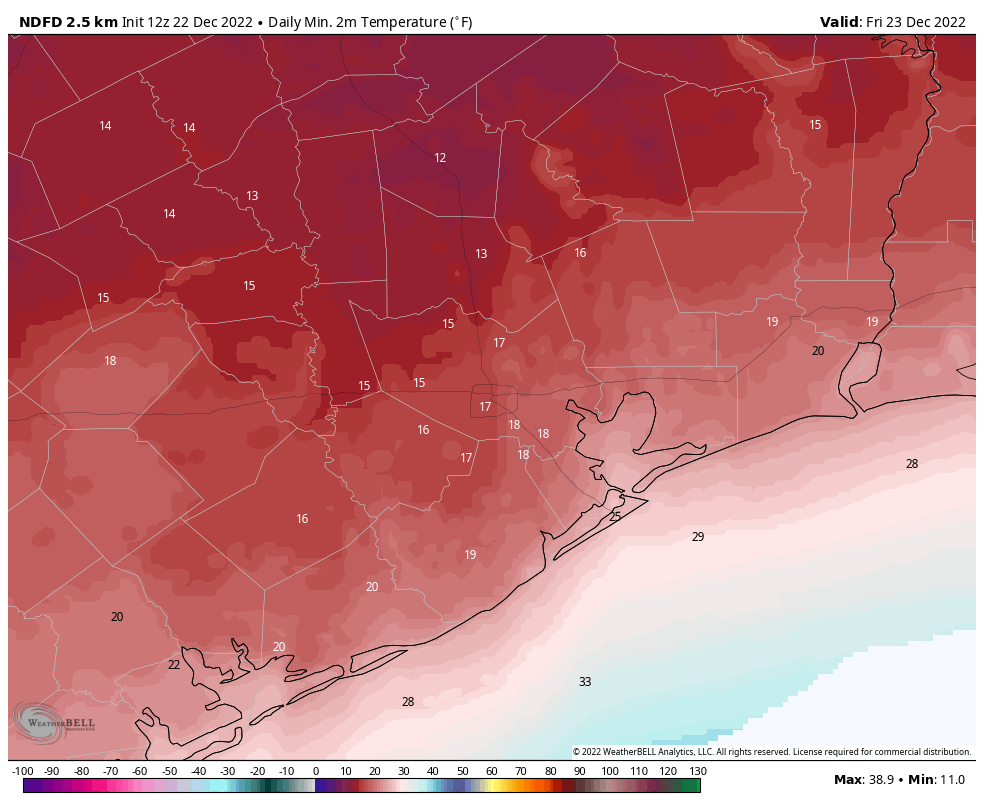 Friday
How low will temperatures go on Friday morning? Some of this will depend on the extent of winds and mixing overnight, but it's a safe bet to expect lows in the 15 to 20 degree range for areas inland of Interstate 10, including locations north and west of Houston. The city itself will likely see lows between 17 and 22 degrees, with coastal areas between 20 and 25 degrees.
Friday will be sunny, with continued gusty northerly winds, and high temperatures briefly nearing or reaching the freezing level. Lows will drop again on Friday night into the low 20s for much of the area, with local temperatures perhaps 2 to 5 degrees warmer than Thursday night.
Saturday
Christmas Eve should see highs near 40 degrees, with sunny skies. Overnight lows will drop into the mid-20s.
Christmas Day
Another sunny day, likely with highs in the mid-40s. A light freeze is possible on Christmas night.
Next week
There remains some uncertainty about the early part of next week, and an additional front possibly moving through. But it seems that we'll be solidly into a warming trend by Wednesday, with highs bound for the 70s. It looks like rain chances may start to increase toward the end of next week, and we may be looking at a slightly wet period heading into New Year's Eve. But for now the details on that are just too fuzzy.
Next update
We'll have our next update for you this evening, after the front's passage, to refresh our expectations for overnight low temperatures.