Good morning. Houston's heat wave will continue for the foreseeable future, at least through the early part of next week and possibly longer. Temperatures will peak this weekend, likely reaching 100 degrees for much of the area and setting numerous records. With high pressure dominating, rain chances will continue to remain low to non-existent.
This morning I'd also like to address what might perhaps be best characterized as "tropics silly season." This is when "scary" maps showing a large hurricane striking Texas or other parts of the Gulf coast are shared on social media, as has been happening this week. These forecast maps are typically not falsified. They're real products, but they are not representative of reality. What I mean is that the computer model has indeed generated such an output, but this output often comes at 12-, or 14-, or even 16-days after initialization, and therefore simply no longer bears any reality toward what will happen. Weather models simply cannot provide this specific of a forecast, that far out.
They key to spotting such tropical scare fodder is to look at the forecast hour of the output. If it is greater than 240 hours (10 days) it can safely be discounted. Take the forecast below from the US Global Forecast System model, which came out on Wednesday morning. Now the GFS model has plenty of uses, but it has a known bias for generating phantom storms at this time of year. Anyone sharing this is doing so out of ignorance, at best, and malevolence, at worst.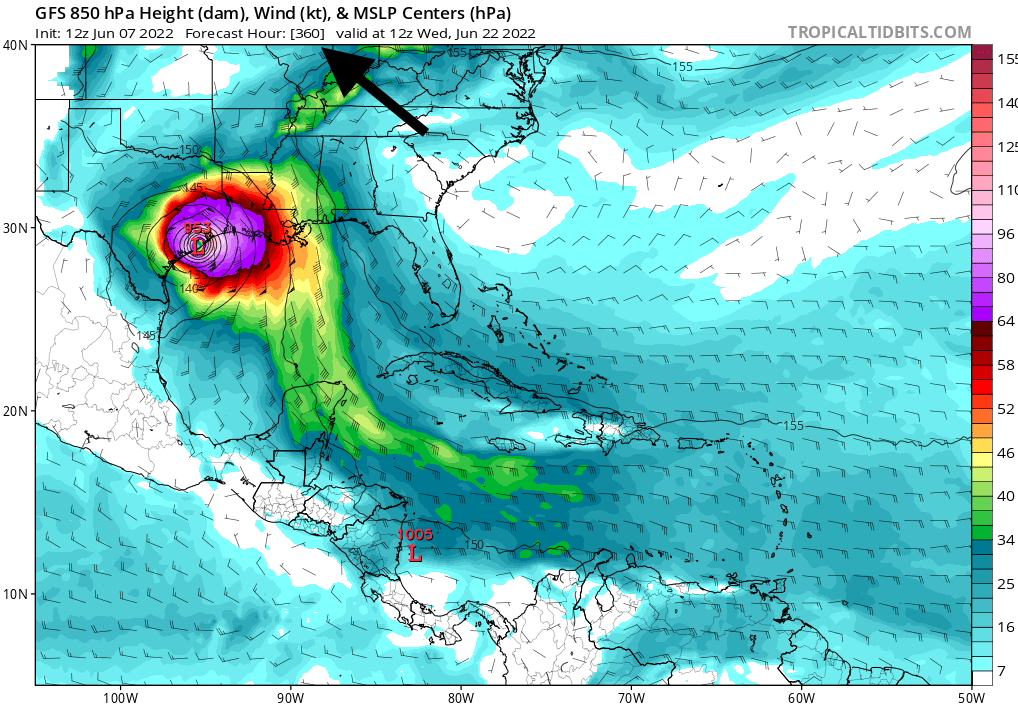 The bottom line is that the model may indeed be picking up on increasing tropical moisture in the Caribbean Sea or Gulf of Mexico in about 10 days time. And something may come of it. But the most likely scenario, by far, is that anything tropical that forms would stay away from the upper Texas coast.
Thursday
Today will be hot and sunny, with high temperatures in the upper 90s. The heat index will near dangerous levels this afternoon so please take care outside. Overnight lows will fall into the upper 70s, except for the coast which will remain in the low-80s. Winds will be light, out of the south.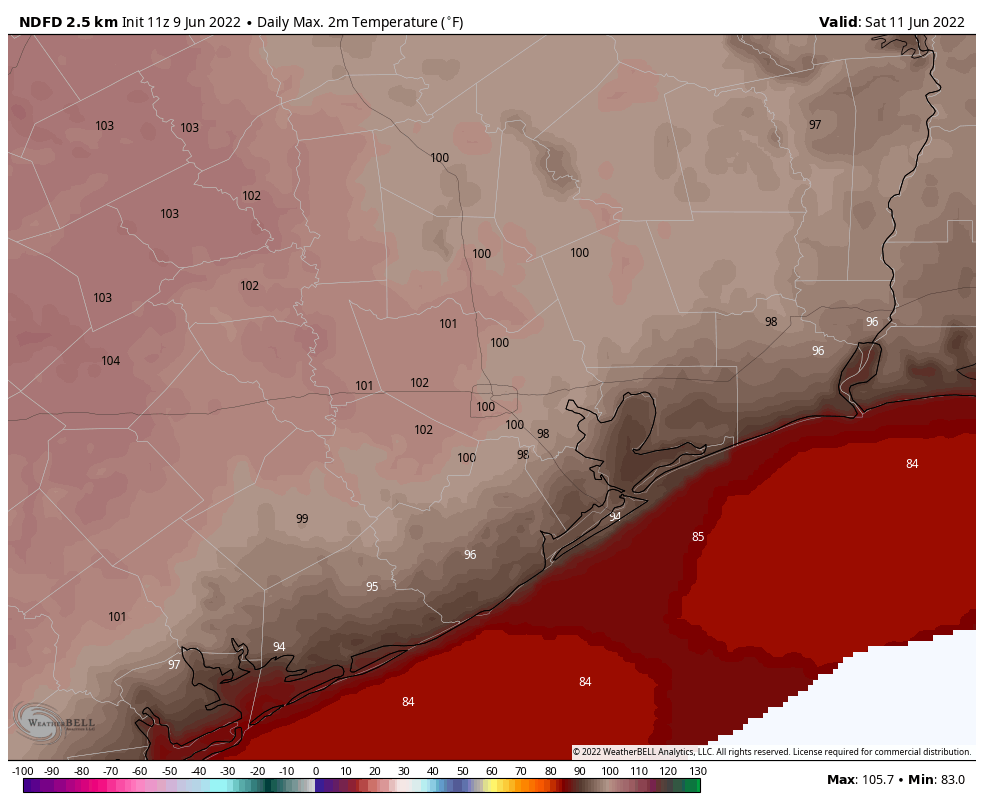 Friday, Saturday, and Sunday
More of the same. I'd expect the heat to peak on Saturday and Sunday, with high temperatures reaching 100 degrees for much of the area.
Next week
As winds turn more southerly, we probably will see high temperatures drop back into the upper-90s, and possibly mid-90s. I don't see much of a chance for a pattern change until at least the second half of next week, and even then it seems that our weather is unlikely to change a whole lot. We shall see.