Good morning. Houston remains just on the edge of summer weather, but we're still not quite there. For much of the area, low temperatures are still dropping to around 70 degrees at night. And while daytime highs are reaching near 90 degrees, we've not reached the point of dog's breath humidity either. That is coming, for sure.
Since today is the last day of May, I'd say it's been a nice month. It is certainly possible for us to be seeing days in the mid-90s and sultry humidity in late May. But not this year, and it looks like May will end up with a slightly below normal temperature in 2023. I for one am enjoying this not-quite-summer weather.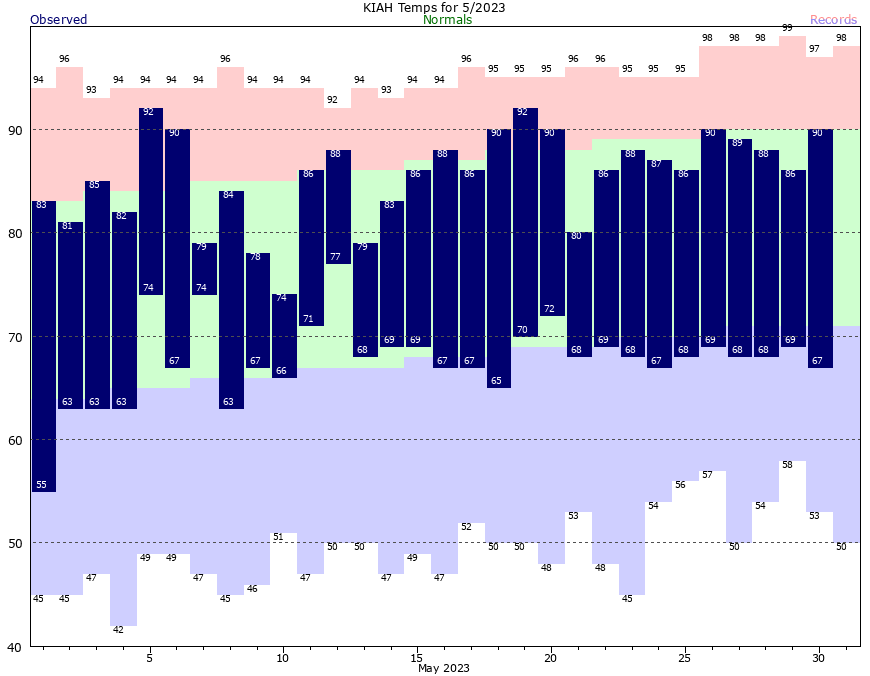 Wednesday
Nearly all of the Houston metro area stayed dry on Tuesday, but there were some fairly strong thunderstorms on the periphery, including near Katy and Conroe, and well to the east of the region over Beaumont. So the potential is out there, and the atmospheric pattern will support additional scattered showers and thunderstorms today, with isolated areas picking up 0.5 to 1 inch or more of rain. About 20 percent of the area is likely to see rain. Otherwise, expect mostly sunny skies with high temperatures in the upper 80s to 90 degrees. Winds will be light, but generally from the southeast. Lows tonight will drop to around 70 degrees.
Thursday and Friday
Both of these will be mostly sunny days, with high temperatures around 90 degrees. Rain chances are not entirely zero, but they're probably not higher than 10 percent each day. Lows drop into the low 70s, generally.
Saturday
I'm reasonably confident that the first half of the weekend is going to see a continuation of our mostly sunny, and warmish pattern. Expect highs of around 90 degrees. Rain chances, again, will be fairly low, so provided you've got protection from the Sun any outdoor activities look good to go.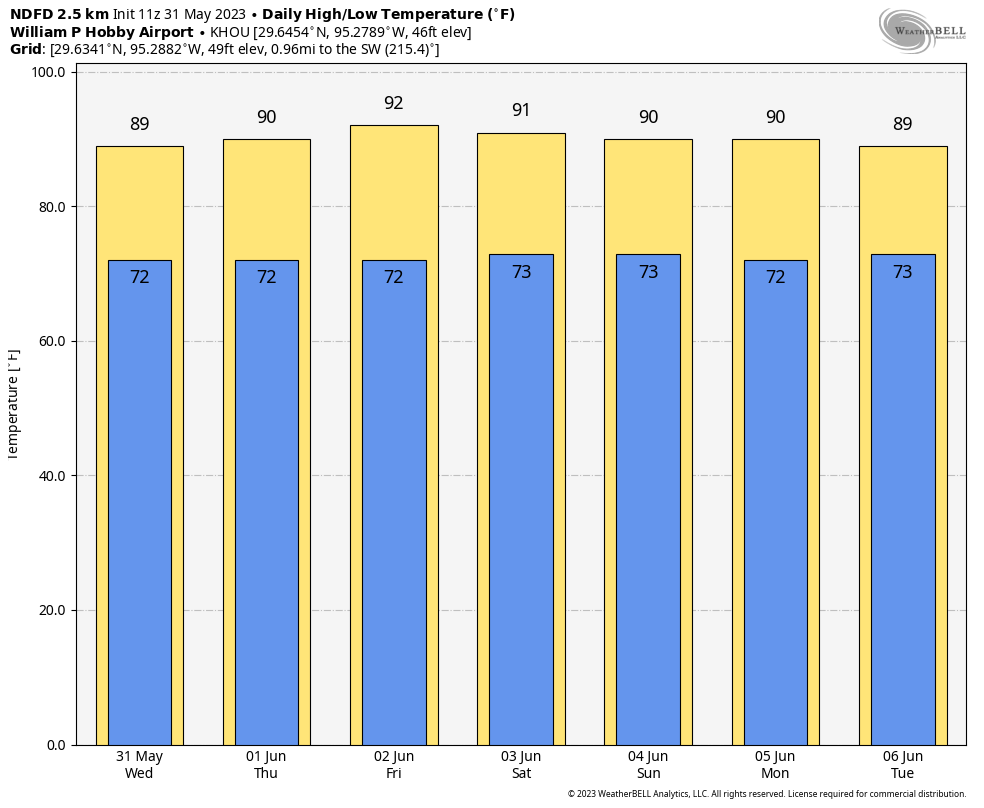 Sunday and Monday
I have slightly less confidence heading into the back end of the weekend. High pressure is going to back off somewhat, and this will open the atmosphere up to better rain chances. However, there is very little consistency or agreement in the forecast models, so the forecast is pretty fuzzy. Broadly speaking, I'd peg rain chances at 30 to 50 percent each day, with accumulations of perhaps 0.25 to 1 inch of rain. Skies should be a mix of clouds and sunshine, with highs again around 90 degrees.
Next week
By Tuesday or so, I expect high pressure to start building again over the region. This should shut down the potential for rainfall, and may nudge highs upward, into the low- to mid-80s. But I'm not ready to lock that forecast in yet.