Good evening. Tropical Storm Nicholas is nearing the middle Texas coast and should make landfall near Matagorda Bay within several hours. The storm's maximum winds increased to 65 mph this afternoon, and it's quite possible Nicholas will become a Category 1 landfall before landfall tonight. Wind gusts from Nicholas are starting to arrive along the upper Texas coast, and should peak around midnight or during the wee hours of Tuesday.
As Nicholas nears the shore we are starting to get more confidence in rainfall forecasts for tonight and Tuesday morning as the heaviest rains from the storm move through. And as a result of this we are lowering our Flood Stage alert for all but coastal counties.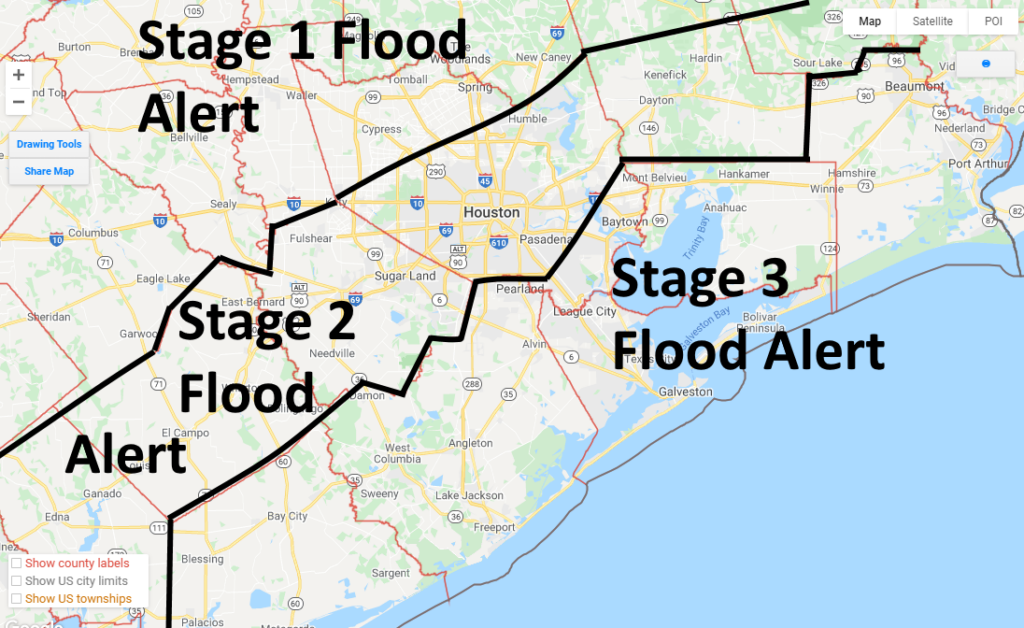 As you can see on the (very professionally drawn) map above, we are keeping a Stage 3 alert for coastal counties, Stage 2 for the next tier, and Stage 1 for areas northwest of Houston. Basically, if you live near the coast, an additional 6 to 12 inches of rain is possible tonight, with higher localized totals. For areas roughly along Interstate 10, values should be about half of this, give or take. And for areas well inland, overall accumulations will likely be 3 inches or less. As a reminder here's what our various flood scale alerts mean: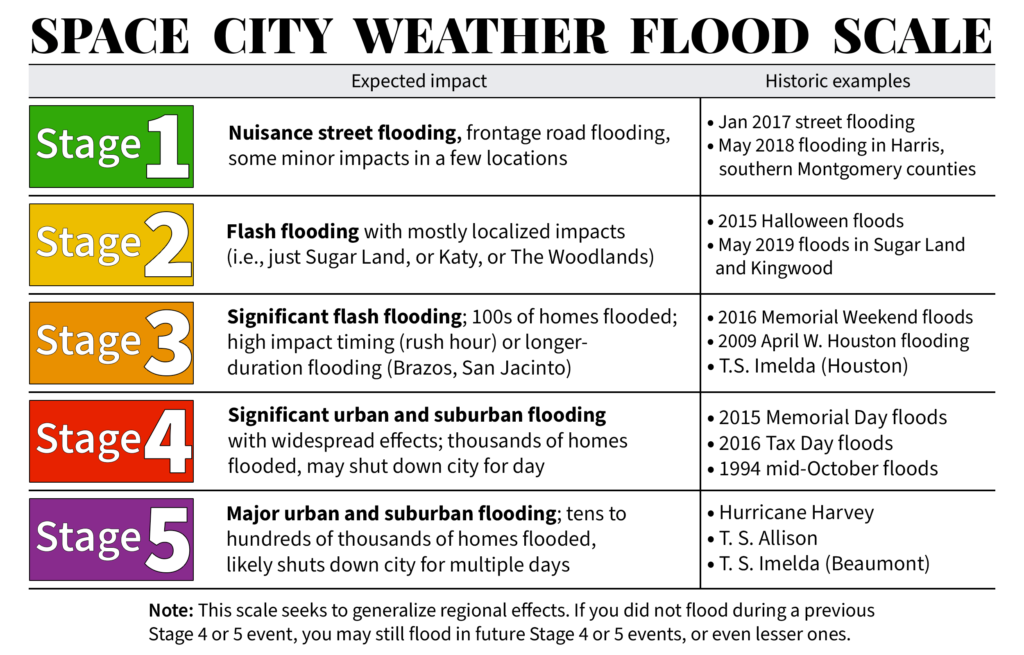 Timing of events
The overall pattern for events tonight should not change a whole lot. Heavy rainfall will advance from the southwest into the Houston region tonight, likely reaching a corridor from I-45 South to downtown Houston around midnight, or an hour or two later. These storms will then continue to push to the northeast, perhaps moving away from Harris County by around sunrise or mid-morning.
Maximum wind gusts of 50 to 60 mph will likely move into Brazoria and Fort Bend counties by late evening, with gusts in the 40s reaching Harris County by around midnight. These winds should begin to weaken by around sunrise on Tuesday morning. Expect scattered power outages, at least, as trees and debris fall into power lines.
We think conditions may begin to improve across the area by around sunrise on Tuesday, or perhaps mid-morning. So our advice is to not have any concrete plans for Tuesday morning, as we cannot say a whole lot about conditions with confidence. By Tuesday afternoon we expect conditions to improve markedly. At this point we think Wednesday should see a return to normal activities across the region without too much difficulty, and excluding any areas that saw widespread flooding on Monday night.
Our next post will come by around 10 pm to fine-tune the forecast for tonight and Tuesday.